16th Annual Long Island Smart Growth Awards Celebrates Progress, Leadership
Over 900 community, business and government leaders gather to celebrate Smart Growth individuals and projects from 2016 – 17
The 16th Annual Long Island Smart Growth Awards took place last Friday, June 9th, at the Crest Hollow Country Club in Woodbury. Attended by over 900 people, the event was a celebration of individuals and organizations that have worked to advance Smart Growth principles, initiatives, and projects across our region. Attendees included sponsors in addition to nearly 60 elected officials, 40 chambers, 30 resident groups representing over 50 main streets on LI.
This year's event highlighted the efforts of leaders in government, private sector, and the community that exemplify Smart Growth principles in such areas as transit oriented development, mix of land uses, housing options, transportation, community revitalization, clean energy and planning. Project winners are from Mineola, Riverhead, Wyandanch, Rockville Centre, Great Neck Plaza, Baldwin, Glen Cove, Middle Island and Bay Shore.
This year 48 nominations were received and reviewed with the following 12 individual and project leadership awards selected:
The Regional Leadership Award went to John Cameron for his longstanding support and advocacy for infrastructure with the LI Regional Planning Council. His excellent remarks were focused on the many fiscal challenges ahead for our municipalities.
"While today's event is a celebration of the accomplishments in smart land use planning here on Long Island, it is still a strong reminder that we have much work left to do if we are to achieve true sustainability… The financial challenges that governments are currently facing will not be held as valid excuses for our continuing failure to address the pernicious problems of failing infrastructure and underperforming assets," said John Cameron, Chairman of the LI Regional Planning Council.
The Community Leadership Award went to Wyandanch activist and publisher Delano Stewart posthumously. His family led by his wife Anne Stewart was there to accept the honor respecting his legacy laying the groundwork for the current Wyandanch redevelopment.
The Next Generation Leadership Award, created in the honor of our friend Scott Martella, went to Ryan William Stanton from the LI Federation of Labor for his early work at job creation.
The Project and Organizational honorees include: The Town of Riverhead and Conifer Realty for Housing Choices with Peconic Crossing in downtown Riverhead; David Kilmnick, LGBT Network, and D&F Development for Housing Choices with LGBT Housing in Bay Shore; Livingston Development Group for Revitalizing Communities with The Villa at Glen Cove; Nassau County and the Town of Hempstead for Revitalizing Communities with the Baldwin Revitalization project; Longwood Public Library, Concern Middle Island, and Gail Lynch-Bailey for Mix of Uses in Middle Island Revitalization; Mill Creek Residential and the Village of Mineola for Transit-Oriented Development for the Modera, Hudson House, and Searing Avenue project; CLIMB for Transportation Choices; Long Island Power Authority and Deepwater Wind, with the South Fork Offshore Wind Farm for Clean Energy Village of Great Neck Plaza and Nemat Development for Certainty with TOD zoning.
The event closed with a brief word from Nassau County Executive Edward P. Mangano, who thanked the many honorees for their accomplishments. We also heard from Mill Creek Residential Trust Regional Manager Russell Tepper as our featured speaker as he accepted the award on behalf of Mill Creek Residential for Transit-Oriented Development.
"Mill Creek is unwaveringly committed to the long-term betterment of Long Island, especially its burgeoning Mineola village.", said Russell Tepper, senior managing director. "Our goal is to continue to collaborate with The Village and Nassau County stakeholders in order to deliver best-in-class residential communities that highlight the proximity to the LIRR, accentuate neighborhood amenities and further establish Long Island as a transit-oriented destination for current and future residents alike," said Russell Teppler, Mill Creek Residential.
This movement of small businesses, residents and local municipalities continues to defy expectations and create meaningful projects for our downtowns and our region.

Congratulations To This Year's Distinguished Honorees:
NEXT GENERATION AWARD
Ryan Stanton
Long Island Federation of Labor
This year's winner for the Next Generation Award goes to Ryan Stanton for his work with the Long Island Federation of Labor. Ryan is the Political Director at the Long Island Federation of Labor, AFL-CIO. They are the 4th largest Central Labor Council in the United States and are working on behalf of 250,000 families across both Nassau and Suffolk County. They regularly work with local stakeholders such as elected offi cials, government agencies, private industry and other community organizations looking to better our regional economy.
In this position, Ryan has had the opportunity to promote common sense economic policy initiatives, help elect candidates that understand the needs of working people, and tackle union membership education initiatives through leadership development, health and safety in the workplace, common sense economics among others. Ryan has spent his career working to bring relief and opportunity to local workers. He exemplifi es our vision for the future by showing a sense of selfl ess pride in his community and its people.
Through his work with the Long Island Federation of Labor he has also helped support the creation of www.opportunitieslongisland.org in partnership with the Nassau-Suffolk Building and Construction Trades Council, a pre-apprenticeship preparation program that is providing training and opportunities necessary to help rebuild our economy and the middle class.
The Long Island Federation of Labor boasts members representing a range of union workers, from all walks of life. Teachers, technicians, public employees, painters, bus drivers, brick layers, retail and auto workers, janitors, utility workers, health care employees and construction workers are all represented by the Federation. As the voice of these members, the Federation has worked to bring positive change through legislative means at every level of government. They are a member of the Long Island Lobby Day Coalition and have participated in several annual Albany trips to help advocate for common sense solutions to problems affecting all Long Islanders.
Prior to joining the Long Island Federation of Labor, Ryan served as Executive Assistant to then Congressman and Chairman of the Democratic Congressional Campaign Committee, Steve Israel.
In 2017 Ryan was awarded with the Long Island Business News 40 Under 40 Award for his outstanding work as a young professional and advocacy for union workers.
"To everyone who didn't have the opportunity to stand up as a millennial, please have a conversation with these folks. Figure out what they really care about, if you haven't already had that discussion…. We had 61 out of 71 projects that had more supporters than opponents. We need to keep that going but we need to make sure that the supporters that are turning out are going to be the folks that are going to live here for decades to come." – Ryan Stanton, Long Island Federaiton of Labor
TRANSPORTATION
CLIMB – Concerned Long Island Mountain Bicyclists
Our winner this year for the Transportation Award goes to Concerned Long Island Mountain Bicyclists (CLIMB) for their work advocating for cleaner trails and the rights of bikers across Long Island. CLIMB was established in 1990 as a non-profit advocacy organization dedicated to the growth and safe enjoyment of mountain bicycling. They promote a strong relationship between recreation and conservation by educating the mountain bicycling community on environmentally sound and socially responsible trail use and maintenance.
Their volunteer work force enhances outdoor recreational opportunities in public parks by maintaining public trails and encouraging bicycling as a part of a healthy lifestyle. Volunteers become trail stewards to maintain the trails and to educate bicycle riders and other trail users from the local community about how to design sustainable trails, help perform trail maintenance and teaches environmentally friendly bike riding skills, socially responsible trail etiquette tips and lessons about our native flora and fauna.
CLIMB draws membership from all levels of bikers from beginners to experts who have a common passion for trail riding. The organization currenbtly maintains 18 trails across Long Island situated in both state parks and mincipalities. They provide resources to help explain to anyone who wishes to ride the trails what level of expertise and any permits necessary to complete the ride.
CLIMB is also a local member of National Mountain Bike Patrol, an organization dedicated to answering questions and promoting trail riding across the country. Calling themselces the Trail Patrol, the local CLIMB chapter of the NMBP logs over 12,000 miles of patrolled trails annually to help collect data and provide services to anyone in need of it. They help to assist riders with mechanical issues and provide maps, permit assistance and directions for all trail users. They are also certifi ed in First Aid, CPR, and AED.
Bicycling is becoming an even more important activity to promote health and wellness. CLIMB has created a community of bikers that advocate for the rights of bikers but who are also invested in creating more opportunities for biking and enjoying the outdoors.
"What we're doing is creating complete communities. Because you have workforce, you want to keep your young people here, and what they want is active recreation outdoors." – Michael Vitti, CLIMB
"One really great thing that CLIMB is working on is connecting all the parks through a protective bike path. " Andree Sanders, CLIMB
REVITALIZING COMMUNITIES
Baldwin Revitalization
Nassau County & Town of Hempstead
One of our winners this year for Revitalizing Communities goes to Nassau County and the Town of Hempstead for the Baldwin Revitalization.
While Baldwin has many successful businesses, it is lacking a cohesive downtown district to drive economic growth and allow for walkability in the community. In order to create a downtown corridor along Grand Ave, Nassau County and the Town of Hempstead have come together to come up with a plan and move forward with the revitalization. Last year, The Town of Hempstead Town Board voted unanimously to hire Engel Burman Group and Basser-Kaufman as the Master Developers for the project. They plan on working closely with the community to create a collaborative project that reflects the vision that residents have for their downtown. Support for the development project has also been expressed by the Baldwin Chamber of Commerce, the Baldwin Civic Association and the Baldwin Oaks Civic Association.
To assist with these efforts the Town of Hempstead received a grant from New York State to restore some of the blighted properties along Grand Ave. The grant comes from Empire State Development's Restore New York Communities Initiative and will be a part of the larger efforts to create a mixed use transit oriented community. Currently there are plans to create 140 apartment units and build about 25,000 sq/ft of ground fl oor retail space.
Nassau County has also been incredibly supportive of this project. Last, year the Nassau County Department of Public Works did a Grand Ave Complete Streets Traffic study to determine what work needed to be done to calm traffi c and create a more walkable environment. The report outlines the need for the study, public outreach that was done, existing traffic conditions, recommended complete streets improvements, next steps that should be taken. This study was done with input from County and Town representatives, local business owners, and local representatives so it reflects the full needs of the community.
With a Master Developer chosen and commitment to revitalizing Baldwin coming from all levels of government as well as local businesses and community leaders, the future looks promising for Baldwin and it will be exciting to see all of these efforts finally realized.
"Everyone knows that transit-oriented development and Smart Growth is going to save us as a region but it doesn't happen without community buy-in." – Hon. Laura Curran, Nassau County Legislature
"This vision is years in the making and I am honored to be recognized by Vision Long Island for our efforts to bring sustainable and forward-looking development to downtown Baldwin. Transforming the Baldwin business district will create an attractive community destination and will create much needed economic activity for the hamlet of Baldwin." Hon. Anthony Santino, Town of Hempstead
"Baldwin has been clamoring for years for change on Main Street, where Merrick road and Grand Ave intersect… We're going to change the face of downtown Baldwin. The community has been incredibly supportive of it. From the beginning, we brought the community into the process. We worked with them day in and day out to make this dream become into a reality." Hon. Erin King-Sweeny, Town of Hempstead
REVITALIZING COMMUNITIES
The Villa at Glen Cove
Livingston Development Group
This year's winner of the Revitalizing Communities Award goes to Livingston Development Group for their work on the Villa at Glen Cove.
Livingston Development Group is based in Glen Cove and has been a strong supporter of Smart Growth Development on Long Island. Since its inception in 2003, the company has shown a strong commitment to transit-oriented development.
The Villa at Glen Cove is being built on a previously blighted and underutilized property and will provide much needed apartments to the City of Glen Cove. They are currently planning to develop 176 apartments on about 4 acres of land, which will also include public spaces for residents to use in addition to numerous other available amenities.
The units will range from one- to three-bedroom and will also include 16 next generation units for young people who may otherwise have to move out of the area. There will also be 354 underground dedicated parking spots for residents, which will help to alleviate local traffi c in the nearby downtown.
The project will include 6 seperate buildings on a north and south site seperated by Craft Avenue. The Villa is also located directly adjacent to a bus stop and is within easy walking distance of the local marina. The site is close to several local restaurants with quick access to downtown Glen Cove.
Not only does this project fi ll a market need for rental apartments but it will also create a boom to the economy and support the small businesses in Glen Cove's downtown area. With a growing downtown district and events such as Downtown Sounds during the summer, the Villa will enhance some of the great things that are happening in Glen Cove by bringing new people to the area and providing rental opportunities for existing young professionals and boomers looking to downsize.
The Villa is just one of many projects that are currently being developed in Glen Cove right now. The Garvies Point project which will revitalize Glen Cove's waterfront district with apartments, businesses, walking trails, and recreation activities. Glen Cove has been working to bring life to its local downtown with an active BID and government always on the lookout for new ways to revitalize the north shore city. The Villa at Glen Cove is a great example of a project that is revitalizing Long Island and adding housing that helps create stronger communities.
"The Villa will rejuvenate an area that has been economically disenfranchised for decades. A new gateway into the city will be born… The residential condo development will be an economic engine for the city supporting downtown and local businesses. It will provide a homestead for those who love Long Island and want to preserve its way of life. Isn't that what Smart Growth is all about." – Daniel Livingston, Livingston Development Group
HOUSING CHOICES
LGBT Housing, Bay Shore
David Kilmnick, LGBT Network, D&F Development
Our next winner for Housing Choices goes to David Kilmnick, the LGBT Network and D&F development for their work on LGBT Housing in Bay Shore.
Through collaborative efforts between the LGBT Network and D&F Development, the fi rst LGBT senior housing complex on Long Island has been created in Bay Shore. The 55 unit property will aim to serve two distinct purposes: it will prevent housing discrimination against gay, lesbian and transgender couples and it will also help fix up a blighted area of Park Ave, where it will be located. The housing complex itself is being built on the site of the LGBT Community Center and will eventually include a new community center within the complex. This type of housing will create a safety net for LGBT seniors as they age and provide another piece in the puzzle for downtown revitalization in Bay Shore.
David Kilmnick is the Executive Director of the LGBT Network and has more than 23 years of experience working on behalf of the lesbian, gay, bisexual and transgender (LGBT) communities to end homophobia and transphobia, provide a home and a safe space for the community and advocate for equality under the law. His work with the LGBT Network has included managing four Community Centers, creating outreach and education programs, and spearheading the creation of the LGBT Housing in Bay Shore.
The LGBT Network has been around since 1993 and is an association of non-profi t organizations working to serve the LGBT community of Long Island and Queens throughout the lifespan: Long Island Gay and Lesbian Youth (LIGALY), The Long Island LGBT Community Center (The Center), Services and Advocacy for LGBT Elders – Long Island (SAGE-LI), and the Queens LGBT Community Center (Q Center).
D&F Development is a past Smart Growth Award winner and is working on development projects across Long Island. D&F has spent years implementing community driven projects across the region. They believe in Smart Growth and this value is refl ected in the work they do. With experience developing senior housing D&F will be bringing their industry knowledge to help make the LGBT Housing a success.
"5 or 10 years ago this project would not have been possible. It is the movement that was started by Vision Long Island that I credit for seeing this project move forward." – Peter Florey, D&F Development
"When you getter older, you should have the best quality of life and be able to live out your golden years whoever you are whoever you love and do so in a way that gives you a great life… So when we talk LGBT development in downtowns, its not only the right thing to do, it is the smart thing to do. Celebrating our diversity and being inclusive certainly is a boom in the economy too." – David Kilmnick, LGBT Network
TRANSIT-ORIENTED DEVELOPMENT
Modera, Hudson House, Searing Ave, Mineola
Village of Mineola & Mill Creek Residential
Our winner this year for Transit-Oriented Development goes to the Village of Mineola and Mill Creek Residential for their work on Modera, Hudson House.
Modera Mineola is a 275 apartment development in Mineola located just two blocks from the Mineola Train Station. The success of Modera refl ects the growing support for transit-oriented development on Long Island. In addition to easy access to the train station, residents have access to a club room, fi tness center, billiard room, outdoor fire pits, a pet spa, and pool among many other amenities. Hudson House is a component of Modera with 36 apartments specifi cally for seniors. As members of the babyboomer generation retire, they are seeking smaller residences with easy access to transportation and walkability. Hudson House is fi lling the market need for TOD senior housing and providing all the amenities that aging Long Islanders are seeking.
Modera and Hudson House are just a small piece of an apartment boom that has reached Mineola with approximately 900 units having been built in recent years. The Village has paved the way for this boom by creating an incentive zoning bonus program, understanding the need for rental apartments on Long Island and the unique position Mineola is in, with a conveniently located train station, short commute to Manhattan, and already existing downtown. The increase in apartments has brought more people to Mineola and generated economic development as new customers frequent local businesses.
Mill Creek is no stranger to working in Nassau County. In addition to Modera and Hudson House, they have also developed Metro 303 in the Village of Hempstead and West 313 in West Hempstead, all of which are essentially leased to capacity. They have established themselves as one of the leading apartment operators in the country, focusing on amenity rich transit-oriented developments that cater to young professionals and the retiring boomer population.
The Village of Mineola completed a Master Plan and the resulting incentive zoning ordinance that has brought well over a hundred million dollars of investments into their downtown. Their leadership in redevelopment is a model for downtowns across the region.
"It's important for all communities that are looking to revitalize their downtown that they do it smartly. You have to invite the business community to the table, the developers to the table, and the residents to the table. We've done that, we've been very successful, and I hope that other communities that are looking to do that will be just as successful as we are." – Hon. Scott Strauss, Village of Mineola Mayor
"We've attempted… to develop in communities in a fashion that is not by road but is fairly customized to the particular community in which we are hopeful of developing in. We spend a significant amount of time collaborating with all stakeholders, elected officials, property owners, etc., to figure out how to best develop and become part of the community… Our homes, that we build for our residents, are not just 4 walls, we are building a quality of life for residents that are going to live in our building but also live within the particular community in which we're developing. We believe in developing where people want to live not where they feel they have to live… We have succeeded because we are good listeners. We do not hear what people have to say, we listen to what people have to say." – Russel Tepper, Mill Creek Residential
COMMUNITY LEADERSHIP
Delano Stewart
Point of View (Posthumously)
This year's award winner for Community Leadership is being given posthumously to Delano Stewart for his work as a community leader for Wyandanch and minority communities throughout Long Island. Delano Stewart worked tirelessly to empower his local community through his newspaper Point of View and advocacy for a Wyandanch Village Center. Point of View was published in Wyandanch to give a voice to the minority community on Long Island. Mr. Stewart's inspiration for Point of View came after noticing that the media was often misrepresenting minority communities and a new perspectiveneeded to be brought to the table. Point of View had become an outlet to represent the thoughts and opinions of minority communities across Long Island.
Delano Stewart spent much of his life advocating for the Wyandanch community. As a more than thirty year resident of the Town of Babylon and a former member of the New York City Community Development Agency, he understood the need for the revitalization of the Wyandanch hamlet. His early advocacy resulted in the renovation of the LIRR Train Station, a rebuilt Post Office and a road narrowing initiative on Straight Path. His early leadership helped secure land for the future redevelopment project known as Wyandanch Rising and successfully lobbied for Federal, State and County funds for sewering the Wyandanch business district.
In 2002 he spearheaded community meetings that resulted in a report calling for Smart Growth including affordable housing, restaurants, walkable developments, and job training facilities. Out of this original visioning came Wyandanch Rising, the revitalization plan created by the Town of Babylon and Suffolk County. So far this project, located a few blocks from the train station, includes mixed income apartments, a public plaza, a park, and commercial space.
This project is further steps towards the revitalization of Wyandanch and as it continues to grow can bring even more vitality to Wyandanch. Plans include the LI Music Hall of Fame in the development, create office space, and outdoor community spaces there will be plenty of opportunities for events that bring the village together and create more economic opportunities for residents.
Mr. Stewart was the proud husband to his longtime wife Anne and daughters Nikki and Dara. In each of their own ways they have been advocates working in the public interest and carry his legacy of revitalization forward. He had many talents as a recording artist, running an insurance business as well as his newspaper and community advocacy. Mr. Stewart was a very effective guide for the beginnings of the Smart Growth movement and assisted Vision and other organizations. While this honor should have been bestowed to Mr. Stewart during his time with us we all join in reflecting on his many accomplishments and carrying his work forward.
"Delano was the type person who worked hard to empower and improve his community. In order to revitalize your community, you need a train station, a way people can move back and forth… Delano fought very hard for that… He took on that fight and he won. Delano believed in the smart growth concept… (He believed in) a walkable community, a community that affordable and market rate housing, a community that had businesses and retail and restaurants, and all the things that make a viable community…He is the architect of Wyndanch Rising." – Anne Stewart, widow of Delano Stewart
HOUSING CHOICES
Peconic Crossing, Riverhead
Town of Riverhead & Conifer Realty
One of this year's winners for Housing Choices goes to the Town of Riverhead and Conifer Realty for their work on Peconic Crossing.
Peconic Crossing consists of 45 units and contain artist's housing, similar to what has been done with ArtSpace in Patchogue. Through collaborative efforts between the Town and private developers, Conifer Realty, Peconic Crossing will be built in the heart of Downtown Riverhead, home to East End Arts. This centrally located development will create opportunities for walking or biking to work and visiting restaurants and shops. Apartments will be spacious and energy effi cient, with preference given to artists and those displaced by Hurricane Sandy.
After completion of the Town of Riverhead's Master Plan theey have seen success downtown on a projects by project basis. They were able to acquire funds through New York State to make this project a part of their ongoing downtown revitalization. Riverhead has seen a resurgence in past couple of years with an increase in restaurants and events like "Alive After Five" that are bringing the community together and drawing more people to the area. East End Arts, a past Smart Growth Award winner and local art organization has been an integral part in helping revitalize Riverhead, which is why Peconic Crossing is such an exciting project to see move forward.
Conifer Realty has been working on Long Island downtowns for years, including being the developer behind award winning projects such as Wincoram and Copaigue Commons. They have been ongoing supporters of Smart Growth and the values their company holds is made evident by their commitment to making communities stronger, walkable, and affordable. Many of their projects have affordable components, which is becoming an ever important component in new development on Long Island. Peconic Crossing will also be a mixed income development and provide necessary workforce housing that will support artists and those still displaced by Superstorm Sandy.
Peconic Crossing is an incredible example of private and public resources coming together to create housing that will be valued by the Riverhead community for years to come.
"I want you to remove something from your lexicon right now. This whole concept of workforce housing. We don't want to use this anymore. I use Millennial housing. This housing that we're building… it really is millennial housing, and we are getting beat up like crazy by calling workforce housing. So remove it from your lexicon, it is now millennial housing, and you millennials that are here take ownership of it. Because the old guys like me on the opposite side that don't want it will try to block it on every avenue." – Hon. Sean Walter, Town of Riverhead Supervisor
"It's projects like this that have the opportunity to keep Long Islanders here for the long haul." – Arthur Krauer, Conifer Realty
CERTAINTY
TOD Zoning, Great Neck Plaza
Village of Great Neck Plaza & Nemat Development
This year's winner for Certainty goes to the Village of Great Neck Plaza and Nemat Development for their work rezoning Great Neck Plaza.
As part of their ongoing revitalization efforts, the Villafe of Great Neck Plaza has transformed their "B District" zoning code along Main Street to new zoning called Transit-Oriented Development (TOD). TOD zoning has allowed developer Nemat Development to create a mixed use residential and retail building in the downtown area. This zone change has paved the way for vitality in Great Neck and enhanced the downtown community. The decision to rethink the zoning code sets an example for other downtowns to consider creating zoning codes that foster mixed-use, transit-oriented development instead of impeding it.
Nemat Development made the decision to develop in Great Neck Plaza after seeing a shift in people wanting to live in walkable downtown communities on Long Island instead of living directly in the City. With only a 30 minute commute into Manhattan and a supportive local government, Great Neck is perfectly situated for the type of mixed-use buildings that Nemat Development is looking to build.
Since being elected into offi ce in 2000, Mayor Jean Celender has paved the way for Great Neck Plaza to become one of Long Island's most innovative downtown communities. In an interview she describes her efforts to create greater density while still maintaining the small suburban feel of the community. In her interview, Celender also points out the importance of historic preservation to create a unique appeal to the downtown and maintain sense of place.
Mayor Celender's efforts to engage the community in every phase of Great Neck Plaza's revitalization led to a huge amount of support for the switch to TOD zoning. There was an understanding of the value TOD zoning would bring and the positive economic impact that apartments could bring to the businesses located in Great Neck Plaza's Downtown. An important precedent has been set by Great Neck Plaza and the success that their downtown has experienced is tangible when you take a stroll down their thriving business district.
"I've never been more encouraged than I am now about the progress being made in Long Island communities. It was a slow growth back from the national recession, and our Main Streets were very much hurting at the time. We looked at what we could do in terms of zoning. I think that TOD zoning is a very good use in a downtown that has a train station and can offer a lot of pluses in terms of the mixed zoning. I encourage other downtowns with train stations to look at what you can do." – Hon, Jean Celender, Village of Great Neck Plaza Mayor
"We have built in many areas such as Cleveland, Ohio, and Philadelphia, Pennsylvania. There is no other local government that one local builder can build with like the Village of Great Neck Plaza." – Hooshang Nematzadeh – Nemat Homes
MIX OF USES
Middle Island Revitalization
Longwood Library, Concern Middle Island,
& Gail Lynch-Bailey
Our winner this year for the Mix of Uses Awards goes to the Longwood Library, Concern Middle Island, and Gail Lynch Bailey for the Middle Island Revitalization.
Through collaborative efforts, Middle Island is experiencing a revitalization with a new library, affordable housing spearheaded by Concern for Independent Living, and leadership roles taken by Gail Lynch Bailey and the Middle Island Civic Organization. They were seeking to establish a new town center where none existed. Over a decade ago, in preparation for the community work to be done in Middle Island, a visioning was held and today the Middle Island Civic Organization is staying true to the vision that was created back then. The Middle Island Civic Association, believes the strength of a democratic society lies in the citizens' ability and inclination to participate in the act of governing. They further believe that in unity there is strength, and that the efforts of many may achieve results that cannot be achieved by the individual.
They encourage the people of Middle Island to participate in the process of government and for representatives to be responsive to the needs of their constituents, and to preserve, protect, and foster the environmental, economic, historical, educational, and cultural amenities of Middle Island. Their work includes facilitating a community garden, preserving open public spaces, and advocating for the revitalization of Middle Island.
Gail Lynch Bailey has also been an important advocate for the progress that has been made in Middle Island. When Senator Ken LaValle honored her as "Woman of the Year" in 2015 he said, "Gail Lynch Bailey's dedication and commitment to community is exemplary. Her countless hours of involvement and generous volunteering of her time have made many positive impacts that will last generations." She has been involved in the Middle Island Civic Organization, the Longwood Alliance, and was a member of the Longwood PTA. She helped support efforts from the school district to advocate for the revitalization and played an important role in helping to create a better community.
Concern for Independent Living's Middle Island project will provide permanent, supportive housing for 123 low- and moderateincome individuals and families in one-, two-, and three-bedroom apartments. Concern is the sponsor, developer and managing agent and ownership will be in a Limited Partnership. With apartment availability well below the national average, this housing project will provide necessary living opportunities for families living with low to moderate incomes in need of alternative housing options and will provide an example for other developers to follow in the future. This project is just one of many that are creating a stronger and more vibrant Middle Island.
As part of the revitalization, the Longwood Library has a brand new facility with updated programs for the community including discounted museum tickets, a children's summer reading program, baby reading programs, and adult learning programs. Additionally they are now offering resources to learn about local history, professional development, and basic car and home repair. The library has become a central hub for learning and programming that now acts as an incredible resource for the Middle Island Community.
"I want to thank Vision Long Island for this award, and also planting the seed here. What usually happens with projects like this is Vision comes out, works with the community, plants the seed, and others join in to nourish the seed." – Ralph Fasano, Concern for Independent Living
"Thank you for your mission and dedication for providing homes for the underserved but so deserving amongst us. Renaissance Village is truly a beautiful community in both its purpose and happily its appearance. It has been 15 long years since we had the initial planning charrettes."– Gail Lynch-Bailey, Middle Island Civic
"The improvements to the library really become a focal point to the area around us" – Lisa Jacobs, Director of the Longwood Public Library
"Without people like this in the community things don't happen. God bless them, let's hope that we have a lot more of them out there on Long Island, so that we can change the face of this island for the better." – Hon. Ed Romaine, Town of Brookhaven Supervisor
CLEAN ENERGY
South Fork Offshore Wind Farm
LIPA & Deepwater Wind
Our winner this year for Clean Energy goes to the Long Island Power Authority and Deepwater Wind for the South Fork Offshore Wind Farm.
As planned, South Fork Offshore Wind Farm will be the largest wind farm in the country. The wind farm will be built 30 miles off the coast of Montauk, so it won't be visible from the shore, and it will have as many as 15 turbines to power up to 50,000 homes with the potential for 200 turbines on the 256 acre parcel that is being leased from the Federal government. This development will be the first step in farming an area that could provide upwards of 1,000 megawatts of offshore electricity.
LIPA's board voted in January to approve a contract that will engage in a 20-year pay-for-performance agreement that will allow for the authority to only pay for energy that is delivered. All costs for construction and operation will be shouldered by Deepwater Wind. Motivation for this project comes from Governor Andrew Cuomo's push to draw 50% of New York State's energy from renewable sources by 2030.
Part of this goal commits to 2.4 gigawatts of offshore wind, which is the largest commitment to offshore wind in the country and equal to the capacity of the facility at Niagara Falls. It will also enable the Town of East Hampton to achieve their goal of achieving 100% renewable energy sources by the year 2030 and LIPA to achieve their goal of bringing 280 megawatts of renewable energy capacity to Long Island. Because of technological advances the South Shore Wind Farm will be one of the most cost effective energy sources in the world.
Deepwater Wind is working on wind projects along the East Coast in New York, Massachusetts, Rhode Island, Maryland, and New Jersey all of which are located at least 15 miles off the shore. The recently opened Block Island in Rhode Island was the first off shore wind farm in the country, representing a step forward in clean energy for the nation. Their collaboration with LIPA is leading the way in creating more opportunities for renewable energy on Long Island and helping New York assert itself as a leader in advancing renewable energy.
"I want to commend all of the awardees today. What's great about a day like today, we are exceeding expectations on Long Island. It's apparent what we can do when we have vision, we have leadership, we have perseverance, we have support, and we have partnerships." – Mike Deering, LIPA
"Vision Long Island continues to be a force of positive change for local communities across our Island… I thank Vision Long Island for recognizing LIPA's efforts to develop Off-Shore Wind can positively affect all Long Islanders by reducing our carbon footprint, creating new jobs, and providing cleaner air for all 1.1 million customers. We are confident our public-private partnership to develop New York's first Off-Shore Wind farm will not be the last." –Tom Falcone, CEO of the Long Island Power Authority
"This is a $30 billion global industry every year, and Long Island is now posed to be a global leader in this industry." – Clint Plummer, Deepwater Wind
REGIONAL LEADERSHIP
John Cameron
Long Island Regional Planning Council
This year's winner of the Regional Leadership Award goes to John Cameron for his work on the Long Island Regional Planning Council.
John is the founder of the fi rm Cameron Engineering and Associates and has used his leadership, management, and business experience to establish Cameron Engineering as one of the leading engineering firms on Long Island. They specialize in public and private sector engineering including site development, energy management including renewable energy and conservation programs; water quality management planning, waterfront protection and resilience; roadway, drainage and infrastructure improvements and hardening; traffic analyses, parks and recreation work; planning; and building systems design, among many other things.
John is a strong supporter of Smart Growth which is reflected in the fact that he sits as the Chairman of the Long Island Regional Planning Council, is a Community Advisory Board Member of LIPA, a member of the New York State Brownfi elds Advisory Group, a
member of the New York Works Task Force, in addition to a full resume of community involvement that shows John's commitment to making Long Island a better place to live for future generations.
His work as the Chair of the Long Island Regional Planning Council has allowed him to advocate for support of downtown revitalization in both Nassau and Suffolk Counties. The Planning Council was re-established in 2008 to promote the physical, economic and social health and well-being of the Long Island region and its residents. It also serves as a catalyst for action by proposing immediate and longterm implementable solutions for issues of regional concern and educating elected and appointed offi cials, stakeholders and residents on key issues affecting the quality of life on Long Island.
Under his leadership the Long Island Regional Planning Council has stayed true to it's mission and become an important organization on Long Island that has helped create better economic conditions and more opportunitiesto bring federal and state resources to Long Island communities.
Mr. Cameron's leadership shines through in his church and strong faith, his community of Rockville Centre, his family and his personal values. He continues to be a leader that Long Islanders look up to for information, support and advocacy for our region. His service and accomplishments essentially defi ne the qualities necessary for a long overdue Regional Leadership Award.
"Frankly, I believe Long Island's greatest asset is none of these physical attributes but a more important a more critical on- it's people. We as successors to America's greatest generation have a collective responsibility…to ensure that the physical social and financial investment made by those who came before us does not end as an unsustainable model that successive generations fail to uphold. While this celebration today of achievements made on LI's journey towards a sustainable future is a testament that project is being made, it is an undisputable fact that we have more to do.Many will say we cannot afford to do that. On the contrary, we cannot afford not to do that." – John Cameron, Long Island Regional Planning Council
CLOSING REMARKS
Hon. Ed Mangano
Nassau County Executive
"I wanted to recognize Vision Long Island and this year's honorrees for your hard work and your contributions and certainly those in this room who have reached out to me to make our County and our Island a better place to live, work, and raise a family…Nassau County is doing well… we're providing a County that people are proud of, that people want to move to, that has more jobs and opportunities, and I think the strength of that is in this room, where we do things right."
Public Officials In Attendance:
NYS
former NYS Senator Jack M. Martins
former NYS Assemblywoman Michelle Schimel
Vanessa Pino Lockel from the Office of New York State Governor Andrew Cuomo
Laura Munafo from the Governor's Office of Storm Recovery
Suffolk County
former Suffolk County Executive Steve Levy
Suffolk Presiding Officer DuWayne Gregory
Suffolk County Comptroller John Kennedy
Suffolk County Legislator Tom Cilmi
Suffolk County Legislator Monica R. Martinez
Suffolk County Legislator Bridget Fleming
Suffolk County Planning Commissioner Errol Kitt
Office of Suffolk County Legislator Kate Browning's Josh Slaughter
Office of Suffolk County Legislator William Spencer's Elizabeth Alexander
Nassau County
Nassau County Executive Ed Mangano
Nassau County Comptroller George Maragos
Nassau County Presiding Officer Norma Gonsalves
Nassau County Legislator Laura Curran
Nassau County Legislator Ellen Birnbaum
Nassau County Commissioner Carl DeHaney Jr
Nassau County Planning Chair Jeffrey H. Greenfield
Nassau County Commissioner Donna Martini
Nassau County Village Officials Association Director Warren Tackenberg
former Nassau Deputy Comptroller Steve Labriola
Town of Brookhaven
Town of Brookhaven Supervisor Ed Romaine
Councilwoman Valerie M. Cartright
Town of Hempstead Councilman Anthony D'Esposito
Town of Hempstead Councilwoman Erin King Sweeney
Town of Hempstead Councilman Ed Ambrosino
former Town of Brookhaven Councilwoman Connie Kepert
Town of Huntington
Town of Huntington Councilwoman Susan A. Berland
Town of Islip
Town of Islip Councilman Steve Flotteron
Town of North Hempstead
Town of North Hempstead Councilwoman Dina De Giorgio
Town of North Hempstead Clerk Wayne Wink
Town of Oyster Bay
Town of Oyster Bay Councilman Louis Imbroto
Town of Babylon
Town of Babylon Councilman Tom Donnelly
Village of Farmingdale
Village of Farmingdale Mayor Ralph Eckstrand
Village of Freeport
Village of Freeport Deputy Mayor Jorge Martinez
Village of Great Neck Plaza
Village of Great Neck Plaza Mayor Jean Celender
Village of Great Neck Plaza Trustee Mitch Beckerman
Village of Great Neck Plaza Trustee Bart Sobel
Village of Great Neck Plaza Trustee Pam Marsheild
Village of Great Neck Plaza Trustee Jeff Bass
Village of Mastic Beach
Village of Mastic Beach Trustee Fred Krage
former Mayor of Mastic Beach Village Maura Spery
Village of Mineola
Village of Mineola Mayor Scott Strauss
Village of Mineola Trustee Dennis Walsh
Village of Mineola Trustee Paul Cusator
Village of Mineola Trustee George Dunham
Village of Westbury
Village of Westbury Deputy Mayor Joan Boes
Village of Westbury Trustee William Wise
Village of Valley Stream
Village of Valley Stream's Tom McAleer
Town of Riverhead
Town of Riverhead Supervisor Sean Walter
Village of Great Neck
former Mayor of Great Neck Ralph Krietzman
Village of Farmingdale
former Mayor of Farmingdale George Graf
Media Links:
Special thanks to our videographers, Video Masters. Watch all of the honoree videos on our
You can read Long Island Business News' pre-event coverage of the Awards
Check out the Herald's coverage of our event
You can also read Vision Long Island Director Eric Alexanders latest op-ed at .
Special Thanks To Our Filmmaker and Photographers:
Here Are Some Of The Photos From The 2017 Smart Growth Awards:
Save the Date for the 16th Annual Long Island
Smart Growth Summit on Friday, December 1st!
Register today! Sponsorships are available!
[ ] Visionary ($20,000) [ ] Platinum ($15,000) [ ] Gold ($10,000) [ ] Silver ($5,000) [ ] Bronze ($3,000) [ ] ___ seats ($150/person)
Method of Payment: [ ] Check enclosed [ ] Check sent (faxed replies only) [ ] Pay at the door [ ] Credit Card
Attendee Name(s): ____________________________________________________________________________________________
To RSVP or for more information please contact 631-261-0242, info@visionlongisland.org or fax 631-754-4452.

In Closing…
We are pleased to report the 16th Annual Smart Growth Awards was a special event for all of us working to maintain and create great places on Long Island. The attendance was the largest we have ever had and the energy in the room was spectacular. We would like to thank all of the communities, businesses, public officials and sponsors who made the event a success but more importantly thanks for all you do each day to advance Smart Growth on LI.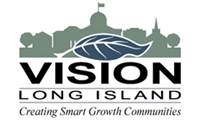 Vision Long Island
24 Woodbine Ave., Suite Two
Northport, NY 11768
Phone: 631-261-0242. Fax: 631-754-4452.
Email: info@visionlongisland.org
Website: www.visionlongisland.org
Home | Contact Us | Newsletter Archive | Donate | About Us