Check out this week's Special Edition of Smart Talk where we tell you all about the 18th Annual Long Island Smart Growth Awards!

18th Annual Long Island Smart Growth Awards Celebrate Local Leadership
Over 850 community, business and government leaders reward
downtown and infrastructure projects across Long Island

The 18th Annual LI Smart Growth Awards took place Friday, June 14th, from 11:00am to 2:00pm at the Crest Hollow Country Club in Woodbury. The event will honored individuals and organizations who have been working to advance successful downtown and infrastructure initiatives.
2019's event highlighted the efforts of leaders in government, the private sector, and the community that exemplify Smart Growth principles in such areas as affordable housing, transit oriented development, mix of land uses, transportation, small business development, community revitalization and wastewater infrastructure.
This year 42 nominations were received and reviewed with 13 individual and project leadership awards being selected.
Downtown project and planning winners are from Valley Stream, Island Park, Amityville, Bellport, Southampton, Huntington, and Mastic and Shirley. Regional award winners included the LIRR 3rd Track, PSEG-LI's Main Street Grant Programs, the Nassau Village Officials Association and the LI/NY Youth Summit. Regional Leadership awards include Anthony Bartone & Fran Terwilliger from Terwilliger Bartone and longtime LI Business News reporter David Winzelberg.
Over 850 of Long Island's civic, small business, development, and government leaders registered for the event and over 60 elected officials, 35 chamber of commerce leaders, and 45 civic leaders were on hand to well represent over 50 downtowns across Long Island.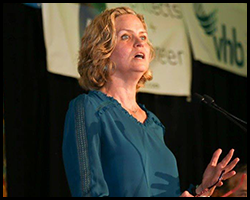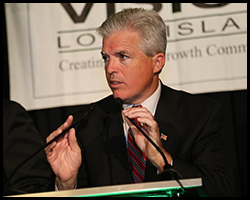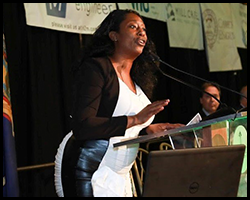 Nassau County Executive Laura Curran and Suffolk County Executive Steve Bellone also spoke at the event, each reinforcing Smart Growth values most pressing in their home counties. Executive Curran highlighted the important work being done by local Mayors and Supervisors. She talked about the importance of these local officials moving projects forward and strengthening our downtowns through consensus from local residents. This has resulted in a move towards density and TOD in our downtowns and those projects help to retain a shrinking youth population and expand the tax base for Nassau.
"It takes government," said Executive Curran, "civic associations, business, chambers of commerce, labor developers, to all be working together and to be working out their differences and to be rowing in the same directions for the benefit of all of us. We want to make the pie higher, and we have to do it together."
Executive Bellone talked about water infrastructure, specifically the recent push by local residents for sewering and expanded capacity in downtowns. He cited this year's Environment & Water winner the Forge River Sewer Project as well as one of last year's winners, Kings Park.
"It's about economic development," said Executive Bellone, "it's about creating the kind of sustainable development that will bring high paying jobs that will keep young people here and attract others from around the country so that we can reach our economic potential. Infrastructure is necessary to do that."

Of Long Island's 100 downtown business districts 40 have revitalization plans and are actively moving projects forward. All told over 13,500 units of transit oriented development housing have been approved over the last fourteen years along with countless other downtown projects. We can report that 87 of the last 102 public hearings, in the last six years for Transit Oriented Development and downtown projects, have had more supporters than opponents resulting in a record number of approvals.
"This year's LI Smart Growth Award winners have provided the leadership we need in local communities to rebuild our Main Streets, invest in affordable housing, transportation, wastewater infrastructure, local jobs and our youth. In an era where most news is conflict driven and driven by extremes, these leaders cut against that narrative and show us by example how we can work together through the process of change", Eric Alexander, Director, Vision Long Island

We would like to thank our 2019 Smart Growth Awards Sponsors.
Platinum Sponsor: 1st EquityTitle
Gold Sponsor: National Grid, Meadowood Properties
Silver Sponsors: Northwell Health, AT&T, Concern for Independant Living, Engel Burman, Mill Creek Residential, Kay Development Group, Southwest Airlines, PSEG Long Island, RXR. VHB, Third Street Associates, AECOM, Terwilliger & Bartone, H2M Architects + Engineers, Cameron Engineering, Greenman-Pedersen Inc., Heartland Business Center, People's United Bank
Bronze Sponsors:Albanese & Albanese, Certilman Balin, Cronin & Cronin, D&F Development, SunPower by EmPower Solar, Huntington Township Housing Coalition, GRCH Architects, The Gitto Group, Greenview Properties, NY/LI Youth Summit, Posillico, KOW ARMA, Rivkin Radler, Nassau County IDA, Harras Bloom & Archer, JOBCO, The Channel Club, Bohler Engineering, Quatela Chimera PLLC, Nassau County Village Officials Association, GEI Engineers, Mattone Investors, Town of Brookhaven, LandTek, BHC Architects, South Asian Times, Zucaro Construction, Zyscovich Architects, NICE Bus, Tritec, LIPA, St. Joseph's College, Plumbers Local 200, NEFCU, Vincent James Management, Caithness Long Island, Conifer Realty, Hofstra University, Suffolk County IDA, Trinity Solar, Cosentino Realty Group, Alumni Association of SUNY Old Westbury, GettinLocal, TD Bank, Forchelli Deegan Terrana, Good Harvest Financial Group, Sustainability Institute of Molloy College, McBride Consulting & Business Development Group, Sahn Ward Coschignano, Southern Land Company, SUEZ United Water, RMB Drafting Services, Ruskin Moscou Faltischek, BJH Advisors
Media Sponsors: Video Masters, Omni Presenters, Crest Hollow Country Club, AARP Long Island, The Corridor, Herald Community Newspapers, Fair Media Council, Hicksville Chamber of Commerce, Long Island Business News, Hicksville Minuteman Press, Nassau Council of Chambers of Commerce, Newsday, Suffolk County Alliance of Chambers, Noticia, Michelle GT Photographers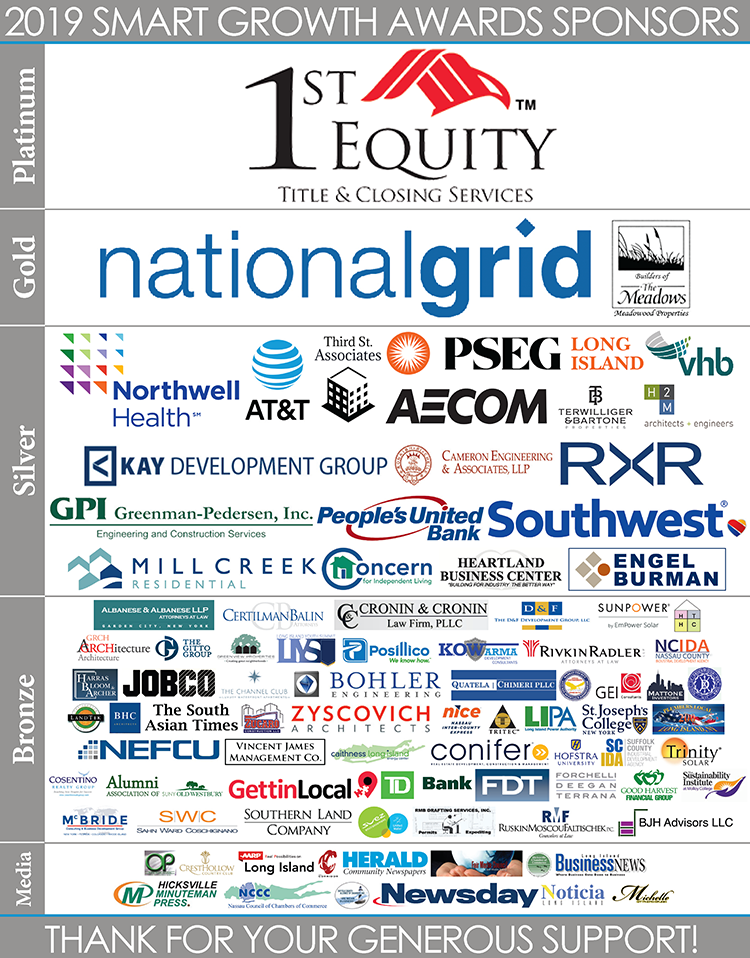 This Special Edition of the Smart Talk newsletter is sponsored by: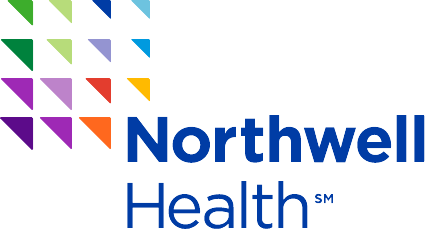 Northwell Health is one of the nation's largest health systems, delivering world-class clinical care throughout the New York metropolitan area, pioneering research at The Feinstein Institute for Medical Research, a visionary approach to medical education highlighted by the Hofstra Northwell School of Medicine, and healthcare coverage to individuals, families and businesses through the CareConnect Insurance Co. Inc.
Northwell cares for people at every stage of life at 23 hospitals and 700 outpatient facilities throughout the region. The health network contains 23 hospitals, nearly 600 ambulatory and physician offices, Home care, Long-term care, Hospice care, and more than 13,600 affiliated physicians. With a workforce of about 68,000, Northwell is the largest private employer in New York State. For more information, go to www.northwell.edu
Congratulations To This Year's
Distinguished Honorees:
SMALL BUSINESS
Main Street Revitalization Programs
PSEG Long Island


This year's Smart Growth Award for Small Business goes to the Main Street Revitalization Program created by PSEG Long Island.
PSEG signed a 12-year lease to take over the day-to-day operations of LIPA at the beginning of 2014 and began delivering electricity to Long Island consumers. In that time PSEG has worked to be a good corporate neighbor on Long Island, introducing numerous programs aimed at helping to lower costs for customers and help promote clean energy.
One of their most important initiatives for small business has been the Main Street Revitalization program, which is aimed at promoting small business and downtown revitalization.
The program debuted a little over a year ago in May 2018 when PSEG presented a $75,000 grant to the Argyle Theatre. The grant was the first in a line of funding for small, locally owned Main Street business to finance projects and help to stimulate economic activity. For the historic Babylon theatre this meant upgrading lighting to modern LED stage lights that produced less heat, consumed less energy, and required less coverage to achieve the same lighting effect. This not only provided a boost to the local downtown landmark but helped to reduce the environmental impact produced.
Businesses are eligible to receive the grant for a variety of improvements they can perform, including interior renovations, façade improvements, streetscape improvements, and other investments in the business that will help grow economic viability and vibrancy in the business district.
PSEG is currently administering the program under a two-tiered system that awards funding based on private-sector job creation and/or retention, capital investment, expected economic growth in the business district, and utilization of existing electric infrastructure. Tier One will award up to $100,000 to businesses supplement funding from non PSEG Long Island sources on a minimum $1 to $1 match. Tier Two awards of up to $25,000 do not require any third party funding.
As part of this program there is also a Vacant Space Revival Program available that is designed to encourage occupancy of commercial space in a business district or in an area of existing commercial businesses that has been vacant for a period of one year or more. Qualified applicants are eligible for reduced electricity bills during the first year of business.
"We created the Main Street Revitalization Programs because we know that small businesses are the backbone of Long Island's economy. If they thrive, we all thrive," said John Keating, Manager of Economic Development for PSEG Long Island.
Since that first grant the program has provided funding for several other businesses across Long Island. The program has provided a grant for the Riverhead BID to implement improvements at Grangabel Park, a Long Beach Desert Shop named Baked by the Ocean for a new sprinkler system and energy efficient windows, reduced costs for AR Workshop to move into an empty storefront in downtown Port Washington, and funding for improvements to My Home Favorites' storefront in Westbury, plus more. Vision would like to congratulate PSEG Long Island on their accomplishment in implementing this important funding stream for small business.

STRENGTHENING COMMUNITIES
Nassau County
Village Officials Association


One of the 2019 Smart Growth Awards for Strengthening Communities goes to the Nassau County Village Officials Association for all the work they've done to help manage and enhance local downtown areas.
Originally founded in 1925, the NCVOA is a not-for-profit that is comprised of, led by, and represents, all of Nassau County's 64 villages and the residents therein. The organization was created for the purpose of encouraging and stimulating cooperation among the numerous member villages.
The organization has dedicated itself to providing resources for village officials by being a forum for the free exchange of administrative ideas and experiences, developing educational programs and conferences, studying and discussing possibly benefits to the public safety, health, and welfare of member villages, and investigating and discussing the most efficient means and methods of village governments. It also serves also a central point for mutual aid to travel between villages when needed.
The NCVOA's efforts have long stood as an example of how neighbors working together can benefit the region as a whole. The group gives the numerous villages located across the county one voice with which to lobby and call for change from both the local legislature and Albany.
This role as an advocate for the villages was on display earlier this year when the organization held a press conference to call for the restoration of Aid & Incentives for Municipalities (AIM) funding to what was then a draft NYS budget. The NCVOA called a press conference to call on the restoration of the funds and advocated on behalf of the 27 villages that would have taken a hit to their local budgets.
The funding was eventually restored to the budget, but the issue may not have been addressed if it wasn't for uniting organizations like the NCVOA to draw together the voices of its constituent governments.
The Nassau County Village Officials Association breeds success among local downtowns by helping to proliferate ideas and programs that are working. By providing a forum for such a large number of Main Street districts they are able to both promote and manage growth and viability in local downtowns. This places the non-profit in the role of both educator and support for their member villages.
To that end the Association will host regular meetings that present new opportunities and strategies for elected officials to take back to their home villages. Vision itself was part of one such meeting recently where grant funding and economic growth were discussed.
The organization is currently led by Farmingdale Mayor Ralph Ekstrand, who was elected by his peers to serve for the 2018-2019 term. Other officers include Mayor Jean Celender, First Vice President, Mayor Edward Lieberman, Second Vice President, Mayor Daniel Serota, Treasurer, and the entire Executive Board led by Executive Director Ralph Kreitzman.

STRENGTHENING COMMUNITIES
Channel Club, Island Park
Waterview Land Development


One of the 2019 Smart Growth Award honorees for Strengthening Communities is the Channel Club, located in Island Park.
Like a vast swathe of Long Island, Island Park was hit hard during Superstorm Sandy. A good number of homes in the local area were flooded out during the catastrophic storm, creating a dearth of housing and a crisis for local residents. While the process has been a long, arduous task, this project represents an announcement that the revitalization of the area is finally coming to bear.
Multi-family options are a positive to an area that is looking for solutions to the losses suffered under Sandy. The economic benefits of the new residents to the area will spread out to the surrounding community and increase prosperity. This new activity is most welcome to an area that has done a tremendous job of picking up the pieces and supporting its neighbors.
The local Chamber of Commerce is also welcoming of the new residents, having printed up pamphlets to welcome them. Indeed, the project has a focus on benefitting the community and drawing in new, young professionals and empty nesters, two age groups that increasingly find themselves at odds with the glut of single-family homes on Long Island. The project is also located within walking distance of the local train station and mass transit system.
The new project has been planned since all the way back in 2014, and was approved by the Town of Hempstead in 2015. Owned by father and son Dylan and John Vitale, the complex will replace two restaurants they had also previously owned on the property. It will be composed of two buildings, the first of which will be completed and available for move-in beginning in July. Work is currently underway on the second tower, which is already taking applications for renters.
The buildings each contain 43 units, with 54 total two-bedrooms and 32 one-bedrooms. Amenities include balconies, washing machines and dryers, stainless steel appliances in each unit, a fitness center in the first tower, a community room with a pool table and lounge area in the second tower, and a pool deck area on the second floor that connects the buildings. Residents also have access to boat slips on the site and the community room will be available for special events such as movie nights.
Learning their lesson from the devastation of Sandy, the owners have taken steps to create a more storm-resilient property. The area surrounding the units now sports a raised bulkhead with all mechanical units placed on the roof to protect from flooding. There is also a generator and underground drainage to help fight flooding should the bulkhead fail.
This project represents years of hard work to try and breathe life back into a part of the island that was hit extremely hard during Superstorm Sandy. We are happy to recognize this project for being the important component of that revitalization that it is.

STRENGTHENING COMMUNITIES
GreenTek Living, Amityvlle
GreenTek, Village of Amityville,
Zucaro Construction


One of this year's winners for the 2019 Strengthening Communities Smart Growth Award is GreenTek Living in Amityville.
This project has the potential to transform previously zoned industrial area surrounding the Amityville LIRR station into 115 rental units. The project is being proposed by the GreenTek company, and recently sought and was granted a variance under the newly created floated TOD zoning. This allows it to build residential units and exceed zoning density on property zoned industrial and near the LIRR station.
The land is owned GreenTek's affiliate LandTek and makes up about 2.4 acres. Under the previous zoning code there could not have even been 30 units on the property. Zucaro Construction has also been hired to work on the project.
The recent change to the code created a new floating TOD zone and apply to 48 acres of property near the Amityville LIRR station, with Broadway, County Line Road, Sterling Place, and West Oak Street all creating the boundaries. In order to benefit from the new zoning projects must be within that boundary, exceed 1.5 acres in size, and be zoned industrial. If those conditions are met they can then have buildings up to 48 feet tall and with 48 units per acre. Current zoning only allows for 38 foot tall buildings and 12 units per acre.
GreenTek is also offering a number of incentives in their plans for the site. They will incorporate a 19th century building currently located on site into the plan in order to preserve some of the local history. GreenTek will also create a pedestrian path connecting the downtown and train station, and make annual $36,000 payments for the next 20 years. This represents an investment in the surrounding community as well as their own project and will set the mark for future investors hoping to build in the Amityville.
The Village also took the step of holding meetings to allow the public to voice any concerns about the proposed change of zoning. While there were some questions concerning parking around the project, the feedback was generally positive concerning the proposed changes.
"This will set the barometer for whether you move forward with other TOD projects or you don't," said GreenTek owner Mike Ryan at a one of those meetings. "This is going to give the community a benchmark to move forward and say" 'We want it built like that.' That is our goal. We believe in Amityville."
The final approval came in December of 2018 as the Board of Trustees would vote to allow the new code that would allow the project to move forward. It also now makes the zoning change available for any project wishing to apply should they meet the standards.
Though the proposed GreenTek Living project was the impetus for the zoning change, it will have an effect beyond just that one. This zoning creates a way for developers to create density within easy distance of the mass transit station and transform old industrial zoning into vibrant new residential neighborhoods.

AFFORDABLE HOUSING
Gleneagle Green at Bellport
D&F Development, Town of Brookhaven,
Greater Bellport Coalition


The Gleneagle Green at Bellport is one of the 2019 honorees for Affordable Housing.
This project has been a welcome sight for the local community, which has been waiting years for revitalization to finally come to them. Gleneagle's goal is to be the just the first investment in an area that is full of potential.
D&F Development group has proposed the plans for a 70-unit apartment complex located on 7 acres of property. The units will be affordable for households making between 60% and 80% of the median income, with rents ranging from $981 to $1,964 depending on number of bedrooms and size. The site of the development will also be located within walking distance of the Bellport LIRR station the local Suffolk County bus lines, both under a half mile away.
The plan is the culmination of efforts to create an environment welcome to affordable housing in the area. This includes zone changes but the Town of Brookhaven, which has also stepped up code enforcement in recent years to try and encourage business owners to improve facades and create a nicer look to the area. Brookhaven has also been making an effort to clear out vacant and abandoned houses in the area to help create a more welcoming look.
The project has drawn support from the local community including the Greater Bellport Coalition, who has worked for years to bring change to an area long in need of it. The Coalition has organized and participated in visioning meetings reaching all the way back to 2006. The community has waited a long time for a jump-start to their local area and see this is a way to make that happen.
They have also been happy with D&F's outreach efforts, which has gone a long way in keeping the community informed and on-board with the project. It also helps that the development groups has had experience with affordable housing in the area and hopes to bring that expertise to this community.
"I think Long Island lags way behind our cousins to the north — Westchester, Connecticut, New Jersey — in terms of the percentage of rental housing and certainly affordable housing," said D&F principal and Vision Long Island board member Peter Florey. "I think this is going to spur additional investment. Everywhere we've built development we've found there has been investment in the surrounding community afterwards."
The new transit-oriented development will feature 70 units spread across 9 buildings centered on a courtyard. There will be thirty-two one bedroom, thirty-one two bedroom, and six three bedroom units for residents once the project is complete. There will also be a slew of new amenities for residents, including a 2,000 square foot community center, energy star appliances in each unit, a barbeque area, a gazebo, and a children's playground.
The buildings will be of a compact design and construction will utilize a green/sustainable development style. This includes proper insulation on all buildings, motion sensors for outdoor lights, environmentally responsible construction materials and paints, a waste management plan to reduce material sent to landfills, use of indigenous species for plantings, and surface water management on site.
Congratulations to D&F Development, the Town of Brookhaven, the Greater Bellport Coalition, and the community who will benefit from the investment this project is likely to bring!

AFFORDABLE HOUSING
Southampton Accessory Apartment Code
Town of Southampton


One of the honorees for the 2019 Smart Growth Award for Affordable Housing is the newly-passed Southampton law to allow for accessory apartments. The passage of the new code is the culmination of a three-year process that has engaged elected officials as well as local residents. After hearings to gauge public interest, the law was formally adopted on January 22 of this year.
There has long been a critical need in the Town of Southampton for new housing resources and opportunities for lower-income households. This is considered a priority in order to sustain the local economy and community by providing a larger and younger workforce. The Town has struggled in recent years to find enough volunteers to fill essential public services in health and services such as EMS and firefighters.
This is exacerbated by the fact that as Southampton began to benefit from increased tourism and second home ownership, lower income individuals were being priced out of living in the area. Allowing accessory apartments is a two-fold solution to this by allowing home owners to supplement income and providing lower cost housing for new residents.
In order to make that happen the Town made some minor tweaks to encourage affordable units and remove restrictions from residents seeking an application for an accessory apartment. These changes are important because it demonstrates that Town officials are willing to look for solutions to help keep people and economic viability within the downtown and local area. While the move won't solve all of the Town's issues with affordable housing, it is an important step in efforts to increase access to housing.
Changes include making it easier for smaller lots to have an accessory apartment, the removal of a $100 fee for each application, striking criteria for tenants the owner was allowed to rent to, changing the need for ongoing renewal of the application for an apartment, a requirement that the home meet guidelines for fair market value on the rent, allowing accessory apartments to be attached to (but not a part of) a seasonal rental, among other minor changes.
One of the important asopects of this law is that it requires landlords to charge a fair rate for their apartments. It is also aimed at areas of the Town with 500 people or less per square mile, which will allow for population growth in places without much density. It is also just the first step as Southampton continues to look for new solutions to the ongoing affordable housing issue.
"It's still a drop in the bucket to what's needed, but it would be better than what's happening now," said Town Supervisor Jay Schneiderman. "This is a real crisis, and the lack of affordability is impacting the community."
The new apartments will require an inspection by a town official to ensure that it is set up as a fully functional apartment. The owner is required to maintain the unit at an affordable rate or else they will lose their permit for an accessory apartment. They also must use it as a year-round rental regardless of the status of the rest of the buildings on the property, or else that will also forfeit the permit.
Vision Long Island is happy to recognize the Town of Southampton for this necessary change and step forward in the process of making available housing affordable to all. We look forward to seeing new innovation from this Town and others when it comes to providing access to affordable housing. Congratulations on your much-deserved award!

AFFORDABLE HOUSING
Huntington Township Housing Coalition


One of the 2019 recipients of the Affordable Housing Smart Growth Award is the Huntington Township Housing Coalition for their tireless efforts to expand both rental and ownership opportunities for all residents.
Originally formed in 2000, the coalition is comprised of 26 organizations that work to both educate the public on how to tap the affordable housing market and advocate for expansion of stock in the town. They use their network to connect local advocates and mobilize them in support of affordable housing in the Township. Governed by an 11 member steering committee who conduct monthly meetings, the organization also has a Board of Directors comprised of representatives from each of the member organizations.
In its almost two decades of existence, the Coalition has become an authority on the local housing stock and a resource for residents. They are recognized by local government officials, media, and community organizations for their efforts as well as voice for affordable housing in the region.
However, its most recent efforts have seen the Coalition push for a new accessory law in Huntington that will allow for a new source of affordable housing. The group has been meeting with both Huntington and Suffolk officials in efforts to increase the speed of approval for the legislation. They are currently planning a campaign aimed at reducing restrictions against homeowners who wish to create a legal accessory apartment.
The HTHC takes issue with the current law's frontage requirements, which usually precludes the owners of smaller houses from being able to have accessory apartments. As the Coalition points out, usually the owners of smaller homes are the ones most in need of extra income.
Five members of the group also sit on Huntington's Affordable Housing Trust Fund Advisory Board. This board is responsible for directing the use of funds gathered from developers who receive a density bonus but don't build 20% of the units as affordable. That money is then used to create new programs to help individuals find homes. There is currently about $2.5 million in the fund available for use.
Their past accomplishments are varied, as you would expect from a group that has been around for so long. These include adoption of the Huntington Homes Law in 2000, creation of a Town requirement in 2000 that 200 units at The Greens development in Dix Hills be set aside for affordable housing for senior citizens, a town-wide HTHC education campaign in 2004 about the need for affordable housing in Huntington, a November, 2005 HTHC affordable housing summit, titled Huntington Affordable Housing: Creating an Agenda for Change, advocacy for the AvalonBay at Huntington Station Transit Oriented Development complex, advocacy for affordable family housing at the Ruland Road in Melville, advocacy for Renaissance Downtowns Huntington Station, a 2014 public-education campaign on the need for affordable rental housing, affordable housing summits in both 2016 and 2018, the creation and release of detailed affordable housing inventories in Huntington, and support for the 2017 Edwards/Berland bill requiring affordable units in commercial districts, to name a few.
This award is a recognition of all that this local group of organizations has done for the betterment of their local municipality and neighbors. Vision is proud to have stood with them in support of several projects in Huntington and looks forward to working alongside the HTHC in the future. Congratulations to HTHC on all of their hard work!

MIXED USE
Historic Courthouse Renovation
& The Promenade
Village of Valley Stream
& Kay Development


The 2019 Smart Growth Award for Mixed Use goes to the Village of Valley Stream and Kay Development for their work in transforming the historic old Town Hall building into a vibrant new courthouse and the new mixed use development, The Promenade.
The Promenade is a project that has been five years in the making ever since the site of a destroyed, fire-ravaged building was purchased by Vassilios Kefalas, the principal and founder of Kay Development. Located at 49 North Central Avenue in Valley Stream, the abandoned building was brought down and a new, mixed-use development is currently under construction in its place.
This new building, The Promenade, will feature 43 apartments in a 6-story mixed use building with retail and commercial on the first two floors. The site is located within easy walking distance of the Valley Stream LIRR station and a NICE bus stop. A municipal park and pool are also located nearby as well as the numerous retail and grocery shops one would expect in a healthy downtown. It is hoped that this proximity will help to draw in young professionals and empty nesters.
The Promenade's main entrance on Central Avenue is set back from the street line and the commercial portion is elevated, creating a distinct entrance for both commercial and residential uses. The building's volumes are arranged around the outdoor recreation deck area and garden, creating a public space that actually feels private to the building community. This type of street/building interface, where an articulated streetwall combines multiple uses throughout different times of day, is a candidate to be the model for the future urban development in the region.
The other new part of Valley Stream's downtown is the newly renovated historic building at 195 Rockaway Avenue, which was the original Valley Stream Village Hall. The building fell into disrepair and remain vacant for some time before it was purchased by the Village a few years ago. It was later re-dedicated on May 16th, 2018 as the Valley Stream Municipal Building.
A detailed renovation that included replacing every electrical wire & piece of plumbing was undertaken. Walls were also ripped out and replaced and an elevator and lift were added, along with handicap accessible bathrooms, modernized offices, a new roof, all new energy efficient HVAC, ceilings, floors and windows.
The courthouse is now a state-of-the-art, ADA compliant, energy efficient municipal structure with every modern building feature, while at the same time maintaining the architectural integrity of this rare 1920's structure.
These projects represent the expansion of a mix of uses in the Village of Valley Stream, a downtown that has been working towards revitalization for years. The Promenade represents the typical commercial and residential mix where density helps to create economic viability. Meanwhile, the newly renovated courthouse creates a new municipal presence in the heart of the downtown. This stimulates foot traffic for surrounding businesses by drawing residents from the area and beyond who are looking to conduct business in Valley Stream.

TRANSPORTATION
Third Track Expansion
Long Island Railroad


The 2019 Smart Growth Award winner for Transportation is the Long Island Railroad Third Track expansion project.
The third track project has long been thought of as a solution to a number of the commuter woes that dog the LIRR. The proposal to construct a third track for the busiest commuter rail in North America originally came all the way back in 1949. Since then the project had limped along through various stages of proposal, but no concrete progress had been made towards construction.
Vision itself was part of one such proposal in 2006 as part of the Third Track Coalition, but it did not advance in any meaningful way. The idea would finally start gaining steam when the East Side Access project promised to increase ridership, but the MTA also made it clear that they would not move forward without community support.
This led to the current iteration of the third track project, which is a product of two years' worth of community outreach to gather opinion and feedback from local residents, stakeholders, and elected officials.
This feedback has produced alterations in the project to help build a consensus on moving the project forward for those who are most affected by the changes. Quality of life solutions for those affected by construction include erection of noise canceling walls, environmental controls to limit pollution, and a commitment to ongoing community outreach, among others.
Many of the towns and villages along the Main Line are also in need of additional parking to allow for enough downtown capacity when commuter hours were at their peak, and several new parking garages at stations will be built as a result.
The part of the track designated for 3rd rail expansion is a 9.8 mile stretch between Floral Park and Hicksville that sees approximately 250 trains on an average weekday. Around 40% of all daily LIRR customers will travel through this corridor which is much more susceptible to congestion and bottlenecking without this expansion.
In addition to helping to alleviate those issues, the third track will also allow for reverse commuting during the morning and evening rush, helping out those who live in the city and work on Long Island.
As part of the project several street-level grade crossings will be eliminated in order to help improve traffic in the local area. There will also be improvements along the rail line with new equipment and switches, new power substations to enhance capacity, station enhancements, and the improvement of seven rail bridges along the Main Line.
The man currently shepherding the process is LIRR President Phillip Eng, who was appointed in April of 2018. Since then he has made it a point to be in contact with customers who are affected by the day-to-day operations of the Railroad. He would also make branch managers available to speak with local customers to gather feedback and inform commuters.

COMMUNITY PARTICIPATION
Long Island / New York Youth Summit
Dr. Nathalia Rogers & Dr. Elana Zolfo,
LI/NY Youth Summit,
Mark Solazzo, Northwell Health


This year's award for Community Participation goes to the Long Island / New York Youth Summit for the efforts they've made to engage the youth of the region in finding solutions for issues facing their age group.
The first Annual Youth Summit would took place on March 5th of 2010 at Dowling College in Oakdale, NY. The event hosts between 200 to 400 students each year who were eager to learn about local issues and search for intelligent solutions with their peers. Since then the event has grown into a year round non-profit research program for high school students. It is run as a public/private partnership between Northwell Health, Vision Long Island, Citizen's Campaign for the Environment, and the public and private schools who participate in the Summit.
The event has seen three seperate hosts during its lifetime, moving from Dowling College to St. Joseph's to Berkeley in NYC. It would take on a more regional flavor in 2017 when the event moved to NYC, renaming itself as the New York Youth Summit and opening registration up to schools from North of the City.
Students looking to attend spent time to create a project on certain topics that were comprised of an essay, video, photography, or art project. These projects and topics were designed to demonstrate a knowledge of critical issues facing today's youth and provide solutions on how to address them. Those submissions would be judged, with winner selected. The projects also provided an insight into how high schoolers view our region and the world at large, and the direction the future may be headed.
The core format of the Summit has stayed relatively stable in the 9 years since its inception. Students arrive in the morning for registration and listen to a welcome message before breaking for individual workshops based on project topics. These workshops are led by local experts in the subject matter, who guide discussion on solutions to the issues.
The topics have evolved somewhat over the years from the original 6 to the current spate of 12 on bullying and social networks, teen substance abuse and mental health, community health, climate change, renewable energy, sustainable fashion, diversity and equality, gentrification and community development, LGBT youth, access to education, teens and criminal justice, and teens as future leaders. Students later presented their solutions to the entire summit.
The day would end on a ceremony where the best projects were honored in front of the entire group of students, including a best overall prize. Students with winning projects also received a prize, usually in the form of scholarships and even free plane tickets. The event also featuredsa keynote address from an inspirational figure at some point in the day. The youth summit boasts a high number of participants who have gone on to internships and community work directly from the program sponsors as a result of their experiences.
The Youth Summit was originally created by Dr. Nathalia Rogers, who began the venture as part of Vision Long Island's Smart Growth Summit. Since then, through her hard work and partnership with Dr. Elana Zolfo and Mark Solazzo, the event has become a successful way to engage local youth and educate about problem solving in a modern world.
Northwell Health has been the lead sponsor of the Long Island Youth Summit since 2011. Northwell Health is one of the nation's largest health systems, delivering world-class clinical care throughout the New York metropolitan area, pioneering research and a visionary approach to medical education.

ENVIRONMENT & WATER
Forge River Watershed Project
Peter Scully, Hon. Kate Browning,
Hon. Rudy Sunderman, Beth Wahl


After years of advocacy stretching back almost two decades, sewers have finally approved in Mastic. This project represents a crowning achievement for the local community, who were able to accomplish a goal no one thought would ever happen.
The referendum to approve funding passed earlier this year by a margin of over 85% in the affirmative to accept $191.3 million in federal and state grants that had been lobbied for and secured four years ago during the recovery and reconstruction stages post-Sandy. The project will sewer residential parcels and businesses along the Forge River, including at the commercial corridor along Montauk Highway, with a sewage treatment plant at Brookhaven Calabro Airport being built. The construction of the plant will be funded 100% through federal grants
The impact of untreated waste has spurred harmful algal blooms that have reduced our protective wetlands by one third and sea grass by 90%, which form Long Island's second line of defense against potential storms and natural disasters.
With Superstorm Sandy, Suffolk County experienced devastation to life and property that could have been mitigated with the robust wetlands that once surrounded us. By installing more sewers and advanced wastewater treatment systems, Suffolk County seeks to restore this natural shield.
Creation of the new district will try and mitigate the failures of conventional septic systems in the area that have been brought on by heavy rain and tidal flooding in the region. Sewering of the area not only promotes resilience, but will help break down barriers towards proper economic development of the Mastics-Shirley region. The referendum passage allows the first two of four proposed phases of sewering for the Tri-Hamlet Community.
Sewers for the Forge River Watershed have been advocated by the residents and businesses of the Mastics and Shirley, elected officials from all levels of government for years. Vision Long Island has been advocating for this project since 2002 as part of the Montauk Highway Project and more recently the Tri-Hamlet Community Plan.
Local community organizations and environmental groups have diligently educated the community on the importance of sewer infrastructure for the area, with their efforts culminating with the commanding vote by local residents to approve the project.
There have been many people who have been involved on this journey since the beginning, including Beth Wahl and the William Floyd Community Summit and former Legislator Kate Browning, who, among others, helped provide the initial push to obtain project funding and community support.
Recently, Deputy County Executive and Water Czar Peter Scully and Legislator Rudy Sunderman have diligently worked to bring the project to fruition, with educational open house sessions for community members and securing funding that resulted in significant cost reductions for residents. It is always encouraging to see local officials work towards positive changes supported by local communities.
Congratulations to this project's honorees, and to the Mastic-Shirley community, for the advancement of this important project!

REGIONAL LEADERSHIP
Anthony Bartone & Fran Terwilliger
Terwilliger & Bartone Properties


One of the 2019 Awards for Regional Leadership goes to Terwilliger & Bartone Properties, who have been on the forefront of downtown development for years now.
Back in 2012 when Farmingdale was beginning to grow into the idea of serious redevelopment of the downtown, what was then Bartone Properties was already making plans to create a mixed-use transit-oriented development adjacent to the LIRR Farmingdale Station.
This project, now known as Jefferson Plaza, was spurred from founder Anthony Bartone's love for his home community of Farmingdale. As a third generation Farmingdale resident, he understood the importance of mixed-use in the future of his home downtown.
But before the 2016 ribbon-cutting for the Plaza, Bartone Properties would enter into a strategic partnership with real estate development icons J. Ronald Terwilliger and Frances Terwilliger to form Terwilliger & Bartone Properties focusing on multi-family development in the Long Island sub-market.
This partnership brings another depth of resources to the company and a strong national presence in the Long Island market. Combined with Mr. Bartone's knowledge of the local market, they make a dynamic team for local multi-family housing.
The company has started to bring the multi-family housing style to a number of areas across Long Island. Under the name "Cornerstone," Terwilliger & Bartone would open a 40-unit right next to the Jefferson Plaza development. There are also plans in various stages of development for more apartments in Patchogue, Hauppauge, and Kings Park.
The organization makes an effort to create developments near local mass transit hot spots and downtown centers. This is done in order to both contribute to and tap into the vibrancy of up-and-coming spots across the region.
They would also make a proposal for the Village of Lynbrook, but after local residents couldn't reach a positive opinion on the project even after several outreach meetings, eventually pulled out of the downtown. Though this project didn't work out, it is an example of how Terwilliger & Bartone have demonstrated a willingness to both engage and work with the local community when tailoring these projects for the local area.
When the work is done in concert with local interests, these types of projects tend to enhance and complement local growth, but they must have the support of the local community. It is important that developers work with residents the way that Terwilliger & Bartone have done in the areas that they have built in.
This focus on downtown areas has become the norm, but we remember that Bartone was leading the way towards mixed-use and multi-family back before support had really taken root. We commend this local company with deep roots on Long Island for leading the way forwards on these important issues.

REGIONAL LEADERSHIP
David Winzelberg
Long Isand Business News


One of the 2019 Smart Growth Awards for Regional Leadership goes to David Winzelberg for his years of truthful reporting on regionally important projects.
Mr. Winzelberg began his highly regarded career locally at the weekly Westbury Times before going on to reporting on Long Island's communities for the New York Times. Since leaving the NY Times he has spent the past 12 years reporting on real estate, development, land use, retailing, white collar crime, and franchising for Long Island Business News. David has won numerous awards for his work, including a Folio Award from the Fair Media Council in March of 2018.
His work as also appeared in The Atlantic magazine, Forbes.com and has been featured on CNBC's "American Greed." David also spends time interacting with the local business community, often appearing on panels as a moderator or participant, or as a presenter for local events. This interaction along with his years of investigative reporting have provided him with a breadth of knowledge for our region that always shows in his writing.
Mr. Winzelberg has spent years reporting on Transit-Oriented Development and revitalization in downtowns across Long Island. In his time as a reporter on these important issues he has always made an effort to gather the facts and present them in a truthful manner. The practice has helped Long Island Business News to become the newspaper of record when it comes to downtown initiatives.
He has helped to breed a public interest in these projects by keeping residents updated on progress and the changes that are important on both a local and regional level. By presenting an accurate picture of progress on Long Island, he has been able to help push along the process where there was community support or foster honest dialogue where there was doubt. That ability has proven invaluable to a number of issues across the island.
Mr. Winzelberg's reporting fills a vital role in our region by creating a clear window into the workings of local government and the development process. David's reporting harkens back to a traditional muckraking style as he has spent a lot of time investigating the intersection of the public and private sector for corruption.
In his time at LIBN he has reported on a wide variety of regionally relevant stories including, to name just a few, the Nicholas Cosmo Long Island Ponzi scheme, suspect practices between elected officials and local contractors, the NYS DOT's haphazard right-of-way leasing, and fee-fixing for excavators of Long Island's most valuable export: sand.
As a journalist, Mr. Winzelberg has always strived to deliver accurate reporting representing an objective view. This method creates a public trust when people can be sure the information being received is not filtered.

Public Officials In Attendance:
Nassau and Suffolk County Officials included Hon. Laura Curran, Nassau County Executive; Hon. Steve Bellone, Suffolk County Executive; Hon. Richard Nicollelo, Presiding Officer, Nassau County Legislature; Hon. Siela Bynoe, Nassau County Legislature; Hon. Ellen Birnbaum, Nassau County Legislature; Hon. Delia Deriggi Whitton, Nassau County Legislature; Hon. Rose Walker, Nassau County Legislature; Hon. Josh Lafazan, Nassau County Legislature; Hon. Laura Schaefer, Nassau County Legislature; Jeff Greenfield, Nassau Planning Commission; Hon. John Kennedy, Suffolk County Comptroller; Hon. Bridget Fleming, Suffolk County Legislature; Hon. Tom Cilmi, Suffolk County Legislature; Hon. Steve Flotteron, Suffolk County Legislature; Jennifer Casey, Suffolk Planning Commission
Long Island Town Officials included Hon. Tony Martinez, Deputy Supervisor, Town of Babylon; Hon. Michael Leguercio, Brookhaven Town Councilman; Hon. Valerie Cartright, Brookhaven Town Councilwoman; Hon. Laura Gillen, Hempstead Town Supervisor; Hon. Erin King-Sweeney, Hempstead Town Councilwoman; Hon. Anthony Desposito, Hempstead Town Councilwoman; Hon. Mark Cuthbertson, Huntington Town Councilwoman; Hon. Joan Cergol, Huntington Town Councilwoman; Hon. Judi Bosworth, North Hempstead Town Supervisor; Hon. Dina Digorgio, North Hempstead Town Councilwoman; Hon. Veronica Lurvey, North Hempstead Town Councilwoman; Hon. Joseph Saladino, Oyster Bay Town Supervisor; Hon. Steve Labriola, Oyster Bay Town Councilman; Hon. Laura Jens-Smith, Town of Riverhead Supervisor; Hon. Catherine Kent, Riverhad Town Councilwoman; Hon. Jay Schneiderman, Southampton Town Supervisor
Long Island Village Officials included Hon. Kevin Smith, Village of Amityville; Hon. Nora Haagensen, Village of Baxter Estates; Hon. Bruno Romano, Village of East Rockaway; Hon. Ralph Ekstrand, Village of Farmingdale; Hon. Cheryl Parisi, Village of Farmingdale; Hon. Walter Priestley, Village of Farmingdale; Hon. Brian Harty, Village of Farmingdale; Hon. Jean Celender, Village of Great Neck Plaza; Hon. RJ Renna, Village of Lindenhurst; Hon. John Giordano, Village of Lynbrook; Hon. Damon McMullen, Village of Northport; Hon. Mercy Smith, Village of Northport; Hon. Ed Lieberman, Village of Sea Cliff; Hon. Barbara Donno, Village of Plandome; Hon. Sarah Oral, Village of Roslyn; Hon. Barbara DeGrace, Village of Valley Stream; Hon. Tom McAleer, Village of Valley Stream
Former Elected Officials and Representatives included Hon. Steve Levy, former Suffolk County Executive; Hon. Ed Hennessey, former NYS Assemblyman; Hon. Michele Schimel, former NYS Assemblywoman; Hon. Maura Sperry, former Mayor Village of Mastic Beach; Hon. George Graf, former Mayor Village of Farmingdale; Hon. Ralph Krietzman, former Mayor Village of Great Neck; John Cameron, LI Regional Planning Council; Imran Ansari, Office of Governor Andrew Cuomo; Theresa Santuro, Office of Governor Andrew Cuomo; Garret Armwrood, Office of US Senator Chuck Schumer
Media Links: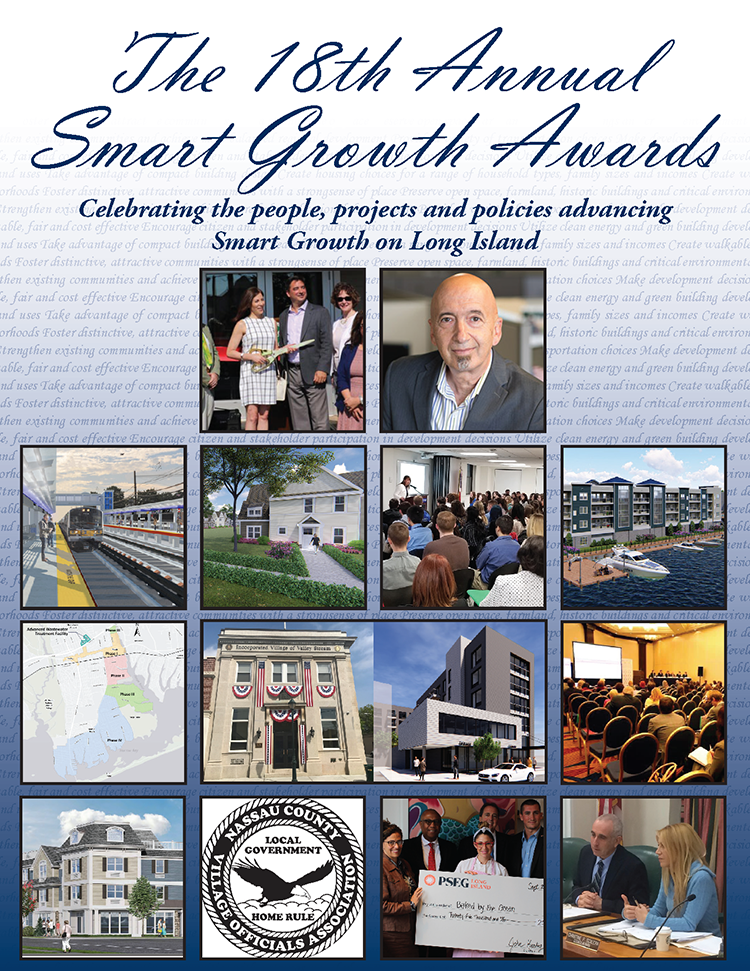 Watch all of the honoree videos on our YouTube channel here:
You can read Long Island Business News' coverage of the Awards here:
Huntington Now covered HTHC and their 2019 Award here:
Read the Long Island Herald's Awards coverage here:
Check out the Newsday's coverage here:
You can also read Vision Director Eric Alexanders latest op-ed at
Special Thanks To Our Filmmaker and Photographers:
Here Are Some of the Photos from the 2019 Long Island Smart Growth Awards: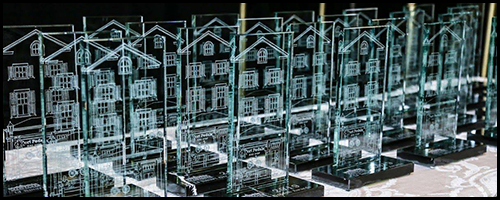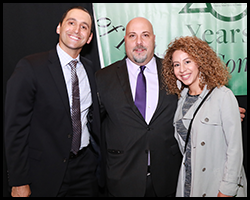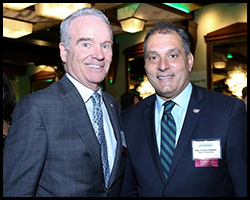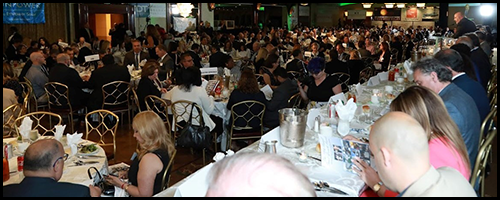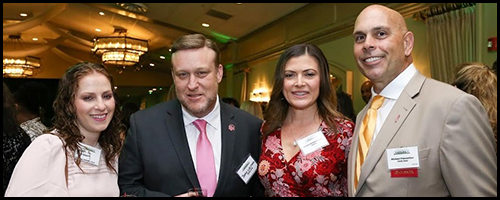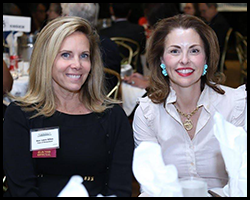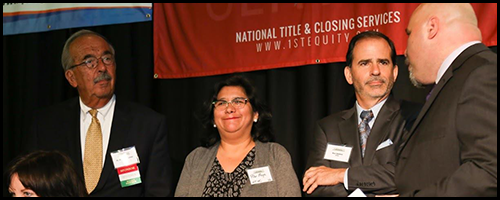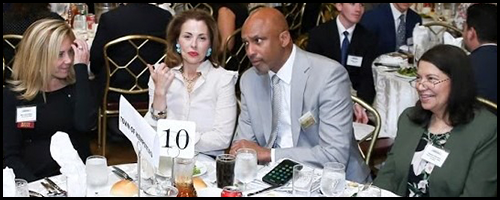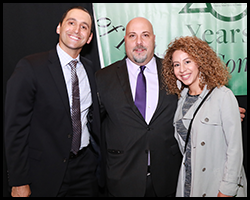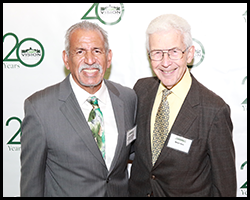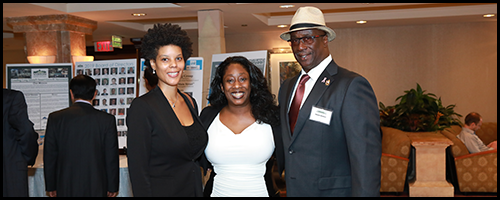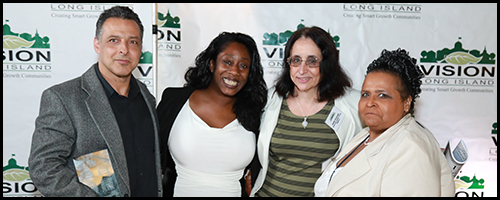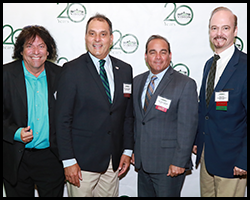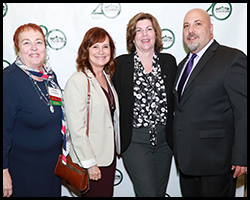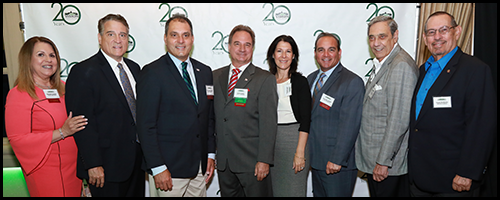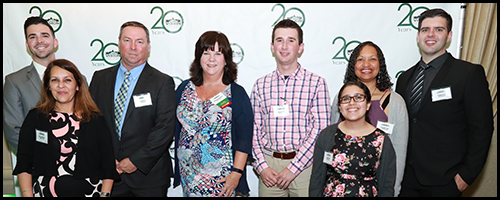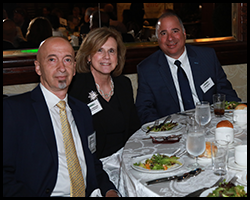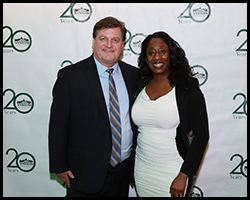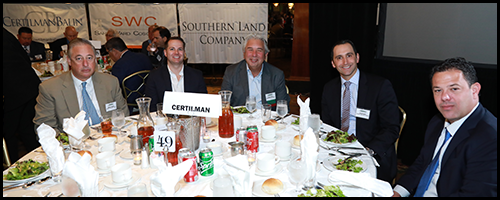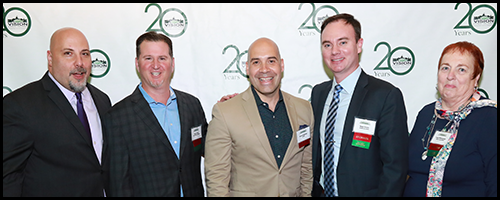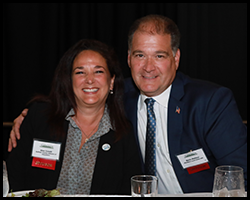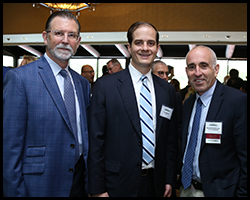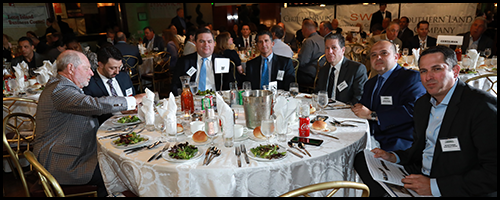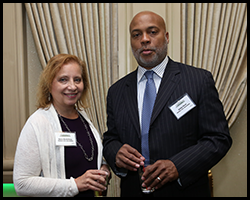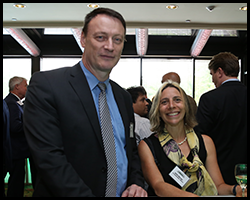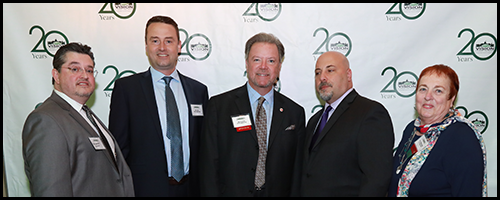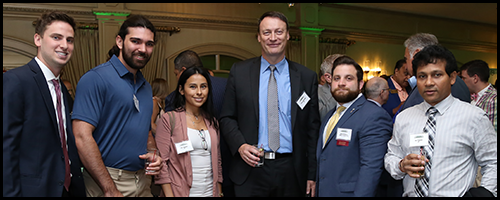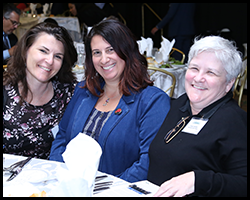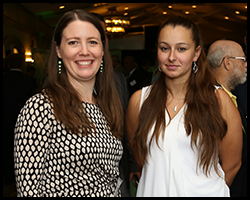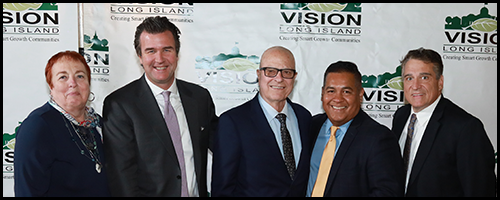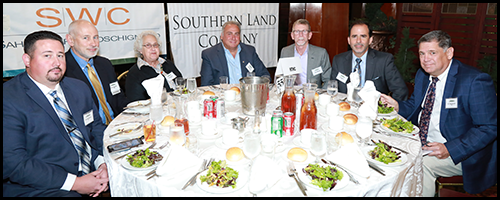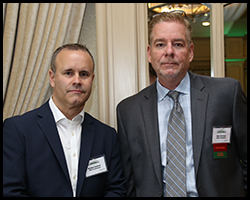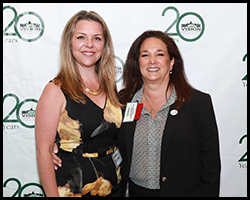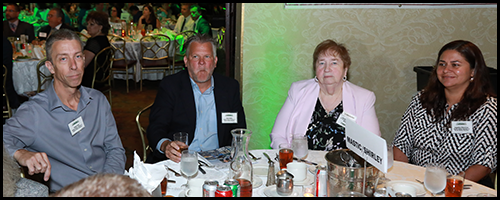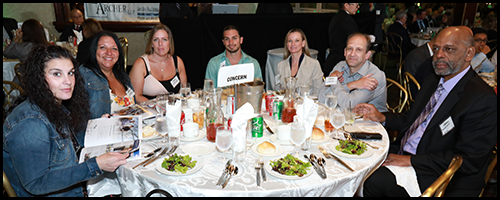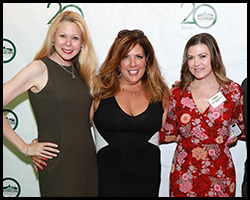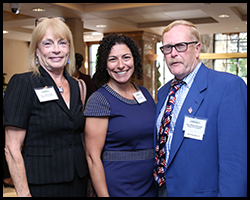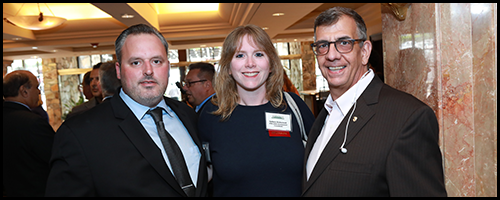 Save the Date for the 18th Annual
Long Island Smart Growth Summit on Friday, December 6th!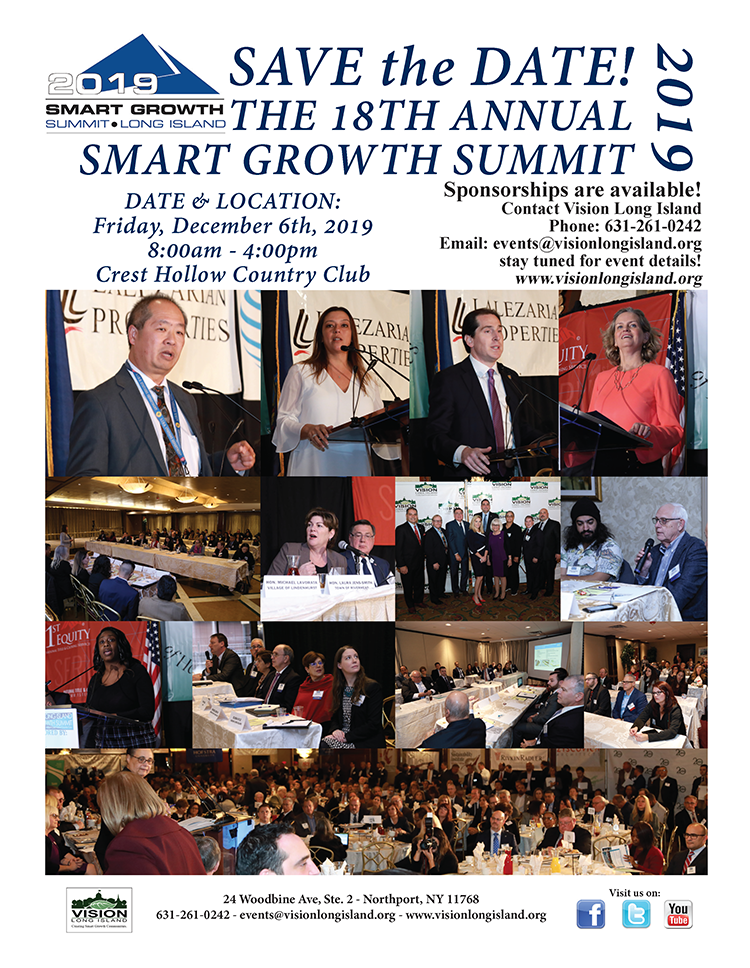 Register today! Sponsorships are available!
[ ] Visionary ($20,000) [ ] Platinum ($15,000) [ ] Gold ($10,000)
[ ] Silver ($5,000) [ ] Bronze ($3,000) [ ] ___ seats ($200/person)
Method of Payment: [ ] Check enclosed [ ] Check sent (faxed replies only) [ ] Pay at the door [ ] Credit Card
Attendee Name(s): ___________________________________________________________________
To RSVP or for more information please contact 631-261-0242, events@visionlongisland.org or fax 631-754-4452.
You can download a printable copy of the flyer here.
In Closing…
We are pleased to report the 18th Annual Smart Growth Awards was a special event for all of us working to maintain and create great places on Long Island. The energy in the room was electric with such a large number of attendees. We would like to thank all of the communities, businesses, public officials and sponsors who made the event a success but more importantly thanks for all you do each day to advance Smart Growth on Long Island.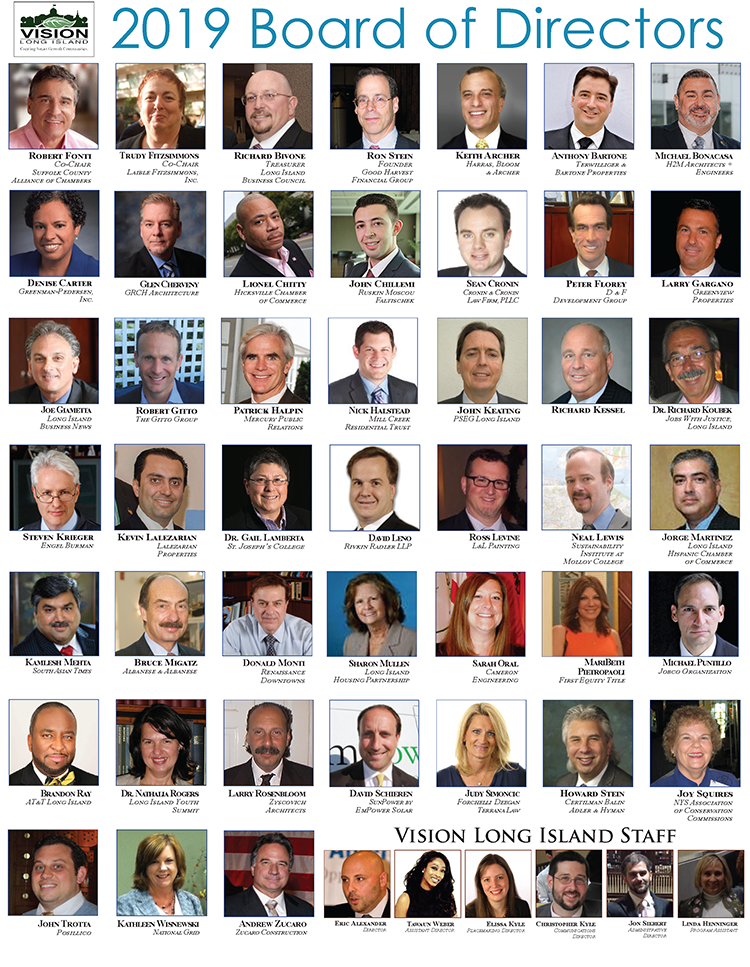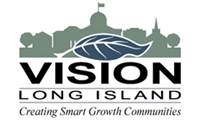 Vision Long Island
24 Woodbine Ave., Suite Two
Northport, NY 11768
Phone: 631-261-0242. Fax: 631-754-4452.
Email: info@visionlongisland.org
Website: www.visionlongisland.org
Home | Contact Us | Newsletter Archive | Donate | About Us