A message from Vision…
Dear Friend,
As a community, business or government leader on Long Island, we would like to invite you once again to join us at the 14th Annual Smart Growth Summit, being held on Friday, November 20th from 8am-4pm at the Melville Marriott.
Last year's event drew nearly 1,200 civic, chambers, developers, environmentalists, design professionals, business leaders, young people and over 70 federal, state, county, town and village elected officials from Long Island and the region.
The Smart Growth movement is busy approving 10,300 units of transit oriented development, revitalization programs in over 50 Long Island downtowns, 40 traffic calming projects, new Main Street office space,  lively restaurants/bars nightlife, and countless events featuring the arts, culture and live music.  Recent increased Federal, State and County infrastructure investment in our sewers, rails, buses and roadways has also been critical to the success of the redevelopment projects.
The Summit is the event where we share ideas, network on projects, financing, regulations and spotlight successes while managing roadblocks.
The 14th Annual Smart Growth Summit will feature networking, a trade show, nearly 20 workshops, a youth summit and plenary sessions on regional and local issues facing mixed-use development. Some sessions may include: downtown revitalization, wastewater infrastructure, financing Smart Growth, transit-oriented development, clean energy, youth leadership, regional projects, fair housing/segregation, off Island case examples, solid waste and many others to be announced in the coming weeks based on input from the broader movement.
Our goal is to once again have over 1,200 leaders working together. So here is where we need your help: please plan to join us and consider sponsoring the event.  
Attached is sponsorship and registration information (limited scholarships are available for community & youth leadership). If you have any questions, please call us at 631-261-0242.
If you are one of the thousands of Long Island leaders who have joined us in the past, please do so again. If you are new to the event and the Smart Growth movement, please consider partnering with us this year. Either way, we need your leadership, presence and voice to make great places a reality on Long Island.
See you in November!
Sincerely,


Eric Alexander
Director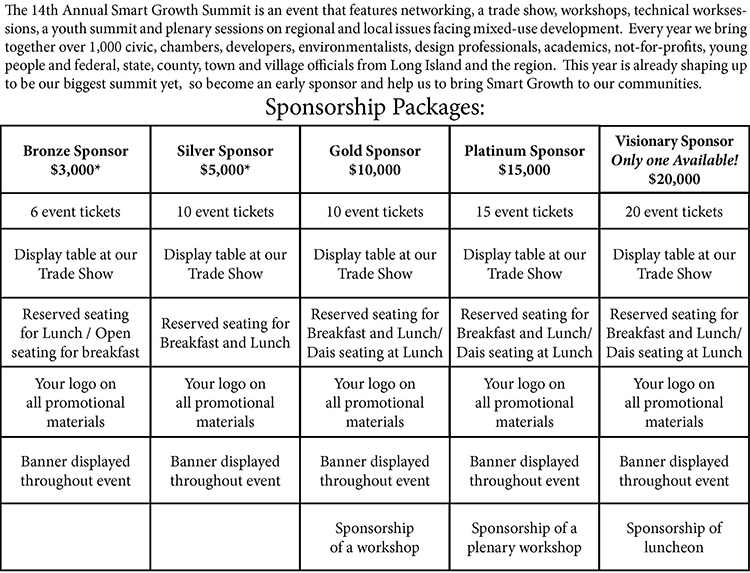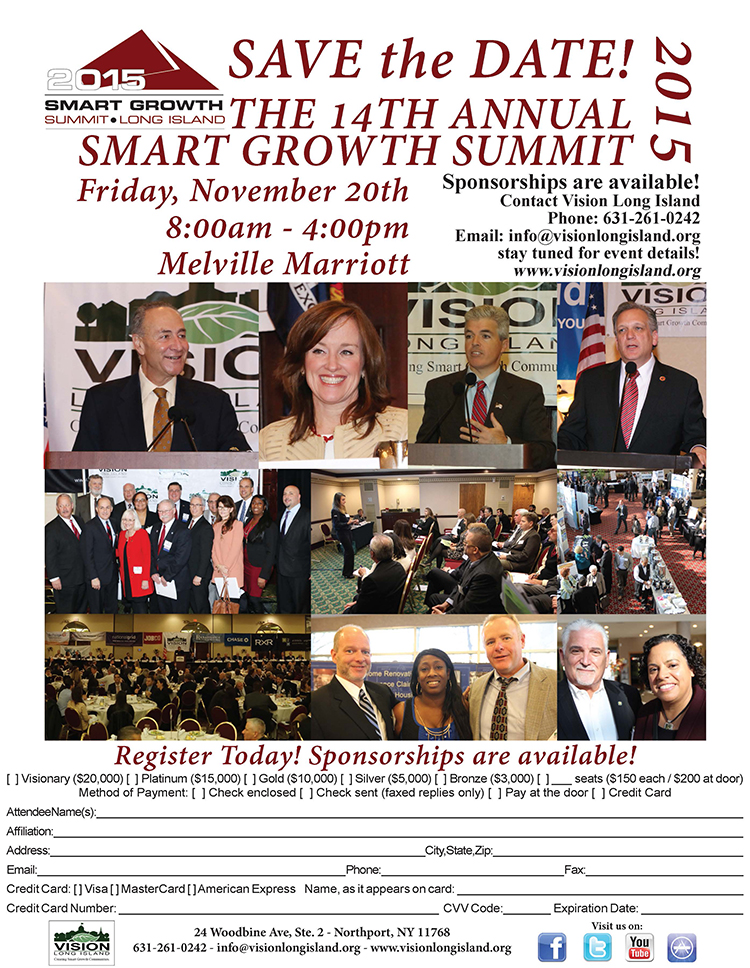 A printable version of the registration flyer is available here.