2018 Long Island Smart Growth Awards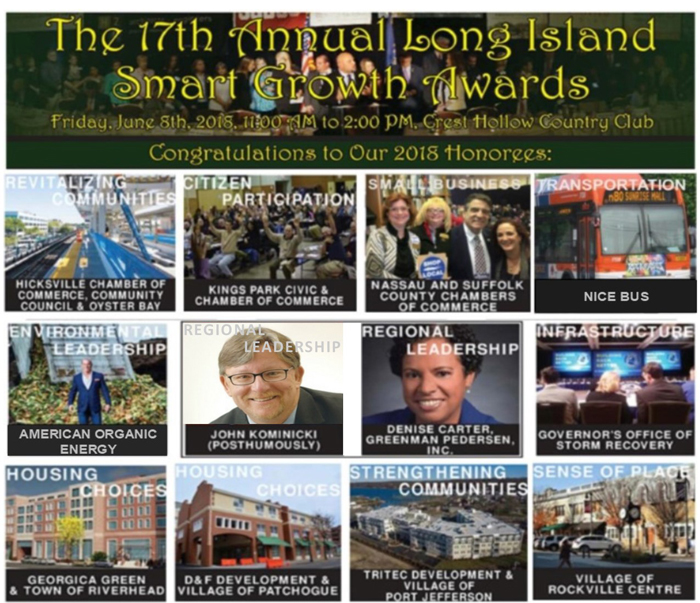 Please join us for the 17th Annual Long Island Smart Growth Awards Friday, June 8th from 11:00am to 2:00pm at the Crest Hollow Country Club. This annual event will showcase the best in class of real people and projects that represent the transformation of our downtowns and investment in infrastructure for Long Island communities.
We have received over 45 deserving nominations and the winners start with Regional Leadership Awards to John Kominicki (Posthumously) and Denise Carter of Greenman Pedersen. The project and organizational honorees includeGeorgica Green and Town of Riverhead for Housing Choices as well as D&F Development and the Village of Patchogue; Nassau Council of Chambers of Commerce and Suffolk County Alliance of Chambers for Small Business; Village of Rockville Centre for Sense of Place; Hicksville Chamber of Commerce, Hicksville Community Council, and Town of Oyster Bay for Revitalizing Communities; Kings Park Civic Association and Kings Park Chamber of Commerce for Citizen Participation; Tritec Development and the Village of Port Jefferson for Strengthening Communities; Long Island Compostfor Environmental Leadership; NICE Bus for Transportation Choices; and the Governor's Office of Storm RecoveryCommunity Reconstruction Program for Infrastructure.