Join us for the 2017 Complete Streets Summit!
Thursday, March 30th, 8:30 AM – 12:30 PM
The Sustainability Institute at Molloy College
7180 Republic Airport in Farmingdale
Download registration here!

Join us for the
2017 Complete Streets Summit!
Thursday, March 30th, 8:30 AM – 12:00 PM
The Sustainability Institute at Molloy College
7180 Republic Airport in Farmingdale

This coalition is a contingent of chambers of commerce, civic associations, local governments, engineering and professional trade groups, transit advocates and members of the public who want safe streets for all modes of traffic. The group looks to coordinate Complete Streets planning efforts, communicate on finding opportunities for local projects, act as a clearinghouse for information and lobby with a united voice for safe roadways.
Past Complete Streets Summits have been gatherings of government leaders, planners, engineers, nonprofits and other community stakeholders who support policy changes to design roadways for all uses – not just automobiles.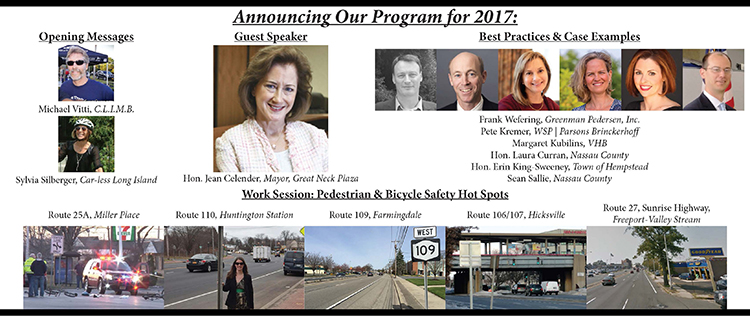 Previous media coverage:
More Calls For Safer Roads At Complete Streets Summit
"Here we have to rustle up energy to these common sense activities."
Eric Alexander, executive director of Vision Long Island and emcee for the 2014 Complete Streets Summit, let a little passion slip through at the beginning of Thursday's conference. He complained how people are still getting hurt and killed on Long Island roads, while other parts of the world have made the necessary changes to protect them.
The second annual Complete Streets Summit, held at the Sustainability Institute at Molloy College in Farmingdale, was a gathering of government leaders, planners, engineers, nonprofits and other community stakeholders who support policy changes to design roadways for all uses – not just automobiles.
For Sandy Cutrone, the Summit was a chance to remind participants of the campaign's significance. The West Islip resident was an avid bicyclist since her days growing up in North Babylon; she was riding along Montauk Highway in Babylon Village last September when a van turned into her. Cutrone developed neck pain, vision problems and post-concussion symptoms that continue to keep her from working. Her story crossed the world in February after Suffolk County Legislator Tom Barraga criticized her for bicycling in Suffolk County.
Complete Streets, she added, could help prevent similar accidents in the future. That includes designated bike lanes and signage, better pedestrian crossings and traffic lights that display a red left turn arrow when the light turns green for oncoming traffic.
Downtowns would also benefit from more pedestrian and bicyclist traffic, Cutrone said.
"We won't simply drive through. We will stop [and shop]," she said.
Complete Streets policy could also be a lifesaver, a change too late for Lavena Sipes. The Smithtown resident watched a driver high on heroin smash into her 11-year-old daughter, Courtney, back in 2009. Mother and daughter were crossing Main Street for a music lesson Courtney was looking forward to when an SUV sent her flying under another car and killing the girl.
The family moved from Texas to Smithtown in 2008. With shops along Main Street and people walking in the community, Sipes believed they were alright leaving their car behind.
Since her daughter's death, the family founded the Courtney Sipes Memorial Foundation. The nonprofit advocates for pedestrian safety and supports youth interest in music and arts.
"It seemed safe. We had our blinders on," Sipes said. "It's easy to separate yourself from these tragedies and think it won't happen to your family."
Cutrone and Sipes joined Alexander in unveiling the Long Island Compete Streets Coalition at Thursday's event. The coalition is a contingent of chambers of commerce, civic associations, local governments, engineering and professional trade groups, transit advocates and members of the public who want safe streets for all modes of traffic.
The group will look to coordinate Complete Streets planning efforts, communicate on finding opportunities for local projects, act as a clearinghouse for information and lobby with a united voice for safe roadways.
The keynote speaker at Thursday's Complete Streets Summit was Suffolk County Executive Steve Bellone. Referring to Barraga's comments, the county leader admitted Suffolk was designed auto-centric as Robert Moses developed America's earliest suburbs. But if Long Island wants to stimulate the economy, create a sense of place and reverse the Brain Drain, he said it's time to embrace the common sense-solutions of Complete Streets.
"If we're going to have a vibrant economy and a safe environment for all of us, then Complete Streets is part of the solution," Bellone said.
Such policies would also play a part in his "Connect Long Island" initiative. The county executive wants to link the existing east-west railways with new north-south options like Bus Rapid Transit to connect universities, jobs and affordable housing. Complete Streets, he said, would help connect destinations without needing a car.
Bellone was flanked by Suffolk County Legislator Rob Calarco (D-Patchogue) and Nassau County Legislator Laura Curran (D-Baldwin). He said the effort has to be less about changing culture and more about reminding residents why they moved to the suburbs in the first place, while she said transit-oriented development creates jobs, reduces traffic, keeps young professionals on Long Island, improves sales tax revenues and solves many of the region's problems.
Under guidance of Tri-State Transportation Campaign Associate Director Ryan Lynch, the Implementation: Challenges and Policies panel began discussing issues facing Complete Streets solutions. Great Neck Plaza Mayor Jean Celender said their village of 6,700 already embraces these policies. Passing Complete Streets legislation in 2012, the village has slowed speed limits, increased access to all modes of transit and added bus shelters and benches.
Celender was optimistic she could return next year with a success story for Welwyn Road and Shoreward Drive. The area currently has one lane of traffic in each direction with heavy congestion, deteriorating pavement, cracked concrete sidewalks and no pedestrian facilities. The village received a $5.1 million grant for enhancements, including brick walkways and raised crosswalks.
In Nassau County, Traffic Safety Coordinator Christopher Mistron focused on the three E's of planning – education, engineering and enforcement. Instead of having EMS as a fourth E, Mistron said he wanted it to be encouragement. In education, the county official said having conversations about Complete Streets is effective. What starts as a dinner table conversation turns into pedestrian awareness about safety. In enforcement, Mistron said red light cameras have reduced crashes by as much as 40 percent. He also said police officers crossed crosswalks and chased after drivers who didn't yield. In engineering, he said the county makes changes to their own roads but is limited by local governments.
A late minute addition to the panel, Suffolk Bus Riders Association President Robert DeVito emphasized both education for drivers and bicyclists. They go into schools teaching how to properly ride, but also stress that most bicyclists also own cars. DeVito said spending money on bridging the disconnect between bicyclists and other drivers would go further than infrastructure projects.
In the Town of Brookhaven, Councilwoman Connie Kepert said Complete Streets policies have been a success since the board passed it in 2010. Kepert said she's finding some opposition to proposed transit-oriented development in North Bellport from neighbors to the south. They were able to install sidewalks and bike lanes on some roads, but the councilwoman said they're still facing some opposition about Complete Streets.
"It's not creating Queens in Brookhaven. It's making the roads safe," she said.
Led by VHB Director of Transportation Matthew Carmody, the second panel focused on the design and regulation to guide Complete Streets projects.
Babylon's Director of Downtown Revitalization Jonathan Keyes said they don't get many opportunities to rebuild communities in Babylon with 99 percent of the town built up. Wyandanch Rising may be "an engineer's headache" with narrow roads and underground utilities, but wider roads would increase traffic speeds as well as making the work easier, violating the tenets of Complete Streets.
Rich Zapolski is still relatively new to the Town of Islip as their commissioner of Planning and Development, but he's actively learning about Complete Streets and works with a small, but talented staff. The Town approved a Complete Streets policy in 2010. Complete Streets is part of the planned Heartland Town Square, currently undergoing an environmental impact study, Zapolski said. He added they're trying to incorporate the concepts in projects throughout the town's other hamlets.
Southampton Transportation Director Tom Neely admitted his region may be less dense, although it's geographically large. With lots of roads to worry about, Neely introduced a discussion of the expenses behind accidents. With the average accident in America costing $16,000, the director said his town sees about 2,000 accidents every year.
He urged conference participants and guests to vote for elected officials who want change. Many towns have an elected highway superintendent who operates independently of the town board. Southampton officials took an inventory of sidewalks to go along with their map of bike roads, which their highway superintendent used while plowing snow.
The Town of North Hempstead passed Complete Streets legislation in 2011. Town Planner Wes Sternberg said they used the policies when they put Prospect Avenue on "a diet." What once was a four-lane road with limited but high speed traffic was turned into a slower, two-lane road. They're also investigating solutions for Marion Street on the border of Greenvale and Oyster Bay. The neighborhood is fine by itself, but Glen Cove Road and Northern Boulevard traffic speed through as a shortcut. A car drives through ever 53 seconds on weekdays and every 38 seconds on Saturday.
"That's a lot of traffic that shouldn't be there," Sternberg said.
To slow traffic down, he said, the town is considering a few options. That could include a lane choker to restrict to one lane of alternating traffic or using islands to constrict the roads. Other municipalities, he added, could try these solutions out temporarily using traffic cones.
Stepping away from Long Island, Wendel Companies Sr. Landscape Architect Dean Gowen examined Complete Streets through a project in upstate Buffalo. When they considered the $11.3 million-plan, Gowen said they needed to identify specific values, like improving traffic flow, opening up Brownfields properties and serving as a catalyst for revitalization.
Complete Streets, he added, incorporates three basic concepts. Projects must involve multiple forms of transportation, environmentally-sound decisions and include both education and smart technology.
The final speaker of the second panel was a newcomer to engineering firm Greenman Pedersen, inc. Transportation Safety Director Frank Pearsen reflected on his three decades with the New York State Department of Transportation to emphasize the importance of Complete Streets.
He worked on a project along Newbridge Road as a rookie engineer. Back then, he was proud of the four-lane road he created. Responding to elected officials' complaints 20 years later, Pearsen realized the smarter decision to make it safer for everyone was actually to remove a lane and add traffic signals. He also responded to Main Street in Smithtown after Courtney Sipes was killed, tasked with finding a cheap solution quickly. After getting community input, the DOT used a west-bound lane to create a turning lane, added traffic signal and installed wider sidewalks.
Pearsen cautioned major projects like the NY Route 347 Safety, Mobility and Environmental Improvements project renovating 15 miles of highway are not often feasible solutions. Instead, he urged government officials to seek more practical low-cost solutions.
"The big projects are splashy, but few and far between," he added.
Complete Streets Summit 2013
On Thursday, April 11th at the Sustainability Institute at Molloy College in Farmingdale, Vision Long Island, Wendel Companies and Tri-State Transportation Campaign hosted LI's first Complete Streets Summit cosponsored by AARP and Greenman-Pedersen Inc.
Vision Long Island Executive Director Eric Alexander, Ryan Lynch of Tri-State Transportation Campaign, Will Stoner of AARP opened the event by informing participants why a summit such as this was necessary, which included reasons such as: New York State is the fourth most dangerous state in the country for pedestrians over 65; Long Island is home to many of the most dangerous roads in the state; Long Island has over 1000 AARP members that are over the age of 100 and 8-10,000 Americans are turning 65 every day; Complete Streets allow people to age in place with increased mobility and independence; Long Island, like much of the country, has struggled to overcome the notion that streets are only for cars.
The event featured Suffolk County Legislator Rob Calarco, who co-sponsored the Complete Streets legislation for Suffolk County, as well as Nassau County legislator Delia De Riggi-Whit ton, who also spoke and reached out to Calarco for advice on how to pass a Complete Streets law for Nassau County.
Keynote Speaker Mike Lydon from Street Works Collaborative gave a presentation showing how many citizens have created walkable places and Complete Streets for themselves. Many of the examples were low cost, temporary solutions to help give both residents and government officials a better understanding of the potential of a place and how to work out any problems before significant investment is made.
The next group of speakers were design professionals who have experience creating complete streets locally and around the region. Each panelist covered different ways Long Island can incorporate complete streets through varying strategies.
Dean Gowen of Wendel spoke on the various components that make up a complete street. Elements such as rain gardens and engineered soil help manage storm water effectively and prevent street trees from heaving the sidewalk. Improved street-scaping can also help to spur private investment in the surrounding properties. Linda Bailey of NYCDOT showed many examples of improvements that have been made in the city to improve pedestrian and bike infrastructure, including a pedestrian Broadway in Times Square, shorter crossings at intersections, and pedestrian islands.
Bill Tuyn of Greenman-Pedersen spoke about how the quality of public spaces such as streets, sidewalks and plazas can improve quality of life. Bob Eschbacher of VHB showed local examples of built and proposed improvements for regional roads. Sandi Vega, whose daughter Brittney was killed while crossing Sunrise High- way, spoke on the need for safer streets for our communities, including examples of initiatives happening in her community as a result of her efforts. Lavena Sipes, whose daughter Courtney was lost on Smithtown's Main Street, spoke about the campaign to create improvements from NYS DOT.
The last group of speakers included elected officials and municipal planners who spoke on complete streets from an implementation point of view. Mayor Jean Celender of Great Neck Plaza presented several roadway improvements on the Great Neck peninsula from a larger "road diet" project to smaller intersection improvements.
Councilwoman Connie Kepert of Brookhaven gave local complete street implementation examples which included sidewalks in various communities and the Whiskey Road traffic circle. Michael Levine, North Hempstead Planning Commissioner showed recent improvements to Prospect Avenue, but also cautioned that other aspects, such as education of pedestrians, is also important for the safety of roadways.
Dave Genaway, Planning Commissioner for the Town of Islip spoke about ways to get private investment for improvements. One ex- ample was developers who to install sidewalks in new developments even though in certain cases the surrounding neighborhood may not have sidewalks. Adding new ones just in front of a few houses may not make sense, so developers could pay an equivalent amount into a fund that is then used to make sidewalk improvements in other parts of the town where they are actually needed.
One of the final and most exciting parts of the day was when Larry McAuliffe from NYMTC announced a $15 million fund for pedestrian safety amenities.
Complete Streets in New York State
For too long, transportation policy has concentrated on building roads that only take into consideration the movement of cars and trucks. There is a growing and vibrant movement to make our communities "livable communities"—communities in which everyone can have safe access to our streets. Complete streets are designed to accommodate all users: wheelchairs, bicyclists, public transportation vehicles and passengers, motorists, and pedestrians of all ages and abilities.
In our recent report, The Most Dangerous Roads for Walking, Tri-State Transportation Campaign identified the region's most dangerous roads for pedestrians, concluding that arterial roads—wide, high-speed roads designed to move as many cars as fast as possible, with little if any consideration for pedestrians—are the most dangerous for walking. Yet many of these roads, like Sunrise Highway on Long Island, run through the heart of our communities and economic centers. Relatively small design and capital investments can result in significant safety improvements in our communities.
There has been progress. In August of 2011, Governor Cuomo signed the complete streets bill into law. Now all projects that receive state and federal funding must consider complete streets when being designed. In addition, over 50 local policies have been passed in New York State at the village, town and county level, including Suffolk and Nassau Counties. NYSDOT's leadership on safety improvements on Hempstead Turnpike is a significant step forward.
More needs to be done. A coordinated effort is needed between the Department of Transportation, MPOs, local leaders and advocates. Current advocacy efforts include:
Pass local policies. Given that the state law will only cover major projects, it is crucial that local municipalities pass policies too. To help advance that effort, Vision Long Island and Tri-State have released a Complete Streets Toolkit for Long Island that can be used by local advocates and legislators to help build safer streets in their own communities (http://tstc.org/reports/licsbx/).
Secure adequate funding. In New York State, around 2% of our federal dollars are spent on bicycle and pedestrian infrastructure. Unfortunately, New York has the highest fatality rate in the nation for pedestrians and bicyclists: 27%.[1]One option to rectify this imbalance is for New York to dedicate a higher percentage of dollars to bicycle and pedestrian infrastructure.
Watchdog progress. Building a network of complete streets will not happen overnight—this is a significant change of policy towards our roads. Local advocates and leaders need to pay close attention to proposed plans in their region.
NYS Complete Streets
St. Lawrence Health Initiative