"Support our Main Street Businesses & Each Other – Every Dollar Counts!"
Multiple downtowns have teamed up to launch "We Are Open" Facebook Page to cross promote independent businesses that are safely in operation for takeout, delivery and online services.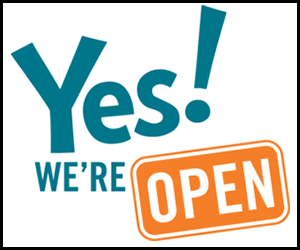 The LI Main Street Alliance featuring over 40 downtowns have launched a "We Are Open" Facebook Page. The page features an individual listing of well over 1,000 independent small businesses that are operating for takeout, delivery or online services. You don't have to leave the house for delivery or online services. Curbside takeout can be accomplished safely with social distancing behaviors.
The real experiences downtown small business owners, associated staff and local communities face from the Coronavirus shutdown range from not great to catastrophic.
We surveyed over 375 independent small businesses and the results to date were miserable. A 40-50% reduction in most restaurants, bars and local services in the weeks leading up to the shutdown. After the closure the business that remained open business are down 80-90%. One third of all business told us they are considering permanent closure depending on the type, and expediency, of federal loans and grants, support they are able to muster if they are still open from the community and the timeframe of when the shutdown ends.
The grocery stores, pharmacies and chain stores may be busy but the independent small businesses you love may not be there or radically restructured in the coming months.
For the folks that are still working we hope you are humble, sober and aware of the fact that right now your neighbors are in pain.
If you have resources to help – here is what you can do:
1) Like and Share the LI Main Street Alliance "We Are Open" Page on FACEBOOK
2) Patronize open independent small businesses to limit further job losses with take out or delivery services. Patronize other Main Street businesses that are still open and where possible order services or products by phone or electronically.
3) Purchase gift certificates from your local stores or restaurants in order to get them needed cash now to help them reopen in the future.
4) Donate to local food pantries, donate blood, help rustle up personal protective gear for front line providers
5) If you have resources to give directly to real people or to very local groups who are on the ground and getting community based help during this time.
Thankfully the problems we had from Sandy – lack of consistent information, sluggish delivery of public governmental support and lack of private resources moving directly to real impacted people are not being repeated. So far all levels of government have been working (remotely) around the clock with local business and community leaders to avoid these pitfalls and pull everyone together.
"Every dollar counts and safely patronizing local businesses for takeout, delivery or online services provides a bridge to keep a skeleton crew going until stimulus funds come in and the Coronavirus crisis ends. Main Street shops are always there for community and local organizations we need now to be there for them." Eric Alexander, Vision Long Island/LI Main Street Alliance
This initiative is a product of collaboration with not only the 40 downtowns but the Nassau Council of Chamber of Commerce and the Suffolk County Alliance of Chambers of Commerce.
Over the last two week local elected officials, chambers and civic leaders have expressed support and come together for the small businesses and Main Street villages. Here are some quotes and testimonials of support and some actions they have taken…..
Suffolk County Executive Steve Bellone's message to small businesses, "We will be with you for the long haul," as the county continues to come up with solutions to the economic crisis.
We are confronted with a public health crisis that comes with great economic impacts. Residents are encouraged to safely use local essential businesses for needed goods and service. Hon. William Doc Spencer, Suffolk County Legislator
During this difficult time, our great small businesses have been struggling. Many local restaurants and bars are still serving the public in take-out and delivery capacities. If you can, please help by supporting our local businesses. Hon. Laura Schaefer, Nassau County Legislator
We're reaching out to all businesses to make sure that they're OK to see if there's anything that we can do in the interim to help them." Richie Kessel, Nassau County IDA
"While we have emphatically urged our residents to practice social distancing and to stay home whenever possible, we are encouraging everyone to support their local restaurants by ordering pickup or delivery," said North Hempstead Supervisor Judi Bosworth. "We have some extraordinary local businesses in our downtowns, and as always, the town recognizes the importance of encouraging our residents to shop local, especially during these trying times."
Small businesses are the heartbeat of our economy as they keep our downtowns alive while employing our neighbors and sponsoring our youth leagues. Let's do our part to support them by ordering takeout and purchasing gift cards during this public health crisis." Town of Oyster Bay Supervisor Joseph Saladino
"This pandemic has hit our Main Street businesses in a way that has many of them wondering how they will survive. Many are coming up with ways of conducting business without compromising the public. Bakeries are making DIY cookie kits to take home, restaurants are amping up takeout, realtors are filming available homes… they're each finding their own recipe to make lemonade. And while the public must remain vigilant in social distancing, we can all find a way to safely support our local shops, be it sharing their social media posts or making a donation to those forced to close… the way through this is together." – Town of Smithtown Supervisor Ed Wehrheim.
We are suspending parking meters in Bay Shore until further notice. I, along with the members of the Town Board, wanted to do our part to encourage residents to continue patronizing their local restaurants. Anything we can do to help our local businesses to facilitate taking advantage of To-Go orders, we need to do. It's important that during these unsettling times, we do what we can to help one another." "Please support all our small businesses whenever you can, but please stay healthy and safe while doing so…maintain social distancing." – Town of Islip Supervisor Angie Carpenter
"To assist our restaurant and business community, we are temporarily waiving parking fees in the entire downtown area." – Town of Huntington Supervisor Chad Lupinacci
"Our small businesses are a critical component of our Town. And although the economic impact of the COVID-19 crisis is yet to be fully measured, we know it is already having a huge, negative impact on our small business community. To the brave business owners who work tirelessly contributing to the foundation of Riverhead, we are with you and working daily with Federal, State and Local officials to ensure financial assistance programs are readily available." Riverhead Town Supervisor Yvette Aguiar
"Please stand by our small businesses during this difficult time." – Brookhaven Supervisor Ed Romaine
"Now is the time to give back to our own community, "Our actions today, tomorrow and in the coming weeks can make or break many local businesses. We can make a real difference in the future of our small business community. Think about who you can support and consider the many options for take-out, delivery, gas, and any purchases you will be making in the foreseeable future." Ed Fare, Mayor, Village of Valley Stream
"We need to support small business, as they do not have a long safety cord. Without this support during these difficult times, these businesses may not be here when its over." – Village ofWestbury Mayor Peter Cavallaro
"It is important during this national emergency that we unite as a community, follow the advice of the experts, and take responsibility for our actions to slow the spread of COVID-19. To that end, many of our local businesses are no longer open to the public, but are still in need of our support. Purchasing gift cards is a terrific way to show your support. Also, carry out and delivery are still options at many of our local restaurants and eateries. You don't have to cook and the restaurant is making some money – a win-win for all! As our Business Improvement District says, "Keep Lindy Healthy, Support Local Businesses, Take It To Go!" – Village of Lindenhurst Mayor Mike Lavorata
"One of our greatest values in Babylon Village is our downtown business district. It is time to support our restaurants as best we can, as they certainly support our events, organizations and community throughout the year. To our downtown business district: should you need information on assistance during this time, please see below and email us! The Village of Babylon is here to help as best we can to assist you through this difficult time." – Village of Babylon Mayor Ralph Scordino
"Merchants have been dealt a significant blow and need everyone's help in making it through," says Village of Port Washington North Mayor Bob Weitzner.
We have been doing take out every night from a different place. We put out on the Village website, and to all residents on our constant contact, a list of restaurant's names and phone numbers which are doing delivery and take out. We have given all merchants the SBA information to file for money. We are trying our best to keep Farmingdale a Village to be proud of." – Village of Farmingdale Village Mayor Ralph Ekstrand
"As a former small biz owner for more than 20 years, I made my living from the loyalty of Valley Stream customers who made a difference in my business. I know what it is to make a living and support a family in business, and I owe my success to my Valley Stream neighbors," "It is so important to shop locally. Please keep your money in Valley Stream, from deli to florist to pizzeria to gas stations," John Tufarelli, Village of Valley Stream Trustee former owner Wheeler Deli
"Our revitalization which had been taking off is now at a screeching halt. Curbside pickup is still going on with new and old businesses. Especially new businesses afraid of whether they are going to last. Some are staying open to keep people employed and hoping grants come through. Our Village and Business Improvement District are showing support, encouraging people to get take out once a week." Hon. RJ Renna, Village of Lindenhurst
"People are wondering what kind of assistance they're going to get. Biggest need is some kind of grants or loans that are less than the posted 3.5% interest rate. They need very low interest loans or grants to keep going." Hon. Dennis Siry Mayor, Village of Amityville
"We have gone from a thriving town to a ghost town and our eateries are experiencing real hardships. The restaurants are doing yeoman's work. They need all the advertising help we can give them, especially through the use of social media." Hon. Jean Celender, Mayor, Village of Great Neck Plaza
"We are hanging in there. Whatever our customers are comfortable with, we'll do. We'll deliver to the door, knock, or not, deliver curbside, or welcome you into the restaurant for takeout. Everyone is different and we understand." – Joe Carusone, owner of Vincent's Pizzaria and Restaurant in Lynbrook
"We don't know how long small businesses will survive, they don't have workers, there is a lot of misinformation and we need people to stay calm." – Harry Malhotra, South Asian Chamber of Commerce
"People are leaving businesses and are stretched to the limit. We are hoping for guidance and that some resources will come." – Dennis Jones, Hempstead Chamber of Commerce
"Our businesses here in the village are already significantly impacted. A few retailers are still open but are only doing virtual shopping or private shopping appointments. There are a lot of business owners and employees of those businesses who are already concerned for their livelihoods considering the government has not provided a timeline on these shut downs. On the other hand, we are already seeing a wave of support from the community." – Kelly Peckholdt, President of the Babylon Village Chamber of Commerce
"This is as serious as it gets for the survival of businesses, especially small, privately owned restaurants, shops, and really any and all retail establishments," commented "We encourage all residents of Valley Stream to shop local. When small businesses reopen they will need the help of our community more than ever. Whenever possible now, please patronize those few essential small businesses that have remained open during this difficult time. We can all do our part to help them survive this crisis, so when it subsides we will all be stronger together," Dominick Minerva, President of the Valley Stream Chamber of Commerce.
"We need to work together to minimize the toll this pandemic will take on our small business community." – Tony Tanzi, Kings Park Chamber of Commerce
"Over the last three weeks the chamber has launched a program to bring the Chamber and the Community together to support our essential workers, first responders and hard working small business owners." Richie Krug, President, East Meadow Chamber of Commerce
"I think this is going to go on for a while. This isn't like a storm where you lose two days, you don't know how long this is going to last and it's scary in that respect." – local business owner John Murray from Kilwins in Bayshore and Patchogue, and the Hero Joint
Reports from Local Downtowns
At this time of uncertainty, we are beginning to see a number of downtowns being shuttered as bars, restaurants, and any place where multiple people congregate are running up against fears of and caution at spreading the Coronavirus. While this is a socially responsible action that will help to save lives, in the short term these actions are having a number of adverse effects on our local communities.
Vision Long Island and Long Island Main Street Alliance members have collected a number of experiences from local restaurants and service businesses, but before we go into that we would like to encourage everyone reading this to find a way to responsibly patronize local establishments. Many stores are offering curbside pickup or online shopping to help them get through this difficult time. And your favorite restaurants are also currently open for business with takeout available.
We also urge you to consider gift cards in order to purchase something at a later date for yourself, or perhaps to give as a present.
Local shops are in a capable position to provide you with what you need in the short-term. Many will also be willing to accommodate you if you contact them ahead of time with requests that will minimize contact and help to lower the spread of this virus.
Vision has connected to over 355 small businesses in over 40 downtowns as they weather the economic storm through the Coronavirus. We encourage people to responsibly patronize these and other open establishments who need your help in this time of crisis.
Many of these businesses have been there for local organizations and philanthropy – they now need our support.
In the meantime, here is a featured downtown for today. For a complete list of downtowns we've been to and what's still open, please check out our website here.
Port Washington

Through the commitment of town, community groups and generous individuals, Port Washington's Main Street has experienced a wonderful revitalization. Development that balances existing architecture with new zoning has generated novel and exciting storefronts, improved streetscapes and arts activities. Port Washington exemplifies public-private partnership at its best, while enhancing its community through shared ideas, expertise, time and financial support.
As the coronavirus outbreak grows, it continues to have an economic impact on downtown Main Streets, including Port Washington. "Merchants have been dealt a significant blow and need everyone's help in making it through," says Port Washington North Mayor Bob Weitzner. He has some advice for the community, "Shop local to the greatest extent possible. If possible, where inventory is not available in the local store, make an attempt to order through the local store and have them bring the item in through their larger network versus going to a 'big box' store." Purchases you will make in the future, by now buying gift certificates, provides the merchants cash immediately to offset their large decline in immediate revenue."
"The mood in the community is pretty resilient," explains Mindy Germain, Executive Director of Residents Forward. "We are being proactive. The restaurants are finding creative ways to break through." She recognizes that some "small businesses don't know how to transition to an online presence, so the Chamber and BID are looking into creating tutorials/webinars to help."
"While we have emphatically urged our residents to practice social distancing and to stay home whenever possible, we are encouraging everyone to support their local restaurants by ordering pickup or delivery," said North Hempstead Supervisor Judi Bosworth. "We have some extraordinary local businesses in our downtowns, and as always, the town recognizes the importance of encouraging our residents to shop local, especially during these trying times."
Here are some restaurants and eateries that are open for takeout and delivery:
Ale'Port 708-1264 take out delivery
Amalfi Ristorante & Pizzeria 883-4191 take out
Ayhan's Shish-Kebab Restaurant 883-9310 take out delivery
Bareburger 708-9920 take out delivery
Bellisimo Pizzeria 439-5152 take out
Bistro Etcetera 472-7780 take out delivery
Bosphorus Café Grill 321-9999 take out delivery
Cactus Cafe 570-6060 take out delivery
Di Maggio's Trattoria 944-6363 take out delivery
Diwan Indian Restaurant 439-4200 take out
Domino's Pizza 944-5500 take out delivery
Dynasty 883-3730 take out delivery
Finn Mac Cool's 944-3439 take out delivery
Frank's Pizza 883-9390 take out delivery
Gino's Pizzeria & Restaurant 944-0276 take out delivery
Harbor Deli Too 883-8877 take out delivery
Harbor Delicatessen 883-9597 take out delivery
Haven Diner 883-5252 take out
Hickory's Bar-B-Que Grill 883-7174 take out delivery
Hinck's Delicatessen 883-3730 take out delivery
La P'tite Framboise Bistro 767-7164 take out
La Parma on the Bay 439-4960 take out
La Piccola Liguria Ristorante
Let There Be Bagels 944-8822 take out
Louie's Grille & Liquors 883-4242 take out delivery
Margaritas Cafe VIII 570-2949 take out delivery
Mojito Café 439-4666 take out
Mole Mole 321-9707 take out
Narinatto 883-1913 take out
Pepe Rosso 24 944-9477 take out
Port Thai Place 883-3940 take out delivery
Restaurant Yamaguchi 883-3500 take out
Saint Honore 767-2555 take out
Salvatore's Coal Oven Pizzeria 883-8457 take out
Schmear Bakery & Market 439-4077 take out delivery
Smash Burger 439-4736 take out
Spectrum Bakes delivery custom orders available
Steiner's Bakery 612-9730 take out
Sullivan's Quay Restaurant & Bar 883-3122 take out
Toscanini Ristorante Italiano 944-0755 take out delivery
Tropical Smoothie Café 441-5150 takeout
Waterzooi 472-7484 take out delivery
Wild Goose 441-5505 take out delivery
Other Businesses that are open:
3V Dental Associates on call for emergencies
Alper's Hardware 767-0508 curbside online deliver to home or store
AR Workshop Port Washington 944-6028 curbside DIY kits to go
Bach to Rock 441-5526 online instruction
Beautyfluff Cosmetics & Spa 767-7778 delivery free delivery of product
Berest Dance Center 944-6687 online instruction
Bill's Auto Repair 883-5969 all services
Black Tie Wines & Liquors 767-9000 curbside
Bluetique 734-1002 online orders
Dance Arts Centre 883-7202 online instruction
Danceworks, NY 767-3262 online instruction
DeLux Transportation Services 883-1900 call to schedule
Evolution Pilates, Inc. 917 273 5266 online instruction
Fusion Wireless/ AT & T 944-9800 by appointment
Home Town Transportation 407-3477 call to schedule
Impulse Boutique 528-8477 online personal shopping
North Shore Vision Services 883-8388 by appointment
Om Sweet Om Yoga 944-YOGA online instruction
Pilates In Port 767-8109
Port Fitness Studio, LLC online classes
Port Pop Up Boutique 375-3940 online shopping or by appointment
Port Wireless/Verizon 944-5600
Private Prep online instruction
Rainbow Paint & Collision Co. 944-5555 emergency repairs
Spectrum Suds pick up/drop off laundry service
Suite 275 439-4480
Sylvan Learning Center 303-9955 remote tutoring
The Coding Space online instruction
Vintage Grapes 918-9999 take out delivery
wit & whim online, etsy
Yoga Life, LLC 767-9642 online instruction