Over 1,200 Long Island Community, Business, and
Government Leaders Work Collaboratively to Tackle
Downtown Redevelopment & Infrastructure
Over 1,200 business, community and government leaders joined this year's LI Smart Growth Summit at the Crest Hollow Country Club Friday Dec. 6th. 20 workshops featured over 130 speakers focused on varying topics related to downtown revitalization and infrastructure investment. Over 50 different Main Street redevelopment and wastewater, energy and transportation projects were covered throughout the day.
The implementation of Smart Growth on Long Island ultimately comes down to municipal officials, 11 of who gave local updates on the State of the Town's and Village's Panel. The 2019 panelists included: Town of Smithtown Supervisor Ed Wehrheim, Town of Babylon Supervisor Rich Schaffer, Town of Islip Supervisor Angie Carpenter, Town of Oyster Bay Supervisor Joseph Saladino, Town of North Hempstead Supervisor Judi Bosworth, Town of Huntington Supervisor Chad Lupinacci, Village of Westbury Mayor Peter Cavallaro, Village of Lindenhurst Mayor Michael Lavorata, Village of Valley Stream Mayor Ed Fare, Village of Farmingdale Mayor Ralph Ekstrand. Town of Hempstead Supervisor-elect Don Clavin also joined the panel to preview the Town's downtown priorities for 2020.
This year's Summit featured a luncheon headlined by RXR Rebecca D'Elioa who presented an update to their project at the Nassau HUB. Featured speakers included Nassau County Executive Laura Curran who spoke on the Nassau HUB, reformed IDA and mobility initiatives, Suffolk County Executive Steve Bellone touched on wastewater funding and their economic development work.
NYS Senators Anna Kaplan and James Gaughran also provided a preview of the 2020 Albany legislative session.
Adrienne Esposito Co-chair of the LI Lobby Coalition updated their accomplishments and plans for 2020.
Phil Eng from the MTA/LIRR reported on their modernization work and Keith Rooney from National Grid updated the attendees on the status of natural gas service.
A LI Youth Summit incorporated students from St. Joseph's College, SUNY Old Westbury, Hofstra University, Suffolk Community College, SUNY Farmingdale, LI University and local high schools commenced for the 12th straight year bringing young people into the planning process of their communities. The theme for the students was building leadership skills to prepare for jobs.
The newly formed Long Island Main Street Alliance had members out from 40 different downtown communities that have plans for future growth and preservation. These 40 communities with downtown plans and approved transit oriented development projects yielded over 14,000 units of housing approved in the last fourteen years with projects currently opened or under construction. Over 10,000 units are in the planning stages now driven by local community and small business leadership. Just the night before the Summit the Village of Westbury approved a comprehensive rezoning plan for their train station that was a product of community input and will assist their downtown area.
89 of 110 public hearings for downtown and TOD redevelopment projects have been approved over the last 7 years with more community supporters than opponents. $50 million has been dedicated this year to traffic calming and pedestrian and bike safety initiatives and record investments in transit and downtown economic development have ensued over the previous year.
Opening Remarks

The Opening Welcome was presented by Eric Alexander, Director of Vision Long Island. After welcoming the 1,200attendees, Mr. Alexander identified Vision Long Island's 2019 Smart Growth Summit's theme as Communication and Collaboration. He emphasized that the successful projects which have occurred during the past few years across Long Island, such as sewers in Kings Park, a TOD plan in Westbury, and consensus for revitalization in Baldwin, would not have happened without stakeholders, such as civics, chambers, environmentalists, developers, all working together. Successful projects happen from the bottom up, rarely from the top down. Towards this goal, Mr. Alexander invited all attendees to become part of the newly formed Long Island Main Street Alliance. The goal of the Alliance is to support community driven revitalization to lobby and promote our downtowns. After introducing the elected officials on the dais, Mr. Alexander acknowledged their success in working collaboratively with each other and the stakeholders in their communities.
State of the Towns and Villages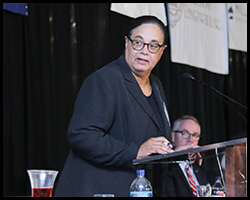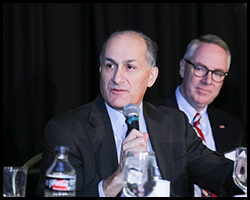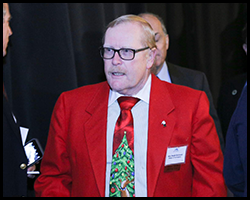 State of the Towns and Villages moderator, Joye Brown of Newsday, started off the discussion by asking the elected officials what impact Smart Growth policies have had on their downtowns.
Westbury Village Mayor, Hon. Peter Cavallaro was excited to announce a rezone of 53 acres of property adjacent to the railroad station has finally been completed. "Last night we concluded a two and a half year project that was funded by our Downtown Revitalization Grant," said the Mayor. "We rezoned about 53 acres of property adjacent to our train station into seven transit oriented development sub-zones. If you analyze the full buildout, over a 15 year period, that has the potential of allowing up to 1,500 new multifamily residential units.
Expected are seven TOD subzones, when built out, will produce 1,500 multi-family residential units. Mayor Cavallaro pointed to the creation of more than 800 units of multi-family development near the downtown over the past decade. According to Cavallaro, "TOD is the best answer to redevelop some communities on LI that suffered from big box stores."
Hon. Ralph Ekstrand, Farmingdale Village Mayor, stressed that although you build a downtown through the use of transit oriented development (TOD), it is necessary to get the community active in village events such as musical festivals, parades, and cultural arts events. Discussing Farmingdale's 100% affordable housing project, the first in Nassau County, Mayor Ekstrand underscored the importance of development that will keep young adults from moving off island.
"You build a downtown and use transit oriented development," said Mayor Ekstrand, "but you have to get everybody active in the community events. You have to have Village events. You have to get the community involved."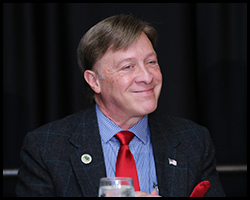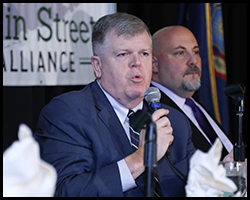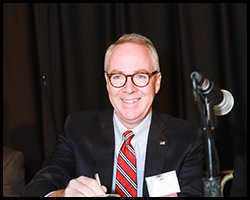 Hon. Mike Lavorota, Lindenhurst Village Mayor, recalled how big box stores pushed out mom & pop businesses in his village. To counter this, the Village needed to change how residents thought about revitalization, such as development around the train station. Mayor Lavorota stated Lindenhurst is on the move and catching up to other growing villages.
Mayor Lavorota noted that "For many years, like so many other downtowns, a lot of the big box stores came in and took a lot of the small mom and pop stores and took them out of business. This became a need to change, and to change our 'stinkin' thinkin' and try to convince some of the folks that had been there many years that we had to re-think the way we did things."
Following this theme, Hon. Richard Schaffer, Babylon Town Supervisor, highlighted that it takes good leadership to get buy in from residents, stating political differences need to be put aside in order to successfully create new downtowns, such as is happening in Lindenhurst.
"To get people to buy into change and to get them to understand how it's going to benefit takes someone like [Mayor Lavorata]," said Supervisor Schaffer." His personality, his willingness to sit and listen to conversation after conversation after conversation and put the time in. He spent that time and pulled off, with very little opposition, the Tritec project.
Hon. Don Clavin, Town of Hempstead Supervisor-elect, discussed how his administration plans to move the Nassau HUB Project forward. He believes the HUB has been an opportunity that hadn't hit its stride, but with a town board wanting to work together, the right developer in place, and stakeholders involved, success will follow. He sees the Hempstead community embracing the HUB partly because the project will embrace housing for seniors and young adults alike.
"I look at the HUB as an opportunity," he said. "It's an opportunity for something that hasn't hit its stride. Right now I think you have a board that is going to work together. If we're going to have success at the HUB, if we're going success in Baldwin, if we're going to have success in any of the communities that we want to see investment in … it's going to take working together, and that's the commitment."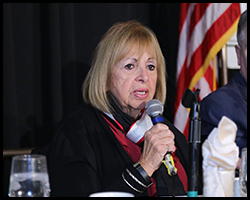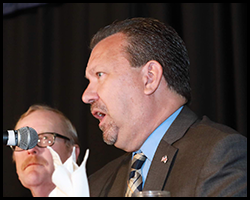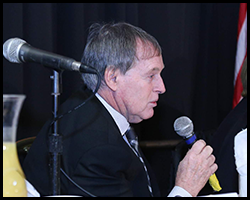 Hon. Angie Carpenter, Islip Town Supervisor, outlined the many exciting projects in Central Islip that are moving forward since winning the 2019 10 Million Dollar Revitalization Grant from New York State. Part of this grant includes $600,000 for store front revitalization. In other areas, such as the old NY Tech property, the developer plans to retrofit existing buildings, something the community wanted to see happen. Supervisor Carpenter revealed since the town experienced some opposition to various projects, developers and planners have started working with community stakeholders to explain process, provide information, answer questions, and engage with the community in order to identify development the community is comfortable embracing.
"I really believe that if we sit with the community, we engage the community, and we give them something they're comfortable with, at the end of the day everyone is better off by providing opportunities for keeping our millennials here and keeping our seniors here," said the Supervisor.
Valley Stream Village Mayor, Hon. Ed Fare repeated the old adage, the only thing constant is change. Valley Stream put together an economic development team comprised of three full time staff members to work with developers, politicians, businesses and community. Mayor Fare stressed that it's the synergy of these groups that allow for a vibrant downtown.
He noted that "You do need that synergy of Republicans, Democrats, older people, first responders, empty nesters, and you do have to create that mix of people to stay and continue to give you vibrant downtowns." Expressing the need for multi-family development, Mayor Fare pointed to a recent 43 unit apartment complex that received 500 applications.
Smithtown's Town Supervisor, Hon. Ed Wehrheim had much to tout. Acknowledging revitalization in the township starts with the need for sewers, this has been a top priority. With local, county and state government, working together with community and business, sewers in Kings Park are ready to go. In Smithtown, the town is working with St. Catherine's Hospital to obtain property to be able to take capacity into Sewer District 6 and in St. James, a dry sewer main will soon be placed in the business district with plans to hook up to a treatment plant in the Gyrodyne development in the future.
"We feel that [new sewer infrastructure] sets us up for all of our business districts to start to thrive," he said. "We're very pleased that there already is a lot of interest because of those issues. They know it's real, they know it's coming, and we're receiving new businesses every day."
A 71 unit market rate apartment complex, with 9,500 sq ft of retail, has broken ground in downtown Smithtown, a third assisted living facility has been completed and 350 rental units throughout the town are either under construction or have been approved.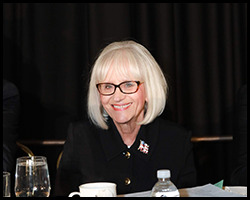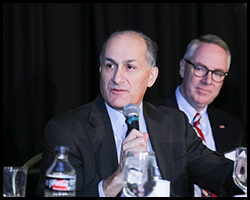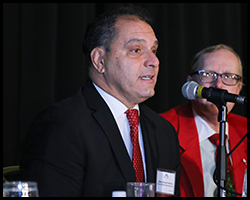 Hon. Judy Bosworth, North Hempstead's Town Supervisor explained with cooperation and consensus building, North Hempstead has become a happening place. Events such as concerts and winter wonderland, coupled with hiking and biking trails, and the town's Project Independence, have helped North Hempstead be named one of Money Magazine's 8 best places to retire in the US. Supervisor Bosworth emphasized communities need to know how projects, especially housing for millennials, will benefit them and not bring negative consequences to their area.
Supervisor Bosworth also talked about cooperation in her Town, noting that "Whatever we do, we do as a team. If you were to come to one of our Town Board meetings, you would be hard pressed to say who the Democrat is, who the Republican is, because we are fortunate that we have a group that works together because we're here with all the same purpose: To do what's best for the residents of the town of North Hempstead. You can't emphasize enough the importance of that spirit of cooperation."
Echoing his counterparts, Westbury Village Mayor, Hon. Peter Cavallaro stated there is an important need to be proactive with the community when it comes to planning and development, especially the need for senior and millennial housing.
Hon. Joseph Saladino, Oyster Bay Town Supervisor, spoke about being proud to be part of the new renaissance in the Town of Oyster Bay. Supervisor Saladino was quick to state that Oyster Bay is "continuing to open the doors to Smart Growth, protecting our environment, making more affordable housing for our workforce and for seniors. We're changing zoning in our downtowns and are embracing all that is Transit Oriented Development. We understand the power of mixed use development and the new programs while protecting all the quality programs in the Town of Oyster Bay."
Looking to Hicksville, which received a 10 million DRI grant, Supervisor Saladino highlighted how development can succeed. He strongly urged town and villages to work together. "There are challenges, but there are also solutions," Supervisor Saladino said.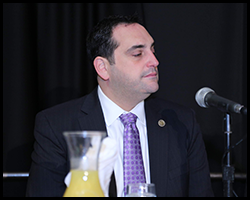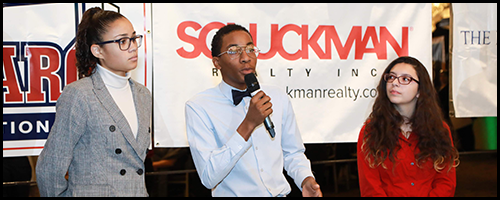 Hon. Chad Lupinacci, Huntington Town Supervisor, spoke about the kinds of events that make downtown Huntington dynamic. These attractions include parades, cultural arts, museums, entertainment, restaurants and bars. The biggest issue the town is successfully working on is parking issues. "[A Parking Structure] is needed," he said, "especially for the balance, when you're going down there to turn a lot of people on the high peak points of Thursday nights, Friday nights, Saturday nights, to really go down there. But also the businesses need it too, because we have a lot of new businesses that are opening in the area, which I think is very, very important."
Huntington Station is also growing with such projects as the Conte Community Center, spray parks, the southside sewer study, the Northridge Apartments, the Gateway project, the Columbia Terrace project for veterans, and a 4 million dollar grant to improve the train facility area.
Present for the 12th year were over 100 students from five different schools, all part of the LI Youth Summit. Several questions were asked by high school students from Amityville High School and Wyandanch High School. The common thread running through the questions were summed up by Newsday's Joy Brown, Long Island is a place of have and have nots. One student asked how did it help his community in North Amityville when 300 mobile homes were removed, replaced by apartments in the Greybarn project that many of those living in the mobile homes could not afford. Another student noted the disparate conditions of some downtowns on Long Island. The answer from the dais to the students was to stay involved, and the suggestion among the elected officials to each other was to bring all stakeholders to the table, including students like those in attendance.


View the Morning Plenary Session here.
Fostering Leadership Skills
from School to Workplace

The panel opened with each of the panelists talking about leadership in general and what sort of qualities are required to become one. Moderator Dr. Nathalia Rogers noted that there were a number of future leaders in the audience viewing the panel itself and hoped that the discussion could guide them in their efforts. She began the panel by asking the speakers, who spanned multiple generations, to speak on what they considered to be leadership qualities.
Evan Peters from General Douglas MacArthur High School talked first, noting that he was in several leadership positions at his high school. He is class president and served as team leader of the distance team for his high school track team as well as vice president of the national honors society and president of the Math honor society. He talked about his personal life and how he has made an effort to excel outside of school as well as within. Mr. Peters is an Eagle Scout, has helped with fundraising for his school, participated in food drives and community outreach, and has interned for a NYS Senator while also holding a job as a cashier at the local Stop & Shop.
Jeffrey Reyes-Espinal of Amityville High School was the next speaker and seemed to echo Mr. Peters' accomplishments with his own. Reyes-Espinal serves as class president at his high school as well and also the president of the Key Club. As a representative of all students he strives to be present and participate in school government, attending school board meetings and raising student awareness of important issues. Jeffrey strives to be present and make the student voices heard, taking to heart the idea that if you don't participate you can't effect change. He does this along with holding down two separate jobs.
The next panelist was Brianna Ferguson, a sophomore at St. Joseph's College. Ms. Ferguson talked about the need to get involved, which she has done herself by joining student government at St. Joseph's as treasurer. She has also helped out as orientation leader for the incoming freshman class, which guides new students through their first year, and oversees clubs as a member of the educator's club. This allows her to help council exceptional children to provide guidance that she wishes she had had as a freshman.
Colleen Flynn, also a student at St. Joseph's College, is the current student government association president and is also a freshman first year experience volunteer. Her own experience as a freshman dealing with these kinds of volunteers is what led her into a leadership role at her college, giving her the drive to help incoming students and provide a needed service for incoming students. Ms. Flynn noted that an experience such as that can make a big difference for an incoming student.
After the students spoke some community leaders and educators were next beginning with John Schneidwin of TFCU. He spoke on the importance of extra-curricular activities for students. As a member of his local schoolboard in North Babylon, he also talked about how important it was for students to get involved and help drive the policies that affect them directly. He noted how important it is for local boards to hear feedback directly from students. Mr. Schneidwin also recommended theat the they do their own research, using the internet as a tool to help them discover ways to stay local to Long Island while they were in college.
The next speaker was Michael Bonacasa from H2M Architects + Engineers, who talked about his organization briefly, which has an average age of 36 for their employees. He has experience with private sector marketing and is president of the Italian Americans in government, a local charitable organization that raises money for that group.
The final speaker on the panel was Dr. Gail Lamberta, a professor at St, Joseph's College. Professor Lamberta noted her experience coordinating for experiential and recreational learning. She also sits on numerous local boards including Vision Long Island's and the Workforce Development Board. Dr. Lamberta used her experience to state that leadership skills are not something developed all at once through education but rather a set of skills that continue to develop after someone enters the workforce.
The panelists then shifted to a conversation on how leadership skills fit in with the workforce. It touched on a number of topics but emphasized that leadership is the result of getting out there an actually doing as well as listening. The panelists all came from active backgrounds where they actively participated in their local communities and governmental bodies, even after completing their education. But other than just participating, the group stressed an importance for leaders to listen as well in order to best know how to lead.
The discussion also trended towards how to overcome barriers, which can include age, gender, race, or belonging to a particular group of people. It's important to practice patience in that, but necessary to be tenacious in order to overcome. Identifying the cause of these barriers and then educating oneself in how best to move past them is a sign of leadership as well as a way to lead by example.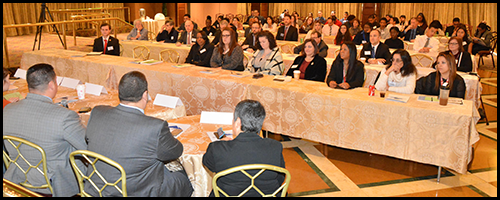 View the Fostering Leadership Skills
from School to Workplace Panel here.
Long Island's Energy Future

Long Island's Energy Future panel was moderated by Neal Lewis of the Sustainability Institute of Molloy College.
Peter Gollon, a member of the LIPA Board of Trustees, began with a presentation on Decarbonizing the Economy- a primer on the sources of carbon pollution and solutions to eliminate it. In NYS, 82% of carbon pollution is from transportation and buildings and has a goal of getting 100% of our energy from renewable sources by 2040.
Jennifer Garvey from Orsted spoke about offshore wind projects in the Northeast. The Northeast has both a high energy demand, high average off shore wind speeds and relatively shallow waters. Turbines are getting bigger and more powerful allowing projects to require less space and be more affordable. New York has the highest goal for off shore wind power, but has a long way to go to reach it. The projects they are working on are located 30 miles off the coast of Montauk and will total 1000MW. They will generate close to 1200 jobs.
Bill Artis of Energy Project Consulting spoke about reducing peak energy use in buildings. He focused on keeping projects within budget and ensuring they are built as efficiently as designed. He highlighted numerous energy codes that can be used to improve the efficiency of buildings beyond the requirements of the NYS Energy Code. Changes made during the schematic design phase will have more impact than any changes made in later phases so energy modelling early on is recommended. Get the building envelope right first, before designing the systems.
Jay Egg of Egg Geothermal Association gave an introduction to geothermal systems for those who aren't familiar with the technology which has three main components: ground loop exchangers, heat pump and duct systems. They can even out electric usage swings between winter and summer with up to 56% reduction in summer peak load which can reduce the need for new power plant construction. Additionally, geo-district grid systems are being used to replace natural gas supply lines in Massachusetts similar to one that was constructed in Riverhead which can provide heating to an entire neighborhood.
John Franceschina of PSEG highlighted some of the projects that they are working on including partnering with Orsted for offshore wind and developing energy storage for transitioning to renewable energy. In addition they have numerous programs such as rebates for efficiency improvements that have reduced energy demand significantly since being initiated in 2013. There are rebates for both air source and geothermal heat pumps in addition to light bulbs, appliances etc. Upcoming rebates include, for electric landscape equipment, fork lifts and golf carts.
View the Long Island's Energy Future Panel here.
Increasing Supply of Affordable Housing

The Supply of Affordable Housing panel covered the best ways to increase housing across Long Island for those most in need of it. The panel featured a number of local developers and groups who are dedicated to bringing that to local residents.
Peter Florey from D&F Development spoke first, talking about his company's newest project, the Sterling Green at Farmingdale. This 61-unit affordable housing development recently received zoning and is hoping to break ground before the end of next year. It is a mix of affordable units and contains a special needs component that is set aside for residents with developmental disabilities. This project was an unusual situation because it represents an "as of right" zone, which normally requires a request from the developer but was instead initiated by the Village itself. He also briefly touched on previously completed projects across the island, all of which include affordable units.
The next speaker was Allen Handelman, Vice President of Conifer Realty, who talked about his company's experience building, developing, and managing affordable housing. Conifer has developments across four states, including New York, with about 15,000 units of housing. Their presence on Long Island includes about 1,200 units across 13 communities. Mr. Handelman also noted that Conifer has been working on Long Island for 20 years with projects that include both affordable and senior housing projects.
Ralph Fasano from Concern for Independent Living was the next panelist to speak. He opened by covering Concern's mission on Long Island and how they work to bring it to fruition. This includes creating affordable housing for veterans and seniors across the region. He talked about finding funding in New York State, which presents certain challenges on Long Island. Finding the proper funding is part of what makes their projects sustainable and enriching for the local community.
Nicholas Strachovsky from KOW ARMA Development Consultants was up next and spoke on his company's role in assisting projects work through the process of development. The company provides a service to development firms who may not have the staff by providing knowledge and expertise on how to work through the process of development. The company does a lot of affordable housing across the island, working with not-for-profits, churches, and other similar types of companies. They are currently involved in over 25 active projects across Long Island right now. Mr. Strachovsky noted that a big part of what they do is battling the stigma that comes with affordable housing in order to provide it for local residents who need it.
The final speaker was Michelle Schimel, Director of Community Outreach for State of New York Mortgage Agency, which has been servicing state residents for fifty years. She talked about how NYS has stepped up in recent years to help accomplish the goal of protect, reserve and grow affordable housing for low to moderate income New Yorkers. To this effect they have unique mortgage programs and add-on features to help people get into new homes. They also work with developers, providing funding and services in exchange for a guarantee that a number of units or homes will be financed by her organization.
Moderator Sharon Mullon from Long Island Housing Partnership opened the Q&A part of the panel by asking about how delays can impact their projects and how it's different from other areas of the state. The panelists agreed that delays are one of the biggest challenges they face when creating new developments on Long Island. There was also discussion on job creation to attract younger people to the region that coincides with affordable homes for families. They also touched on what these sorts of projects will provide for existing businesses in the areas they are developed, ways to possibly expedite the approval process, among other topics.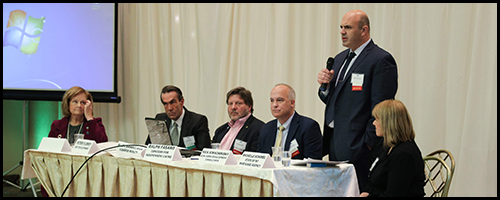 View the Increasing Supply of Affordable Housing Panel here.
Downtown Management and Public Safety

The Downtown Management and Public Safety panel was moderated by Sarah Oral of Cameron Engineering and Trustee of the Village of Roslyn.
Brain Harty, Administrator of the Village of Farmingdale spoke about the Village's sign, light and awning program and sidewalk renovations that were funded through CDBG and stimulated new investment downtown. New development near train station also brought people to Main Street. When the village was empty there was a lot of ticketing in half empty parking lots, but that deterred people from coming. Now they have pay by phone meters to manage parking while still trying to be user friendly. The parking at train station has been renovated and sidewalks are well lit to connect to Main Street so people feel safe. In addition, the Village works closely with NCPD and listens to resident's complaints, to maintain quality of life.
Joe Scalero of the Village of Mineola spoke about how Mineola has all charm and quality of life of a small town with all the challenges of a small city. They have the train station, a major hospital and the county government which means that while Mineola has a population of 19,000 people, it has a daytime population of close to 40,000. After 5pm however, downtown was dead, so they brought in apartments to have a 24 hour population. Currently in the "growing pains" phase-projects are under construction or recently completed, so traffic patterns are adjusting. The biggest challenge in Mineola and across long island is absentee landlords because they can't make them fix up their buildings, however they have incentive to try to encourage it and allow tenants to apply for funds to make improvements.
Kevin Wood, the Parking and Mobility Administrator of the Village of Port Jefferson noted the three major projects in the Village which are adding to the vibrancy of downtown, and that they are also working on uptown by the train station. Port Jeff is known for parking anxiety, but they have added a phone app for parking which has increased from 1% to 16% usage. He feels that it isn't about the cost, but ease of use. The Village also administers security cameras to improve safety downtown. They're not being constantly watched but can be used during incidents, and have been useful.
Coleen Smith, a Public Safety Outreach Consultant, spoke of growing up in a family of law enforcement and how it has changed over the years. Nassau County Police does community outreach to villages to make better connections between law enforcement and communities. Law enforcement is trying to get out into the public more than in the past and you have to let them know what you need so they can work with you. Also, in downtowns lighting is important to make people feel safe, and more vibrancy reduces crime because there are more eyes on the street.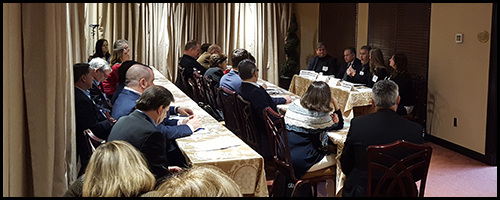 View the Downtown Management and Public Safety Panel here.
Downtown Food, Beer and Coffee

Andy Calimano of Starfish Junction and LI Craft Beer Association moderated the Downtown Food, Beer and Coffee panel which discussed many of the issues that food establishments face and what brings them to communities.
Colin McGlone of Harleys American Grill in Farmingdale spoke about how they chose their location based on foot traffic and car traffic. They looked at ages, income and demographics and having other nearby businesses also add value to the location. It is also particularly convenient to have locations across the street to share services and staff. Real estate prices also matter, there's been a 6-8% increase, but it is linked to income, so there is spending power. They listened to the community, and the community wanted a nice steakhouse, they tailored their restaurant to fit what the community wants. They also cross promote with other businesses, to fill gaps and support each other. Restaurants and coffee shops provide a place for people to do business, restaurants are the glue that keep downtowns together, what brings people there.
David Sabatino of Sip This in Valley Stream chose his location for very specific reason. The former business in that location was Slipped Disc, and when it closed it was a blow to the community. He chose to continue the history, sell their merchandise, and have pop up events with the former owners. It was about investing in his community. He was surprised at how supportive the local government was, but surprised at some of the permits and fees that were needed in order to open. He advised to look into property taxes, the lease and tax structure of Valley Stream has the highest commercial tax rates, something he did not know when starting out. Also know that you can apply for a liquor event, up to 4 per year to hold special events including partnering with local breweries for art openings, record events.
Andy Calimano discussed how when they started there were only 7 breweries on Long Island, while there are now over 40. Breweries in Riverhead have a bike between breweries event which can only happen when you have several in close proximity. Most breweries don't serve food, so patrons go to a restaurant after which helps support other businesses. Cideries are a new industry on Long Island, with New York State the second largest grower of apples in the country. Brewers are looking for sewers, otherwise very challenging because they have limited budgets. Many owners have day jobs, and they are mostly opening tasting rooms, not brewing for distribution. Spirit companies need less space since they can charge more for their product, and cideries tend to stay on the east end where the apples grow.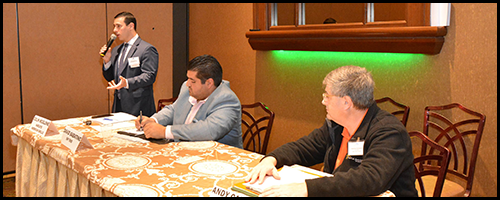 View the Downtown, Food, Beer and Coffee Panel here.
Creating Complete Streets
The Complete Streets panel covered a range of topics from the health benefits of Complete Streets and active transportation to broad plans for improve transportation options across the island to individual built projects in our downtowns. The panel was moderated by Elissa Kyle from Vision Long Island.
Dr. Karyn Kirschbaum from Western Suffolk BOCES described the Creating Healthy Schools and Communities program that is helping to increase activity levels as well as improve nutrition and wellness within the communities of Wyandanch, Brentwood, Central Islip, Roosevelt and the Shinnecock Reservation. Through the program they have organized several community walks to both demonstrate that there are destinations within walking distance as well as identify dangerous hot spots that should be the focus of safety improvements.
Frank Wefering of GPI highlighted the Walkability Plan for downtown Lindenhurst which focuses on improving walkability to revitalize the downtown rather than increasing the supply of parking. It focuses not just on pedestrian safety, but also on being a multi-modal area that accommodates bicycles, transit and cars as well and used extensive public input to develop the recommendations. Currently there are numerous new food and drink businesses opening within the downtown area.
Steve Normandin of NV5 showed a number of projects built around the island in the past year including Main Street Port Washington recently installed curb extensions to increase sidewalk area and downtown Copiague has installed streetscaping and new crosswalks to unify the numerous patchwork sidewalk improvements. Bay Shore has recently completed a bike lane connecting the train station to the ferry terminal and redesigned the ferry terminal area to improve circulation. In addition, Valley Stream has used resiliency funding for a waterfront shared-use path, Westbury is adding streetscaping along Post Ave, and Hicksville is undergoing a complete streets study.
Chris D'Antonio from Suffolk County Planning highlighted a number of efforts underway in the County to improve active transportation. The first is the County's bike share program funded by Bethpage Federal Credit Union and managed by Zagster. Second is the countywide Hike Bike Master Plan which seeks to create a network of pedestrian and bike infrastructure using web based public engagement as well as pop up events around the county. The plan uses various criteria to prioritize projects that will help to connect existing facilities into an interconnected system.
Grace Healy from the Trust for Public Land updated the progress made on the Empire State Trail Long Island Extension (now renamed the Long Island Greenway) over the past year. The feasibility study has been completed and now they are currently looking at the route in more detail. The original first phase started at Eisenhower Park and continued through utility corridors to Edgewood Preserve, but ultimately was extended to Brentwood State Park to connect with a more active park space as well as Suffolk Community College. The next year will move forward on engineering studies to confirm the various technical aspects of the route prior to construction documents being prepared.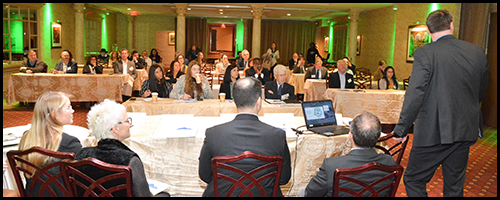 View the Creating Complete Streets Panel here.
Main Street Business Diversity

Main Street Business Diversity panel hosted by Lionel Chitty, Director of Nassau County's Department of Minority Affairs, had a wide range of business owners and representatives from organizations providing services to businesses. The discussion covered numerous tips for small business owners to help their businesses succeed.
Nancy Vargas of DH2 Transportation, a JFK based shuttle service, spoke about how even as a MWBE (Minority/Women owned Business Enterprise), you have to go out there and be your own best advocate and "sell" your business. Join as many organizations as you can to know what's going on relevant to your business, research what you should be a member of in order to network. In addition, get the youth involved, it is a place for conversation and they want to get involved.
Harry Molhatra of the South Asian Chamber of Commerce spoke about how there is nowhere for young people to go in Hicksville, they want some kind of entertainment and there are not as many restaurants as there used to be. The South Asian Chamber has organized events to introduce businesses and work with the town. Another way to reach out to town government. Sometimes there's a language barrier, so you need to understand culture and background. Some believe that you need to pay to speak to government, so there's a need to make connections and reduce distrust.
Phil Andrews of the African American Chamber of Commerce highlighted the need to make sure that minorities are a part of development projects. In Hempstead, the community would be more invested in the success if they were. He also emphasized the importance of Chambers – new businesses should reach out to them.
Gina Coletti of the Suffolk County Alliance of Chambers seconded that if you want to get your business into an area, get involved with the chambers. Talk to them to find out what's going on in those communities, and talk to elected officials as well. Look at Long Island Business News to find out about potential opportunities.
Steve Haines of New York Institute of Technology highlighted the business school at NYIT and the training available for business owners to learn skills needed to succeed. They work with small businesses for free to increase their chance of success for marketing, management or other areas of business.
Ritu Wackett of the NYS Small Business Development Center at Stonybrook University explained how MWBE works. While government has goals for contracts, a certain percentage should be awarded to MWBEs, they usually don't meet those goals. If you qualify and get certified, you need to go after these contracts. However, not all contracts go out to bid, under a certain threshold it's all about relationship building. She encouraged signing up for the Bid links program-daily emails about contracts that are relevant to your business.
Elizabeth Custodio of People's United Bank emphasized the importance of business education. They are not just there to lend, but help you get the knowledge you need in order to apply for lending. Business owners need to know the basics and have a strong background to be considered. Look for resources, there are many available and know the community you are looking to work in. Know your niche, know your strengths. Know what is going on or it's a missed opportunity.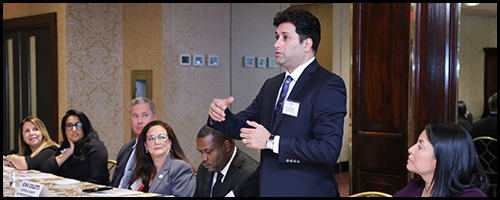 View the Main Street Business Diversity Panel here.
Creating Age Friendly Communities

Moderator Bernard Macias from AARP opened by noting that the population is slowly aging, with percentages of the population slowly shifting towards older individuals. This makes it even more important to focus on keeping an older population as well as millennials and will require an "age friendly" style of development. Recent studies have also shown that people are retiring later and that professions are adapting to that by employing people longer or even searching for older residents to fill positions.
John Cochrane from the NYS Office for the Aging was the first panelist to speak as he tried to provide context to the idea of age friendly communities. He talked about the state level and how the concept is being promoted in New York downtowns. This hopes to address the fact that the elderly are often living in social isolation along with accelerating chronic and mental illnesses. Part of the goal is a plan is to make NYS the healthiest in the country by considering health of communities across all state policies, programs, and initiatives as well as identifying long term goals to embed into all aspects of government.
Jorge Martinez from the Nassau County Office of Senior Citizens Affairs was the next speaker, who had a short presentation aimed at bringing perspective to age-related issues through the numbers. He also talked on the Office for the Aging's mission, which included identifying needs and gaps in services, developing and coordinating implementation of services to meet those needs, enabling senior citizens to stay in their homes through end of life, and maximization of the elderly's independence. Nassau County is quickly becoming one of the oldest counties in the country based on age demographics.
The third panelist to speak was Rebecca Miller of Project Independence, Town of North Hempstead. Ms. Miller talked about the aging population and how baby boomers are starting to enter "retirement age" territory. Approximately 65,750,000 members of the population will join this group in the next decade. We're also starting to see more and more people in their 90's retaining independence and their health. She also touched on naturally occurring retirement communities where a local community could receive special designation and services if two contiguous census tracts had a majority population of a certain age. This first occurred in North Hempstead in a small community north of New Hyde Park, which triggered an expansion of these services to surrounding communities with aging populations looking for the same.
Next up was Randi Dresner from Island Harvest, who touched on how her organization's mission of ending hunger and food waste on long island benefits from targeting different populations. She noted that a senior's need would be very different from that of a young family or veteran. Because of this the programs at Island Harvest have become increasingly diverse with elders and seniors requiring more and more services. She noted that many senior citizens on Long Island are simply alone thanks to a lack of nearby family and how this can impact their food consumption when they cannot get to a supermarket. This leads to a need for services like Island Harvest, but they need more transportation options as well.
Jacob Turner from the Engel Burman Group talked about his real estate group's experiences in creating livable communities for seniors. He talked about three categories of the elderly that had been dubbed slow-go, go-go, and no-go, and that the first two were the ones that Engel Burman focused on. Slow-go was focused more on assisted living and retaining the mental faculties of residents and physical therapy. Meanwhile, go-go is more about independent living in more of a hotel environment that has extra amenities. Mr. Turner also talked about how Towns and Villages are more likely to accept these developments thanks to the fact that they bring in a tax base but don't put extra strain on school districts.
The panel then took a number of questions from people in the audience. The attendees asked questions on how to best stay in place for an aging population. This included inquiries on how they can continue to pay for services among rising costs for those who own their own homes or have to use resources to pay for both housing and health services. Transportation as a barrier and how an aging population fits in when surrounded by younger residents was also discussed, among other topics.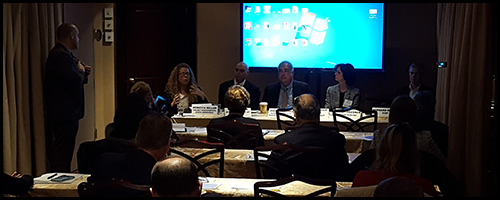 View the Creating Age Friendly Communities Panel here.
The Changing Retail Landscape

The Changing Retail Landscape panel was moderated by Keith Archer of Harras, Bloom and Archer and discussed many of the issues facing retail today including e-commerce, discount stores, shopping mall transformations and others.
Ken Schuckman of Schuckman Realty described the current situation as both death, evolution, and apocalypse, but mentioned that there is a sense of community that people need since the death of the mall and that people want a reason to get together. In downtowns, the retail is going to flourish as a result of online retail hurting big box centers. Downtowns should embrace entrepreneurs and some towns are updating their codes to add flexibility to reduce vacancies as the market changes.
Kristin DeLuca of Bohler Engineering highlighted that it's all about experience in both downtowns and former big box locations. The retail is secondary to the experience. Retailers that embrace online retail as well as brick and mortar are very successful with brick and mortar locations able to increase their online sales by 30%.
Aanen Olsen of Brookfield Properties described how fifty years ago we abandoned downtown, now we are going back and recreating the live, work, play experience where you don't need a car. Additionally, places like Homegoods do well because inventory changes constantly so people keep going back to see what's new. Parking always the biggest issue with retail, while you need enough for convenience, you don't want so much that it impacts the experience. Shared parking allows parking spaces to do double duty and be used more efficiently.
Frank Camarano of the Nassau Council of Chambers of Commerce noted that people aren't going to shop on a store rather than online because you shame them into it, they have to want to. It has to be a good experience. Now that internet sales tax is moving forward, there won't be that additional disincentive to shop brick and mortar, but stores still have to do more. The NCCC's goal is to help members by offering training for businesses to market online and other services to succeed and not get lost in the shuffle.
Diane Burke of the East End Arts Council described the focus on downtown and bringing people in. Attitudes are changing, people want that experience. They encourage drivers to detour through Riverhead and attract those heading to Hamptons. The customer needs to have a good experience, but retail also has to have a web presence. In their art store, customers can preview art online, then come to the shop to buy. While they can buy online, most people choose to buy in person. They also switch up exhibits regularly, to keep it new and keep people coming back.
View the Changing Retail Landscape Panel here.
Water & Infrastructure Investments
to Help Manage Growth

Moderator Adrienne Esposito, Executive Director of the Citizens Campaign for the Environment opened the workshop by affirming Long Island's critical water challenges. With 100% of LI's drinking water coming from aquifers and with three million people living on top of their sole source of drinking water, a lot can go wrong. Ms. Esposito outlined many challenges the Island faces, including toxic chemicals, inadequately treated sewage, and the need for upgraded infrastructure technology. The ultimate goal is clean, safe, drinking water.
Alan Weland, VP/General Manager for SUEZ Water Long Island, discussed the improvements Nassau County has made towards resiliency. The biggest example of resiliency, according to Mr. Weland, are the Sandy recovery efforts at the Bay Park Sewage Treatment Plant. The good news, construction work for resiliency, which basically includes storm hardening and recovery repair for the damage, is 70% complete. The facility is now protected against storms as big, or bigger, than Sandy, with much of the equipment designed to work even when submerged. Looking forward, the goal is to remove Bay Park's discharge from the western bays and divert it to Cedar Creek Wastewater Treatment Plant, and out into the ocean. The benefits of reclaimed water were discussed as a strong vehicle to conserve drinking water.
Peter Scully, Deputy County Executive, Suffolk County, acknowledged Suffolk County is only scratching the surface on water reuse. Contrasting Nassau County, 75% sewered, to Suffolk County, 75% unsewered, Mr. Scully outlined the unique challenges Suffolk County faces and how the County is meeting those challenges. 36,000 residential and 20,000 commercial properties rely on cesspools and septic systems in Suffolk. These are not designed to treat nitrogen and have a negative impact on our water, including harmful algal blooms, fish kills and attacks to our surface water. Lack of sewers not only harms our environment, but also our economy. Without sewers, growth, especially in downtown areas, is limited. Mr. Scully also highlighted sewering, in the absence of subsidies, is very difficult to achieve. To tackle these critical issues, Suffolk County completed the Subwatersheds Wastewater Plan, which is a long-term plan to fix the County's water quality. One goal is to move away from cesspools and traditional septic systems to Innovative Alternative (IA) systems. The challenge is making these new systems affordable to the public. The County is working on finding potential alternative financial mechanisms to achieve this goal.
Tom Parece, Senior Program Director, AECOM, focused on water reuse. A big challenge, which has proven to be difficult, is how to convince people to use reclaimed water. Working on Cape Cod, which is very similar to Long Island, Mr. Parece notes the cost of sewering was 6 to 8 billion dollars, a number too steep for the communities. As such, AECOM started looking at traditional and untraditional technology to bring costs down, which has been successful. Some untraditional technologies include Oyster reefs and permeable Reactive Barriers. Like Suffolk County, other forms of financing are always being explored.
Gary Rozmus, Senior Consultant, GEI Consultants, defined an important issue, there can be no Smart Growth without tackling Long Island's water issues. Mr. Rozmus discussed various tools to facilitate minimization of contaminants that reach our water supply. One such tool is the NYS Brownfields Cleanup Program. The program allows for the cleanup of properties in such a way that takes advantage of construction as part of the remediation. Another tool is the use of the recently overhauled NYS 360 Regulations which allows the reuse of contaminated materials in certain instances, with certain limitations.
The panel then took a number of questions from the audience. Neal Lewis, Executive Director of the Sustainability Institute at Molloy College, and several other attendees, asked about the high cost of wastewater treatment and the prospect of those costs decreasing in the future. Mr. Scully explained that market forces will determine cost. Over time, with respect to IA Systems, as buying increases, costs will decrease. The panel also supported the idea of community run forums to explain and educate residents on wastewater management, the costs and what sewers in their community could mean.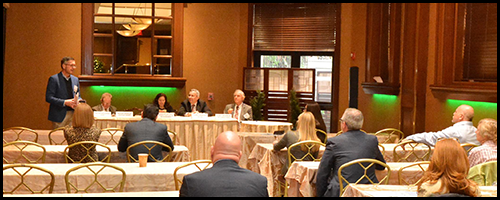 View the Water & Infrastructure Investments
to Help Manage Growth Panel here.
TOD & Downtown Redevelopment

This panel was moderated by John Chillemi of Ruskin Moscou Faltischek, who opened with introductions of each panelist.
Kei Hayashi of BJH Advisors gave a background for the Westbury rezoning effort that was approved the night before the event. Westbury was the first community on Long Island to win the Downtown Revitalization Initiative (DRI) award in 2016 and developed a plan to revitalize Post Avenue and the area surrounding the train station through a public input process. The rezoning covered the area east of Post Avenue to School Street and from Railroad Avenue north to Maple Avenue. The zoning allows up to five stories close to the train station and steps down to three stories closer to the single family neighborhoods to the north.
Dylan Vitale from the Channel Club described their project near the Island Park train station which consists of 86 units, both 1 and 2 bedrooms on a former restaurant site that was destroyed during Superstorm Sandy. In 2012 they developed King Kullen shopping center next door then designed this property for empty nesters and young professionals to be able to use LIRR and waterfront. They raised the grade and put in extensive drainage to be prepared for any future storm. Recently some new businesses have moved in, but further revitalization is needed.
Andy Zucaro or Zucaro Construcion described the many downtown revitalization projects he has worked on in Hempstead, Westbury, Patchogue and Farmingdale. He then followed with some of the current projects the company is working on including 115 apartments near the Amityville train station which has recently broken ground and a project 71 unit project in 5 buildings in Smithtown at the old lumberyard on Main Street near Maple Avenue.
Joe Rossi from Southern Land Company described a project in Garden City on Stewart Avenue that they are currently working on. The project is on 4.65 acres and the 10% affordable units cover a range of price points for those making 40%, 60%, and 80% of AMI.
During the question and answer period, the group also discussed IDAs and school districts, green building and affordability as well as what communities can do that are just beginning the revitalization process.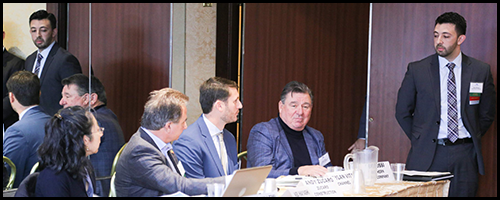 View the TOD & Downtown Redevelopment Panel here.
Getting Condominiums Built

Judy Simoncic, Attorney with Forchelli Deegan Terrana Law, moderated the "Getting Condominiums Built" workshop. Framing the discussion around the demand for condominiums on Long Island, Ms. Simoncic engaged both panel and audience members on the reality and success of meeting this demand.
Anthony Bartone, Managing Partner of Terwilliger & Bartone Properties, started off the panel outlining some of the challenges of developing condominiums on Long Island. Mr. Bartone noted negotiating with the Attorney General's office and the Nassau and Suffolk Counties' subdivision process, coupled with the difficulty in obtaining financing, leads to substantial obstacles in this type development. Mr. Bartone noted that reaching affordable housing goals in condo projects is very difficult, if not impossible. For example, in Nassau County, the County assesses taxes at market rate which puts downward pressure on condo prices, causing great loss to developers. Mr. Bartone concluded it is difficult to build on Long Island and even more so when speaking of condos.
Steven Dubb of the Beechwood Organization agreed there is demand for condos on LI, especially for 55 or older. Empty nesters want to move out of their single-family homes, looking for a certain lifestyle. They no longer want to deal with the maintenance of a home. They are interested in access to clubhouses, gyms, pools, theatres, parking garages, elevators and eateries, which many condo developments offer. Mr. Dubb acknowledged developing condos is expensive and time consuming. Beechwood generally offers no more than 2-bedroom units in order to mollify school districts and residents worried about adding more children to local school districts.
Valerie Van Cleef from Coach Realtors, pointed out there is not a huge inventory on Long Island for condos and prices tend to be high. Typical buyers are 55 or older and are priced out of the condo market unless they are willing to move out east and accept less amenities. In Nassau County, the highest condo is listed at 5.45 million at The Ritz-Carlton Residences and in Suffolk County, starting at 2 million in Sag Harbor.
Questions from the audience targeted additional challenges in condo development such as the effects of density caps on affordable housing in communities. In Suffolk County, lack of sewers make development difficult and in various towns, the constant parallel reviews and bureaucracy slows down the process to such a degree as to put every project at risk for market change.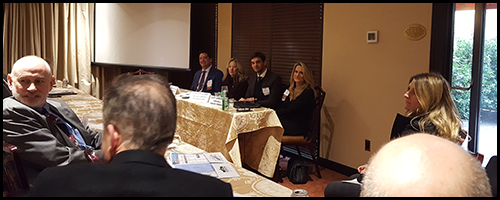 View the Getting Condominiums Built Panel here.
Job Development

The Job Development panel featured a number of local professionals who have been working to both bring new jobs to the island and help create opportunities for local residents. Kristen Jarnagin from Discover Long Island moderated and opened the panel by talking about the future of the region. She noted the importance of tourism and how it helps to create new jobs and raise the quality of life for residents.
Paul Trapani from LISTnet was next up, talking about software and technology are a growing industry on Long Island. Often people don't realize just how deeply ingrained technology is in the region. Hofstra, NYIT, and Hunter business school all have in-depth teaching programs. It also leads to higher paying jobs and more prosperity in the region, and should be an important part of promoting Long Island to younger residents while helping to attract new people to the area.
David Sprintzen from Long Island University spoke next on the possibility of a state employee ownership center that could help develop and promote employee ownership of their business. This has been done in other states, providing a possible model for NYS. This could help with succession plans in local small businesses where owners who are ready to shut down a business for one reason or another could instead sell that business to its employees. This could help to keep employment more steady in the region.
The next panelist to speak was Patrick Boyle from Ignite Long Island. He represent Long Island manufacturers, over 3,000 separate companies with 78,000 jobs on Long Island. He talked about solutions for an industry that is facing an aging population with a lack of skilled workers coming into the workforce. His group is partnering with national and regional partners to organize Long Island's first manufacturing apprenticeship
Mitch Pally of the Long Island Builder's Institute spoke on the need to increase housing in all sectors on Long Island. He talked about the need for workers to have a place to live whether its's a single family home or a studio apartment. The changing nature of Long Island is evident as is the need to work with all partners to create housing in unique regions. The goal should be to create a clean, efficient environment for residents where they can set down roots, sometimes in places that have never been designed for housing before.
The panel then engaged in a robust discussion that focused on the need for new jobs at all levels in order to keep younger residents in the region. Panelists talked about how housing can complement this if it can grow and innovate along with local jobs. They also talked about the need for infrastructure in the region, such as convention center, that could attract new and different types of events. Speakers also touched on the need for higher quality jobs that can develop a cooperative workforce, which tends to be much more productive and sustainable. They also emphasized that there is a lot to love about the Long Island region but that there is still more work to do in order to promote and grow it.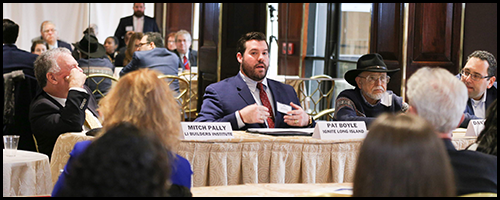 View the Job Development Panel here.
Project Financing & IDAs
This panel, moderated by Sean Cronin of Cronin & Cronin examined the role that Industrial Development Associations (IDA) across the island play in financing projects in the region. It covered IDA's at both the Town and County levels, with representatives from each speaking. The panel featured a robust dialogue on best practices for IDA's and their role in both the region and local communities.
William Mannix, the Director of the Town of Islip IDA, introduced himself first and talked about how his organization works to maintain the local economic ecosystem. He also stated that part of his IDA's goal is also to grow the local economy through their efforts.
Shelley Brazley, who is the representative to the Nassau County IDA from the Village of Hempstead, spoke next on her role as both board member of the IDA and advocate for the Village. She also sits on a number of other boards and committees, and tries to represent the community in all that she does.
The next speaker was Tony Catapano, the Executive Director from the Suffolk County IDA, and he spoke briefly on his years of experience as a member of the IDA board. He noted that his IDA has a staff of five individuals that serve in support of a seven-member Board of Directors.
Richie Kessel, Chairman of the Nassau County IDA, was the next panelist. He noted that his board is filled with community representatives who volunteer their time to improve the local area. He also noted that affordable and workforce housing are a priority for Nassau County, and represents a critical part of their mission.
The final panelist to introduce themselves was Harry Coghlan, who is the CEO of the Nassau County IDA. Mr. Coghlan noted that his background is from the private sector and that he feels this point of view brings value to how the IDA looks at projects.
Mr. Cronin opened the discussion portion of the panel by asking what exactly the IDA's role is in bringing prosperity to the region. The panel talked about being able to provide funding to local projects and benefits to communities across Long Island. This included the reduction or elimination of taxes for both mortgages and construction equipment for projects. The other primary tool is PILOT programs, which can provide long-term cost certainty for projects and allowing them to better plan future investments in local properties.
The panel also covered how IDA's like to establish relationships with developers and keep tabs on projects as they advance. This is done over a number of years and is usually an ongoing process where the benefits are weighed against the costs to both the developer and community. It's usually done through public hearings and inspections of ongoing projects.
The panel talked on a few other important issues as well, including best practices for communicating with local residents, different metrics for measuring success with IDA's, criteria that are looked at when approving a project for tax breaks, how to make sure jobs being created go to local community residents, and other topics as well.
View the Project Financing & IDAs Panel here.
Long Island Transportation
Projects & Alternatives

This panel focused on how to make transit investments a priority during a critical time for Long Island downtowns as numerous local communities look to grow and expand. They talked about necessary transit services for growth as well as current projects underway.
Gerry Bogacz from the NY Metropolitan Transportation Council (NYMTC) moderated, beginning the panel by giving a brief overview. He stated that the panel sought to explore projects that we underway as well as identify opportunities that exist to combine successful downtown revitalization with much needed infrastructure. He also talked quickly about NYMTC's new transportation improvement plan, which the roadmap for how funding will be used in NYC and on Long Island, both federal and state dollars.
Phil Eng, president of Long Island Railroad (LIRR), was the first speaker and talked about major infrastructure investments that are going on across NY. These projects represent a major shift in recent policy that has seen a rise in investment for transportation projects. This policy has allowed NYS to build for the future, which should create a fusion of various methods of transportation. Mr. Eng also spent time talking about the various projects specific to LIRR including East Side Access and the Main Lin Expansion, among others.
Jack Khzouz of NICE Bus was the next panelist, and brought a message of creating a seamless transit system. NICE has been working towards this goal as one of the largest transportation systems in the country with 26 million riders per year. As an important part of the local transportation system, NICE works to support growth of both LIRR and local downtowns. This means addressing a number of issues, which includes mitigating traffic, creating connections between transportation systems, and even dealing with parking in local villages. The ultimate goal is to move people quickly and efficiently across Nassau County.
The third speaker was Mark Epstein of the LIRR Commuter's Council, who spoke on the rider's perspective of transportation. What riders are really looking for is a safe, reliable, and affordable service to help move residents. This can help to benefit Long Island, which has a large number of commuters who can use local transportation upwards of 3 hours per day. Creating a strong public transportation system can have benefits that include retaining younger residents, improving service and capacity, improving the local economy, and growing local communities. He also called for a bi-county LI Parking Authority to help address issues that arise with increased ridership.
James Bonner from the NY & Atlantic Railway was the next speaker and talked about how critical his company is to Long Island even if it's one of the lesser known services in the region. The Railway network brings a lot of freight on and off the island, which helps to reduce traffic on local roads. The company has seen a lot of growth, and really expanded in the aftermath of Superstorm Sandy. He also talked about how the company strives to benefit the local community in a smart way by providing both employment and a public benefit through reduction of traffic and carbon emissions.
The next panelist to speak was Jacob Greig of Liftango. Mr. Greig talked about how his company, which is new to region, began in Newcastle, Australia as a solution to a lot of the same sort of problems seen on Long Island. As a small city near Sydney, Newcastle saw a lot of their youth leaving for the bigger metropolitan area and embraced private automobiles. Liftango attempted to help with this by creating a Shared Mobility Platform, which strives to connect riders with transportation options that include carpooling, vanpooling, and on-demand bussing. He also noted that it's an uphill battle fighting congestion and the marketing of big car companies in spite of such an extensive transportation system.
The final speaker on panel was Dan Baer from WSP, who talked about an opportunity to expand the Northeast rail corridor. This plan, initiated in 2012, will help get Long Islanders from their local areas to the East Coast from Washington DC to Boston. It works with agencies along the corridor and will try to incorporate growth patterns. Focus will be on improving passenger service and experience while also helping to connect freight lines along the corridor. The Tier 1 environmental impact statement of the plan was approved in 2016 and is considered a long team plan that forecasts through to 2040.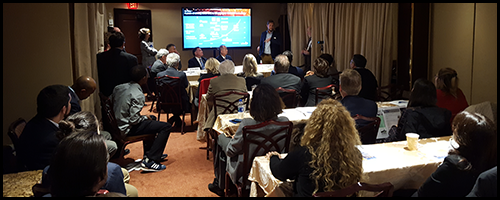 View the Long Island Transportation
Projects & Alternatives Panel here.
Long Island's Energy Present

Long Island Energy Present panel moderated by John Keating of PSEG and focuses on what's on the short term horizon for the energy industry on Long Island.
Mike Deering from LIPA started with what Long Island is doing with regards to the Climate Leadership and Community Protection Act that was recently passed. They are currently working on clean fuel to decarbonize the economy with offshore wind an abundant source. The goal is to 100% carbon free by 2040. Currently transportation and buildings are the two largest carbon sinks. Electric vehicles and electric heat can make significant reductions in those sectors. Currently there is a declining or flat electric load. With the conversion to electric vehicles and heating there will be a rise in electric demand, but it will be beneficial demand. They plan to have 9000MW of offshore wind, and the current issue is to find the best locations to interconnect with off shore wind. They are working on integrating existing plants to work with renewables and there has been a 325% increase in investment including raising substations, strengthening infrastructure and supporting economic development.
The proposed 2020 budget includes $291 million for clean energy, $94 million for energy efficiency, and $41 million for rooftop solar. They are also including a feed in tariff of 20MW for solar for low to moderate income customers.
Mike Voltz of PSEG described what they are doing today to help their customers save energy and save money. Since 2013, they have been able to keep demand flat with use of efficiency programs. Every year they are saving 1.5% from sales to reduce demand. One program is to encourage the use of heat pumps which work similar to a refrigerator. They extract heat from air, even when cold outside and are 300% efficient meaning they generate 3 BTUs of energy for every 1 BTU put in. They are also finalizing the rebates for 2020 which will encourage heat pumps- up to $1000/ton. The rebates are for whole house solution that use a smart thermostat. The goal is to optimize use of electricity and only use back up fuel when necessary. Ductless mini splits will have the same rebates.
They are focusing on beneficial electrification- using electric vehicles to replace gasoline powered ones, heat pumps to replace oil or natural gas. EVs charge during off peak times and heat pumps also use energy of peak which is more efficient for overall system. Even with Long Island's electric rates, electric vehicles cost about 5.5 cents per mile, which is about half as much as gas at 11 cents per mile. Smart meters are more efficient to read, should be in effect by 2021 or 2022. They can be used to see usage and take advantage of off peak rates.
Keith Rooney from National Grid described how they are working on repurposing the company to be a clean energy company. With recent acquisitions, they have converted more solar customers than gas customers. A new project near the Kosciusko Bridge will convert human waste to energy. They are also offering rebates to employees to buy electric vehicles.
They have come to an agreement on NESE and lifted the moratorium. It is a two year proposal with three pieces. First, a $36 million investment- $20 million of that goes to renewables, $8 million to energy efficiency, and $7 million for customer assistance, with the remainder for the auditor. Second, there is a short term-demand response program, which incentivizes the biggest customers to get off gas during peak periods and also includes efficiency improvements and CNG trucks to get through winter. Finally the third piece is a long term negotiation with the Public Service Commission for a long term agreement on renewables as well as the pipeline which will involve taking input from customers and stakeholders. They plan to have that agreement by June of 2020.
Finally, David Scheiren of Empower Solar introduced his company, founded in 2003, with 100 employees in Nassau. Most people believe that clean energy is national security, economic security, and climate security imperative and they are working towards that. On Long Island, they have mostly rooftop installations with some ground mount including the Estee Lauder facility in Melville and a ground mount system in Brentwood which is a community solar program. Commercial customers have two ways to go solar. They can reduce your own bills if they own and use the building or through community solar which puts solar on building to sell to off-site subscribers. This enables a building owner to host the system and monetize their roof. Many new residential solar installations are pairing with Tesla power wall systems which are battery storage systems.
With the CLCPA, electric load will dramatically increase. It sets a statewide goal and establishes a council comprised of state and private sector officials to decide how does it actually manifest. It will propose a fundamental shift on LI., as we are an order of magnitude off from where we need to be. We need to get 10 GW extra solar in our area. One issue that is slowing progress are substations- on Long Island, the cost to connect is far higher than other regions. Currently PSEG/LIPA establishing a working group with industry to work on this issue.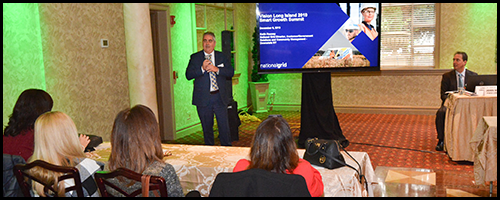 View the Long Island's Energy Present Panel here.
Networking Luncheon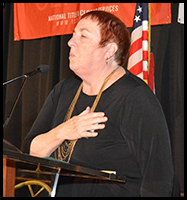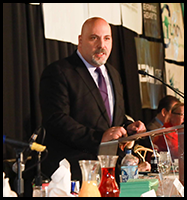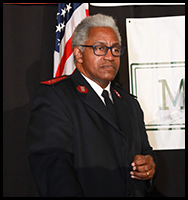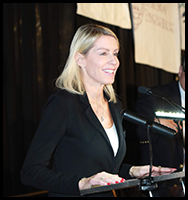 The Summit's Luncheon was opened with a prayer by Pastor Charles Roberts of the Salvation Army, Trudy Fitzimmons, Co-chair of Vision LI, led the audience in the Pledge of Allegiance and Nassau County Legislator Laura Schaefer sang the National Anthem.
Vision LI Director Eric Alexander thanked those in attendance, Vision Board and Staff and the Sponsors of the Summit, all of which made the day possible. Special thanks was given to the ongoing Lead Sponsorship from 1st Equity Title's Maribeth Pietropaoli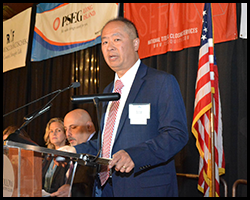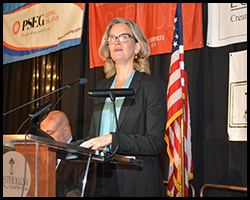 Phillip Eng, President of the Long Island Railroad, spoke about the unprecedented amount of work going on at the LIRR as a result of the State's 6 billion dollar investment in modernization and improvements. Mr. Eng described this work as a critical piece to successful Transit Oriented Development which is the center of many Main Street efforts.
Mr. Eng stated that "We have a $6 billion investment in modernizing and improving LIRR and that's critical to everything that everyone in this room is looking to do because our tentacles go all across Long Island. We're part of vibrant communities and making sure the economy is sustainable and continues to grow."
Keith Rooney, Director Customer, Community and Government Relations, National Grid, provided a high level update on the status of the company's imposed moratorium. National Grid recently lifted the moratorium after reaching a 2 year agreement with NYS. As a result, National Grid will be giving 36 million dollars to the State, of that, 20 million will be put into clean renewable energy, 8 million will go into energy efficiency programs and 7 million will go into a customer assistance program to help those affected by the moratorium. Regarding short term solutions, National Grid approached its biggest commercial customers on LI incentivizing them to not burn gas on the coldest days of the year.
Mr. Rooney noted that National Grid is "not just pounding the floor for a pipeline. We are a clean energy company. We are investing a lot of money in renewables, clean energy, solar and wind. That is exciting because we're going to change the way we do business over the next decade and beyond. Together we'll get through this and we'll bring energy to life."
Regarding long term solutions, National Grid agreed to hold town hall meeting with political officials, academics and stakeholders to fashion an agreement to be implemented by the winter of 2021. Mr. Rooney thanked Vision and the LI Main Street Alliance for their efforts at bringing local voices to the energy debate.
Hon. Laura Curran, Nassau County Executive, restated her strong belief that for successful and vibrant downtowns, smart growth and transit oriented development must be part of the equation. Keeping young people on the Island takes a mix of affordable housing, including more diverse rental options, and investment into innovative industries, such as green jobs. The County Executive noted that the Nassau IDA is doing just that, and doing it with transparency and accountability. Regarding Newsday's recent investigation revealing widespread housing discrimination on Long Island, the County Executive advised there is a bipartisan plan to combat this discrimination from the County.
The Executive also talked about the future of development on Long Island, saying "We all agree that Smart Growth is the way to go. That Transit Oriented Development is the way to go for a successful, vibrant, and economically sustainable future. We're all working together to make Nassau County and Long Island a better place, a great place, to live, work and play."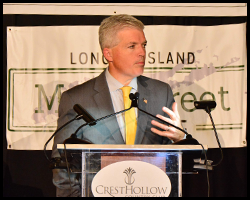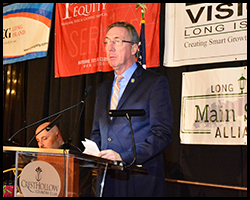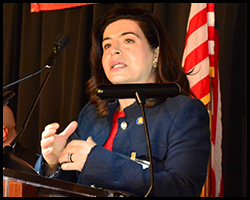 Hon. Steve Bellone, Suffolk County Executive, voiced similar concerns as his Nassau County counterpart, stating we have been given a real wake up call about discrimination in housing on LI and we must work together to make this a thing of the past. County Executive Bellone highlighted the need for the region to work together on issues such as sewers to improve water quality and economic development on Long Island.
"We are one island," he said. "The border between the counties is not a real thing. We are one region and we have to be working together. I think the theme here of collaboration and connection is vitally important and it's what we've tried to do in Suffolk County."
New York State Senator James Gaughran outlined some critical challenges the State faces, such as a 6.1 billion dollar budget gap, however, he and his fellow LI Senators will continue to work together to make sure Long Island gets its fair share when it comes to funding for economic development, education, sewers, and upgraded water supply. Senator Gaughran thanked the LI Lobby Coalition for their assistance in Albany in the last session as well.
"I want you to know that your senators from Long Island are going to be working every single day we can to make sure that Long Island gets, not just what it deserves, but what it needs so that we can continue to move forward," the Senator said.
New York State Senator Anna Kaplan expressed the importance of investing in our communities in order to help businesses thrive. "Investments in our communities become significant forces for our economic development," she stated. "It helps the small businesses throughout our communities and is a very good basis for all of our communities when they know that their businesses are thriving."
Senator Kaplan gave a quick review of last year's accomplishments, included making the 2% tax cap permanent, record funding for public schools, elimination of internet tax advantages helping small businesses, passage of the Child Victims Act and the Red Flag Law. All done, she stressed, through collaboration.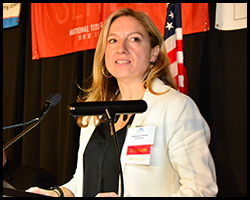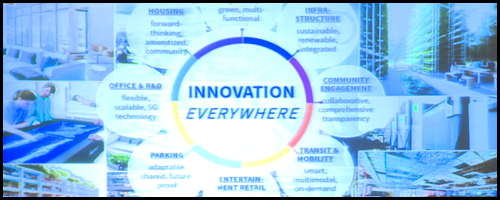 Rebecca D'Eloia, Senior Vice President of RXR Reality and Project Executive of the Nassau HUB project was the featured speaker. She presented an update on the status of the development of the 72 acres around the Nassau Coliseum. The thread running through the entire project is innovation. An emphasis is being placed on forward thinking housing, flexible scalability office space, dynamic open spaces, sustainable and renewable infrastructure, adaptable parking, multimodal transit, and destination entertainment. Ms. D'Eloia highlighted the importance of collaborative community engagement.
According to Ms. D'Eloia, "We don't just look at development as buildings. We look at development as building communities. You'll often hear our CEO Scott Rechler say 'Doing good while doing well means doing better.' That is a mantra that trickles down throughout RXR." To that end, a community benefits advisory committee has been created to ensure that this project reaches its fullest potential. Ms. D'Eloia underscored that smart growth is at the heart of the HUB's DNA.
The Nassau HUB: Next Steps Coalition comprised of local civics and chambers, had received and earlier presentation from Ms. D'Eloia. Many of those members were in the audience and very happy to hear an update in advance of a project submission to the Town of Hempstead.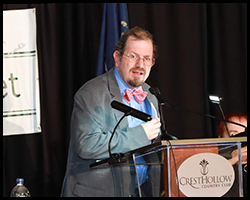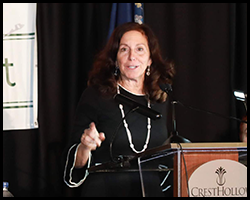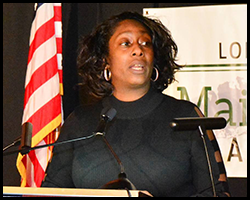 Ian Wilder, Executive Director of Long Island Housing Services, spoke regarding his agency's role in promoting fair housing. LI Housing Services gets about $300,000 in federal funding in order to test, investigate, organize outreach and education on fair housing. On February 14, the agency's funding will end and HUD has still not put out the next grant proposal.
Mr. Wilder appealed to the audience, "Call your Congresspeople, call your US Senators, and tell them that HUD needs to release the enforcement funds that they already allocated. The money's there, it's just not being spent."
Adrienne Esposito, Executive Director of Citizens Campaign for the Environment and Co-chair of the Long Island Lobby Coalition, discussed the diversity of the Long Island Lobby Coalition, which consists of environmentalists, business, civics, labor, all with one common purpose, accomplish what is best for Long Island. Some of the Coalition's recent successes include funding for sewer infrastructure, safe streets, and buses. Coming full circle from the morning, Ms. Esposito articulated the best way to reach success is through collaboration and consensus. She also pushed for support on an important bill protecting our groundwater.
"Today's theme is about collaboration and cooperation and that's exactly how the Long Island Lobby Coalition was founded," she said. "It's all different groups. Civic leaders, small business representatives, chambers of commerce, labor leaders, environmental groups, and smart growth groups all come together and say, 'Let's not talk about what we disagree with, let's figure out what we agree on.'"
Tawaun Weber, Assistant Director for Vision Long Island closed the lunch program by speaking on the upcoming Long Island Smart Growth Awards in June. She also thanked Bank of America for supporting Vision with a $30,000 community grant that will help us to continue our work in both Nassau and Suffolk counties.

View the Video from the Luncheon here.
Major Development Projects

David Winzelberg of the Long Island Business News moderated the Major Development Projects panel which covers over $8 billion of development.
Chris Kelly of Tritec gave an update on Station Square, the new name for the Ronkonkoma Hub development. It is being built in phases, with phase one known as "the Alston" and consisting of 489 apartments in 6 buildings on 11 acres, underway. The maximum density plan includes 1450 residential units, 360,000 square feet of office, 195,000 square feet of retail, and 60,000 square feet of hospitality and community space. Phase two will be on the corner of Hawkins and Railroad, and they are preparing the site plan to file hopefully early next year. There is lots of infrastructure going in, including underground parking that needs to be figured out first before above ground work can be finalized. They are using placemaking to deal with the grade changes on site to make it attractive to people.
John Cameron of Cameron Engineering and the Long Island Regional Planning Council discussed some of the projects around the island as well as the proposed project between the Ronkonkoma Station and MacArthur Airport. There will be no residential on south side of the tracks due to both proximity to the airport and not wanting to be in competition with Tritec development on the north side, but rather complementary to it. Originally it was planned to be an arena project, then Belmont was announced just after submitted proposal. This site is the best served by transit on the island, with the second busiest train station and the primary airport on the island. Currently there is no convention center east of the Javits Center, forcing Brookhaven National Labs to use hotels in Brooklyn for large events. The current proposal includes a convention center as well as medical research at the site, a healthcare network, and also sports and entertainment including a possible soccer stadium and or hockey facility.
Island wide, we don't need to add people and cars without capitalizing on our infrastructure. East Side Access and the Third Track project provide an opportunity to grow and improve. Cameron Engineering recently completed new overlay zoning in Lawrence and Inwood which will be transformative. It will allow five stories near the train station and 3 stories further out. It also will revise parking requirements, to encourage more walkability and more transit use. Projects in comformance of the code can bypass site plan approval which can save over a year of processing time.
David Wolkoff gave updates on Heartland Town Square. They were approved for the first phase of the first phase about a year and a half ago and are moving forward. The total project includes 9000 units, three million square feet of office, and one million square feet of retail, but the retail may change given current conditions. They aren't proposing traditional retail, but rather to cater to younger generations to keep them here including restaurants, nightlife, and outdoor areas for concerts. There have been some political challenges, but they are getting past those, as well as some technical and financial challenges including the high cost of infrastructure which they are working out. Hopefully, they will be starting in a year and they are seeing light at the end of the tunnel, that's getting very bright.
After the initial project presentations, there was discussion about the various types of financing available for large projects and how that affects the sequence in which projects are built.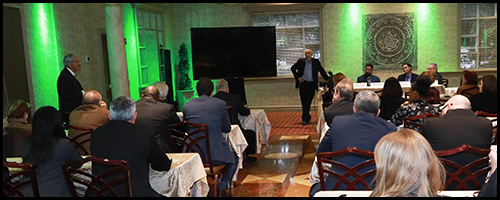 View the Major Development Projects Panel here.
"Who Will Tell the People" Media Panel

Moderator Jaci Clement, Chief Executive Officer and Executive Director of Fair Media Council, started off the workshop by addressing the recent headlines which declare local newspapers are dying. Although the number of papers has declined, Ms. Clement noted, newspapers are evolving into multi media platforms, which in reality means there is more news now than ever before. Media consolidation is not as big as it was in the past and there are more family owned and start up news organizations appearing on the scene.
Steven Blank, Editor and Publisher of Blank Slate Media, pointed out what he described as the enormous difference between traditional paper and online news. When a media group goes from paper to online, you don't need the same number of reporters, fewer staff members, and shrinking depth of coverage. The reason, the economics between the two are entirely different. Online sites do not generate the same amount of revenue as traditional papers.
Scott Brinton, Executive Editor of Herald Community Newspapers, called it a false narrative that community newspapers are dying, it's only the non-sustainable models which end up going out of business. Media needs to provide news relevant to people's lives in order to stay in business. For example, both the Herald and Newsday are adding jobs and staff because they are able to change with the shifting demands of their readership.
Cecilia Dowd, former FIOS reporter, discussed the issue of broadcast competition. Competition can have a negative impact on the substance of stories. In the race to get content out, a story might make its way to the public before it's ready. Broadcast has smaller number of reporters. When reporters are not invested in the community they serve, stories suffer. Who comes to you with good stories? Who are your sources? Ms. Dowd stressed the importance of being invested in the community you serve, not just use the time in a certain community simply as a stepping stone.
Pam Robinson, Editor/Publisher Huntington Now, a digital only news publication, noted her largest demographic is women between ages of 30 and 45. She stated the publication makes it a point to cover the Latino community in a way that isn't always about crime. She explained that her biggest readership is for government news, particularly zoning and planning. Ms. Robinson revealed that when you are online only, you are sometimes forced to go against your better standards because you feel pressure to respond to the postings of the many people that aren't journalists.
James Madore, Newsday, got to the heart of what makes a successful newspaper. The value of any media organization is its content. Consumers of news and producers of news are going through changes together. Newspapers have to adapt to whatever platform its readership chooses. For example, Newsday is moving into live streaming. Mr. Madore also highlighted the more recent cooperation between media publications on the non-editorial side. One example, it is the New York Times that prints Newsday and it is Newsday that delivers the Times on Long Island. This type of cooperation helps them both succeed.
Questions touched upon by the audience included the concept of "fake" news. It was the panels conclusion that there needs to be more public education to help readers become good news consumers.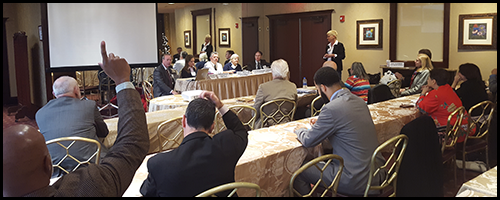 View the "Who Will Tell the People" Media Panel here.
Building Trust Through Community Outreach

The Building Trust through Community Outreach panel opened with a brief introduction from each speaker before moving into current projects that can be considered successes on Long Island. Vision Long Island's Tawaun Weber moderated, asking for a show of hands for people who are activists in their local communities. She also pointed out Vision Long Island board member Anthony Bartone from Bartone & Terwilliger in the audience, who has had recent success dealing with local communities to get projects done on Long Island.
Each panelist then gave a brief update on the communities they are active in beginning with Karen Montalbano from the Baldwin Civic Association. She painted a picture of an active community with several projects being spearheaded by local residents. Ms. Montalbano talked about receiving the $10 million Downtown Revitalization Initiative (DRI) grant from New York State as the big thing going on in her area, but how it was just one part of the ongoing efforts in the community. She noted that there is also new zoning being finalized, a complete streets program, a drainage program, and numerous studies going on.
Linda Henninger from the Kings Park Civic Association was next and talked about excitement from the headway being made in the downtown. This includes securing funding and approval for new sewers in the downtown, working on a new downtown plan, and even setting up a concert series for local residents. All of this came about thanks to residents and businesses working hand in hand to help benefit the community and put Kings Park on the right track for development.
The next update came from Debbie Cavanaugh from the Central Islip Coalition for the Good Neighbors, who talked about her group's efforts to improve their local community. This included creating a new playground in partnership with Disney as well as a new development being worked on that will provide much-needed housing. She also talked about working with the local government and how she sits on a community task force that received a grant to combat gangs.
Retha Fernandez from the Urban League of Long Island talked next on the Urban League's role in the region and how they worked to help empower communities region-wide. A big success they have had is the launch of the equity profile of Long Island in 2017, which is a report that found that racial inequity across the region led to a loss of money in GDP. This is due to a number of factors including lack of education, economics, transportation, air quality, environment, and health among others. Elimination of those disparities is their goal and they have worked to help identify best ways to do that by working with local governments and organizations.
The next panelist to speak was Louis Bekofsky of VHB, who talked about his engineering firm's work with local towns and villages while representing developers. They have been a part of a DRI process as well, which is a program they consider to be a big success on Long Island. Mr. Bekofsky also talked about the importance of communicating with residents early and often and how outreach is a vital part of the process. He noted that there is value in that process for developers.
The final speaker was Marcos Maldanado from McBride Consulting who is also a Brentwood community advocate. He talked about the process Brentwood went through to get a new community center in the last couple of years. Mr. Maldanado noted that the residents agreed that a community space was needed after the community came to a consensus that there weren't enough safe spaces for youth. This project came about because it was a priority from a community standpoint and that State leaders and non-profits worked with residents to make it happen.
The panelists then talked about some of the specifics of the communities that they represented, touching on demographics and the resiliency of local residents when it comes to the challenges of new projects in their downtowns. They also talked about differences depending on the community and noted that it was important to find a community vision that matched the downtown looking to implement it. Once the funding came it was important to be ready to move forward with the projects. One thing that was ubiquitous among all the different communities was the need for local residents and business owners to both speak up and show up in order to affect positive change that communities can get behind.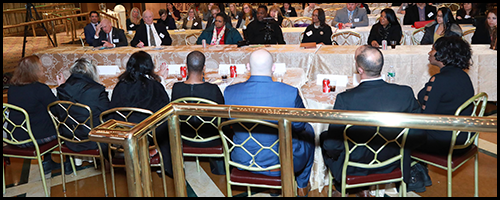 View the Building Trust Through
Community Outreach Panel here.
New Elected Officials Orientation

Special thanks to those who participated in our new elected officials orientation. Town of Smithtown Supervisor Ed Wehrheim and Village of Westbury Mayor Peter Cavallaro co-hosted this session as we have seen their leadership in a bipartisan manner advancing walkable communities and downtown housing development. This year's participants included: Marianne Dalimonte, Town of North Hempstead Councilwoman-elect
Veronica Lurvey, Town of North Hempstead Councilwoman, Chris Carini, Town of Hempstead Councilman- elect, Steve Labriola, Town of Oyster Bay Councilman, Laura Maier, Town of Oyster Bay Councilwoman-elect, Tom Lohmann, Town of Smithtown Councilman, Anthony Picorello, Suffolk County Legislator-elect and Mercy Smith, Village of Northport Trustee.
This session was an opportunity for newly elected officials to think about how to advance Main Street revitalization, secure grant funding and advance their policy goals while sharing ideas with their colleagues. Discussion focused also on handling social media in a healthy manner and many strategies to connect with local constituents to ensure bottom up planning.
What was notable and very heartening was the lack of partisanship associated with the range of issues covered in the session and at the Summit at large. We hope the participants can continue to work across party lines and be a resource for each other in the coming years of their terms.

Thanks to the elected officials in attendance who took information back to their districts to solve problems.
Public Officials
Those in attendance this year included:
Hon. Monica Martinez, NYS Senator
Hon. James Gaughran, NYS Senator
Hon. Anna Kaplan, NYS Senator
Hon. Phil Boyle, NYS Senator
Hon. Charles Lavine, NYS Assemblyman
Hon. Michael Fitzpatrick, NYS Assemblyman
Hon. Judy Griffin, NYS Assemblywoman
Hon. Michael Montesano, NYS Assemblyman
Hon. Kimberly Jean-Pierre, NYS Assemblywoman
Hon. Mike LiPetri, NYS Assemblyman
Hon. Laura Curran, Nassau County Executive
Hon. Rich Nicollelo, Nassau County Presiding Officer
Hon. Denise Ford, Nassau County Legislator
Hon. Ellen Birnbaum, Nassau County, Nassau County Legislator
Hon. Laura Schaefer, Nassau County, Nassau County Legislator
Hon. Carrie Solages, Nassau County, Nassau County Legislator
Hon. Debra Mule, Nassau County Legislator
Hon. Steve Bellone, Suffolk County Executive
Hon. Kevin McCaffrey, Suffolk County Legislator
Hon. Susan Berland, Suffolk County Legislator
Hon. Steve Flotteron, Suffolk County Legislator
Hon. Rudy Sunderman, Suffolk County Legislator
Anthony Piccorillo, Suffolk County Legislator-elect
Hon. Richard Schaffer, Town of Babylon Supervisor
Hon. Tony Martinez, Town of Babylon, Deputy Supervisor
Hon. Anthony Mannetta, Town of Babylon, Councilman
Hon. Valerie Cartwright, Town of Brookhaven, Councilwoman
Hon. Mike Loguercio, Town of Brookhaven Councilman
Hon. Don Clavin, Town of Hempstead Supervisor-elect
Hon. Anthony D'Esposito, Town of Hempstead Councilman
Chris Carini, Town of Hempstead Councilman -elect
Hon. Chad Lupinacci, Town of Huntington Supervisor
Hon. Joan Cergol, Town of Huntington Councilwoman
Hon. Angie Carpenter, Town of Islip Supervisor
Hon. Judi Bosworth, Town of North Hempstead Supervisor
Hon. Veronica Lurvey, Town of North Hempstead Councilwoman
Marianne Dalimonte, Town of North Hempstead Councilwoman-elect
Hon. Wayne Wink, Town of North Hempstead Clerk
Hon. Joseph Saladino, Town of Oyster Bay Supervisor
Hon. Steve Labriola, Town of Oyster Bay Councilman
Laura Maier, Town of Oyster Bay Councilwoman-elect
Hon. Ed Werheim, Town of Smithtown Supervisor
Hon. Tom Lohmann, Town of Smithtown, Deputy Supervisor
Hon. Tom McCarthy, Town of Smithtown Councilman
Hon. Lisa Inzerillo, Town of Smithtown Councilwoman
Hon. Ralph Scordino, Village of Babylon
Hon. Nicole Rhodes, Village of Brightwaters
Hon. John Valdini, Village of Brightwaters
Hon. Ralph Eckstrand, Village of Farmingdale
Brian Harty, Village of Farmingdale
Hon. Walter Priestley, Village of Farmingdale
Hon. Jorge Martinez, Village of Freeport
Hon. Jean Celender, Village of Great Neck Plaza
Hon. Waylon Hobbes, Village of Hempstead
Hon. RJ Renna, Village of Lindenhurst
Hon. Mike Lavorata, Village of Lindenhurst
John Giordano, Village of Lynbrook
Hon. Dennis Walsh, Village of Mineola
Hon. Damon McMullen Village of Northport
Hon. Mercy Smith, Village of Northport
Hon. Barbara Donno, Village of Plandome
Hon. Sarah Oral, Village of Roslyn
Hon. Peter Cavallaro, Village of Westbury
Hon. William Wise, Village of Westbury
Hon. Steven Corte, Village of Westbury
Hon. Beumont Jefferson, Village of Westbury
Hon. Ed Fare, Village of Valley Stream
Hon. Marsha Silverman, City of Glen Cove
Hon. Elisabeth Treston, City of Long Beach
Warren Tackenberg, NCVOA, former Village of New Hyde Park Mayor
Ralph Krietzman, NCVOA, former Village of Great Neck Mayor
Steve Levy, former Suffolk County Executive
Jack Martins, former NYS Senator
Brian Foley, former NYS Senator
Edward Hennessey, former NYS Assemblyman
Michele Schimel, former NYS Assemblywoman
Connie Kepert, former Town of Brookhaven Councilwoman
George Graf, former Mayor Village of Farmingdale
Vivian Viloria Fischer, former Suffolk Legislator
Jon Kaiman, former Town of N. Hempstead Supervisor
Barbara Blass, former Town of Rivheread Councilwoman
Ken Christensen, former Town of Huntington Councilman
Stuart Besen, former Town of Huntington Councilman
Maura Sperry, former Mayor Village of Mastic Beach
Magda Campbell, Office of US Senator Kirsten Gillibrand
Lisa Santeramo, Office of NYS Governor Andrew Cuomo
Theresa Santoro, Office of NYS Governor Andrew Cuomo
Joe Galante, Office of NYS Comptroller Tom Dinapoli
Mike Caplace, Office of NYS Comptroller Tom Dinapoli
Rene Fichter, Office of Nassau County DA Madeline Singas
Eva Grigowski, Office of Suffolk County Legislator Rob Calarco
Elizabeth Alexander, Office of Legislator Doc Spencer
Check out these quotes
from some of our speakers: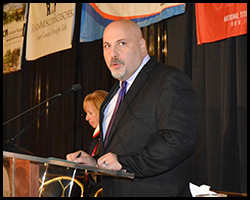 Vision Long Island Director & convener of the LI Main Street Alliance, Eric Alexander said "The theme this year is communication and collaboration. In an increasingly polarized world, driven by big business, government and media, it is important for Long Islanders to keep their focus local where folks still know how to work together. As we head into 2020 the forces of division will continue and on a local level we have the opportunity to lock arms and work together to meet the needs of our local residents and businesses while advancing needed jobs, housing, infrastructure and quality of life concerns. Our collective accomplishments in our downtowns over the last 20 years have only happened through bottom up planning – lets continue that trend and not take part in the division."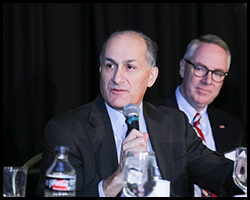 Village of Westbury Mayor Peter Cavallaro approved a historic TOD zoning plan last night and said "The adoption of our new TOD zone culminates the long process in which we carefully reviewed and analyzed the area, and engaged with the public and stakeholders to develop what we believe to be the most state-of-the art, dynamic TOD zoning adopted on Long Island. We are grateful that we had the DRI funding available to undertake this important project. The rezoning is historic for Westbury, and I am certain that it will have the desired impact of creating more and diverse housing options, retaining our seniors in place, attracting new residents, including, millennials, and adding so many other positive things to the community."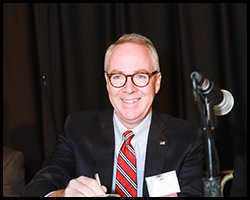 "I am eager to take on a more direct leadership role in the area of transformative development in Hempstead Town as the incoming Supervisor," said Hempstead Town Supervisor-elect Don Clavin said. "A re-imagined downtown Baldwin and progressive development at the HUB are major priorities for me. Transformative projects that accommodate our needs for next generation housing, as well as business, technology, education, medicine, retail and entertainment, among other areas, will boost local commerce, spur job creation. Thank you to Eric Alexander and Vision Long Island for hosting this important summit and for an abiding commitment to the future of Long Island's towns, cities and villages."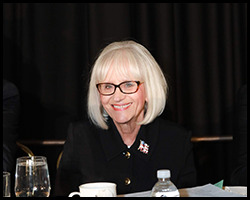 "Without a spirit of collaboration, consensus building, bi-partisanship and respect for one another, little can get accomplished in government, whether in Washington or at a local level. I do think that local government officials here on Long Island realize the importance of collaboration and that it is the foundation of getting projects done. The Smart growth Summit always provides an opportunity to share ideas with neighboring towns and learn from leaders in the field of smart growth planning. This exchange of ideas is what will bring us a better future here on Long Island," said North Hempstead Town Supervisor Judi Bosworth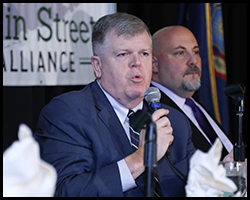 "In the Town of Babylon, we take pride in pursuing initiatives that align with the smart growth principles espoused by Vision Long Island. Our philosophy towards development and revitalization, whether in Wyandanch, Copiague or elsewhere throughout the town, will continue to rely on values that promote livable, sustainable and responsible growth that is in line with the character and history of our neighborhoods. We look forward to continuing to work alongside Vision Long Island to support community-based planning initiatives not only in the Town of Babylon but all across Long Island." said Rich Schaffer, Supervisor Town of Babylon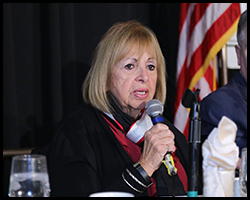 "Central Islip, located in the Town of Islip, is a perfect example of grass roots, bottom up development, inclusive of downtown revitalization and infrastructure investment. Last year, Central Islip was the winner of the NYS $10M Downtown Revitalization Grant. The Town is benefitting from numerous economic development efforts, such as the Gull Haven Commons 266 apartment unit development, recommended by the Central Islip Community Revitalization Plan, and with completion anticipated in 2020; the 184 unit Foxgate condominium development; SUSA Sports Soccer Complex and the Town's new Animal Shelter, expected to open in the spring of 2020. Working together with our partners on the state, county and local levels, and our in-house Planning and Development and Economic Development teams, the Town is able to tactically plan growth, developing walkable communities for future generations," said Town of Islip Supervisor Angie Carpenter.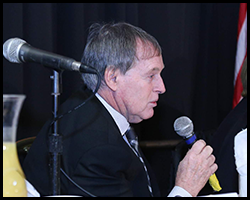 Town of Smithtown Supervisor Ed Wehrheim said "The annual summit is an exceptional resource where the private sector and government can come together with the common goal of fostering smart growth in our communities. It's an honor to be a part of the panel discussion, to share ideas and learn from others."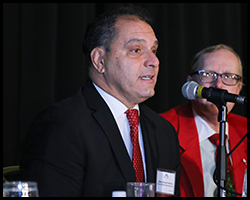 Oyster Bay Town Supervisor Joseph Saladino stated, "It's always a pleasure to participate in the Smart Growth Summit, where we share our common vision to attract new employers, upgrade our infrastructure, enhance pedestrian safety, and provide smart housing solutions for residents. Together, we are planning a better Long Island and keeping our communities the best places to live, work and raise a family."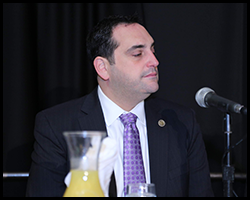 "I am looking forward again to participating in the exchange of ideas at Vision Long Island's 2019 Long Island Smart Growth Summit," said Huntington Town Supervisor Chad A. Lupinacci. "I am excited to share the progress of economic and neighborhood revitalization across Huntington Station and our recent success in transforming the Town's accessory apartment code to allow for new affordable housing opportunities for owners and renters."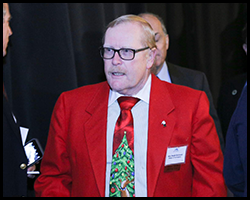 Farmingdale Mayor Ralph Ekstrand said that "Farmingdale continues to make infrastructure improvements with new parking lots and Residential streets along with designating the downtown business district as the 'Culinary Quarter' with restaurants for every taste."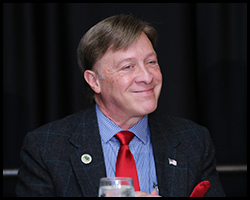 Lindenhurst Mayor Mike Lavorata said "We are very excited about our Downtown in Lindenhurst. As you know, we have spent the last few years working to create a family friendly place with new restaurants and attractions. We have opened 5 new restaurants, a Meade brewery, another microbrewery and expect that number to continue to increase. We also have three Arts attractions which include the South Shore theatre among them. Our walk ability study provides new ideas and recommendations to further our revitalization efforts. Finally, we have broken ground on the TriTec project which will attract new residents to our downtown as we seek to not only keep our young people here but also look to lure others to move to the Village of Lindenhurst and add to our successful growth!"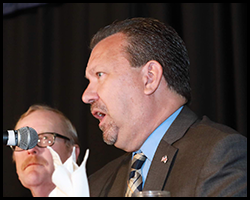 "Valley Stream is on the brink of a true resurgence. There is tremendous interest in our LIRR area, and we welcome all innovative, transit oriented development proposals. With a mere half hour commute to New York City, Kennedy Airport and downtown Brooklyn, we are attracting young people, empty nesters and business professional who are seeking a vibrant environment to live in and enjoy." said Village of Valley Stream Mayor Ed Fare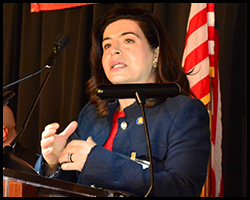 "The Smart Growth Summit brings together Long Island's best and brightest to find solutions to our common concerns, and create realistic plans to revitalize our communities into the vibrant and thriving destinations Long Islanders deserve," said Senator Anna M. Kaplan. "I thank Eric Alexander and the entire team at Vision Long Island for their hard work to put on this important event, and their dedication to the improvement of our communities year-round."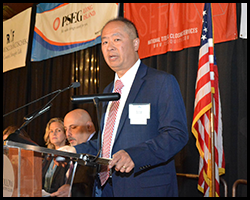 "I'm so proud to once again to share my time with the makers, movers and shakers of Long Island," LIRR President Phil Eng said. "It is because of the partnerships with government, community and business leaders that Long Island Rail Road has been able to deliver successfully on our modernization projects such as Third Track. I appreciate the opportunity to be at the forefront of discussions that will reshape how the railroad supports Long Island and its economic growth."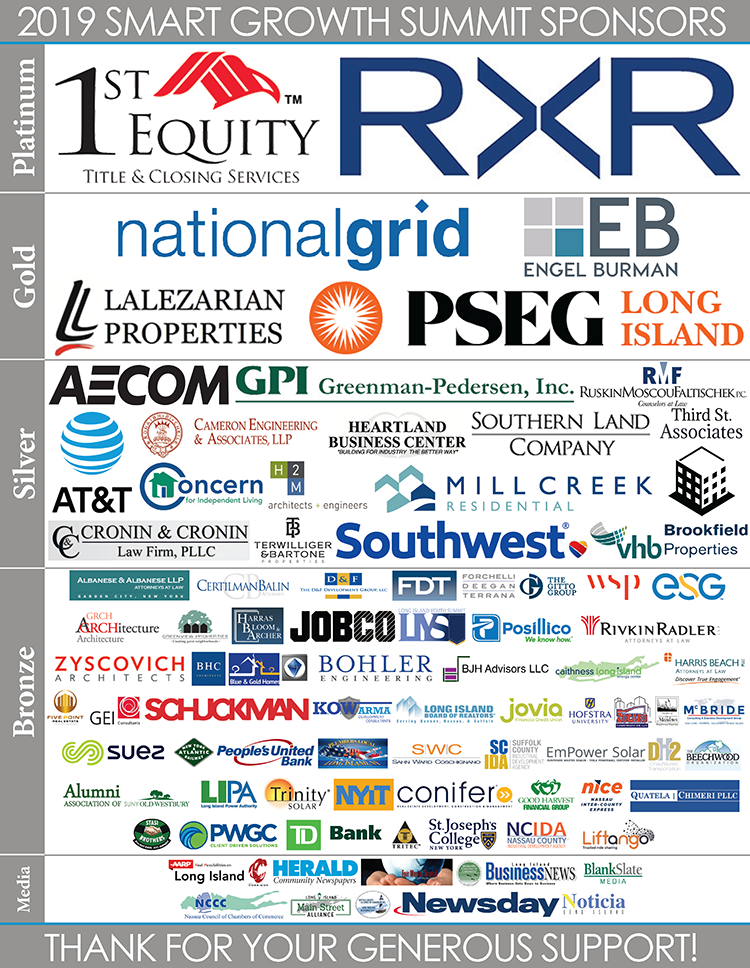 Special thanks to the 1st Equity Title and RXR Realty for their Lead sponsorship.
Thanks also to our Gold sponsors National Grid, PSEG Long Island, the Engel Burman Group & Lalezarian Properties.
Thank you to our Silver sponsors AECOM, Greenman-Pedersen Inc., Ruskin Moscou Faltischek, AT&T, Cameron Engineering, Heartland Business Center, Southern Land Company, Third Street Associates, Concern for Independent Living, H2M Architects + Engineers, Mill Creek Residential Trust, Brookfield Properties, Cronin & Cronin Law Firm, Terwilliger & Bartone Properties, Southwest Airlines, and VHB.
An overwhelming thanks to all of our Bronze sponsors for making the LI Smart Growth Summit a premier event for Long Islanders to come together: Albanese & Albanese, Certilman Balin, D&F Development Group, Forchelli Deegan Terrana, The Gitto Group, WSP, ESG, GRCH Architecture, Greenview Properties, Harras, Bloom & Archer, Jobco, Long Island Youth Summit, Posillico, Rivkin Radler Attorneys, Zyscovich Architects, BHC Architects, Blue & Gold Homes, Bohler Engineering, BJH Advisors, Caithness Long Island, Harris Beach Attorneys, Five Point Real Estate, GEI Consultants, Schuckman Realty, KOW ARMA Development Consultants, Long Island Board of Realtors, Jovia Financial, Hofstra University, Zucaro Construction, Meadowood Properties, McBride Consulting & Business Development Group, SUEZ, New York & Atlantic Railway, People's United Bank, Plumber's Local 200, Sahn Ward Coschignano, Suffolk County IDA, Empower Solar, DH2 Chauffeured Transportation, Beechwood Properties, Alumni Association of Old Westbury, Long Island Power Authorities, Trinity Solar, NYIT, Conifer Realty, Good Harvest Financial Group, NICE Bus, Quatela Chimeri PLLC, Stasi Brothers Asphalt, PW Grosser Consulting, TD Bank, Tritec Real Estate, St. Joseph's College, Nassau County IDA, and Liftango.
Thank you to our Media Sponsors AARP Long Island, The Corridor, Herald Community Newspapers, Fair Media Council, Hicksville Chamber of Commerce, Long Island Business News, Blank Slate Media, Nassau Council of Chambers of Commerce, Long Island Main Street Alliance, Suffolk County Alliance of Chambers of Commerce, Newsday, and Noticia.
Thank you to our Summit Supporters Crest Hollow Country Club, Omni Presenters, Video Masters, Michelle GT Photo Studio, Nothport Copy, and Minuteman Press Hicksville.
Check out some of the sights
from this year's Summit: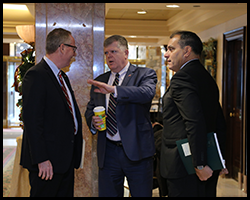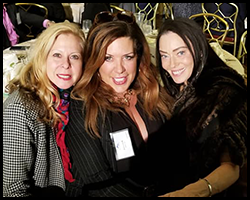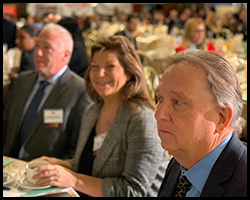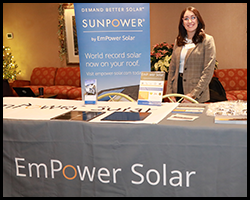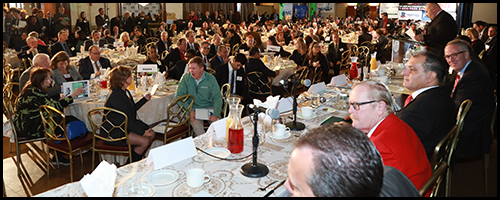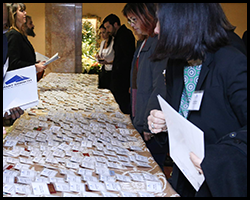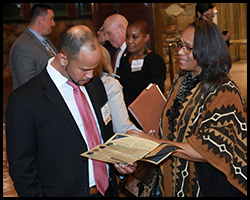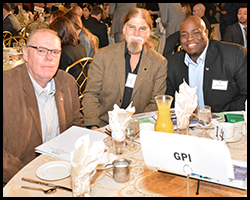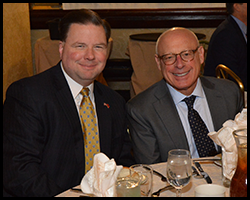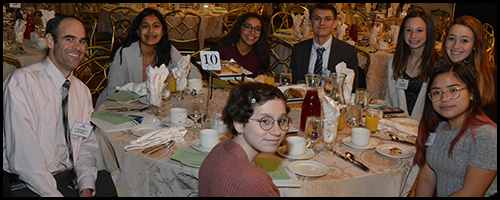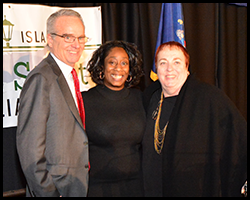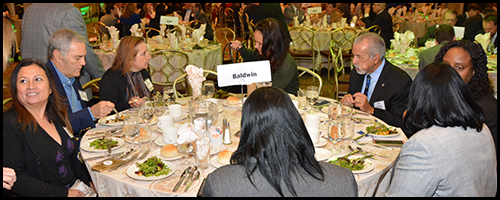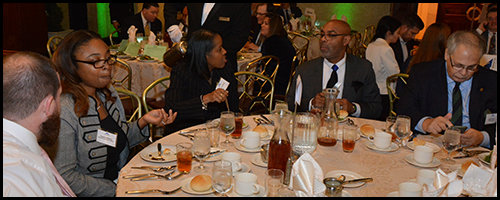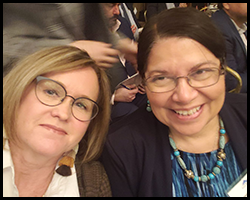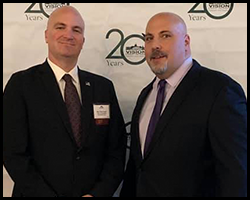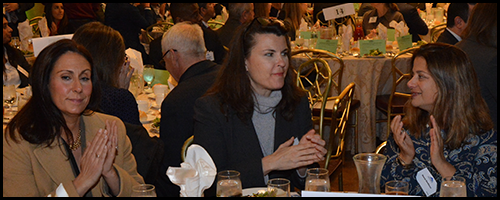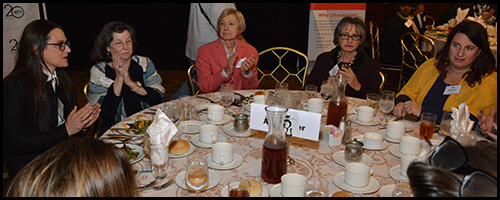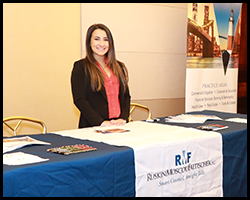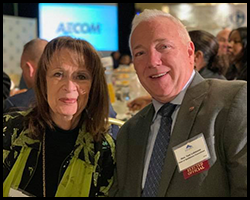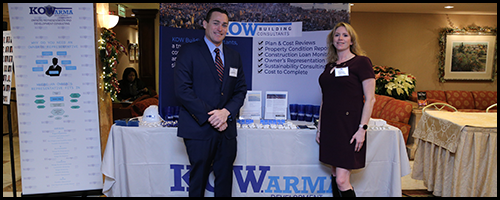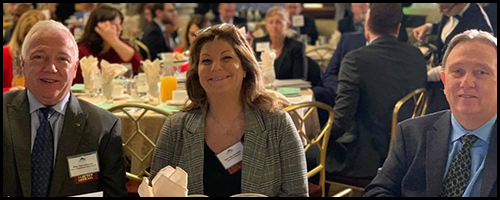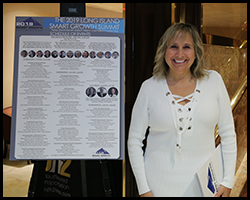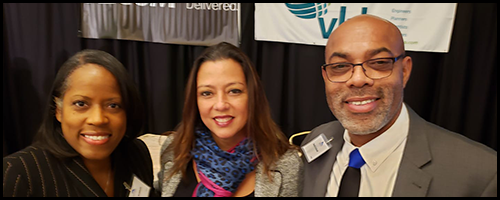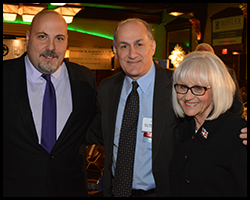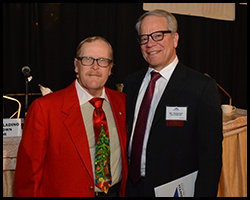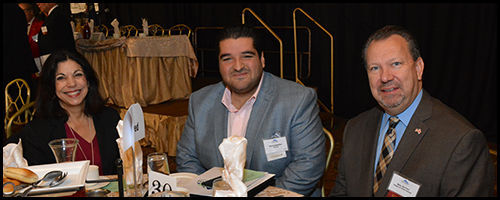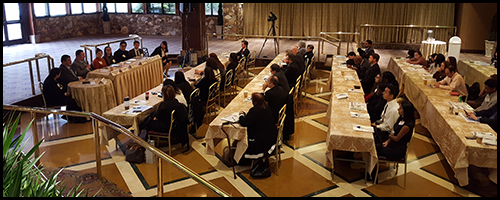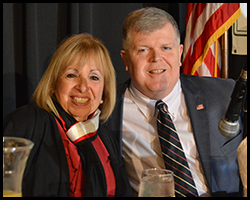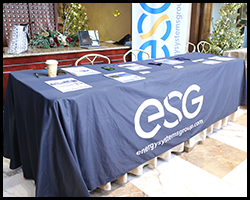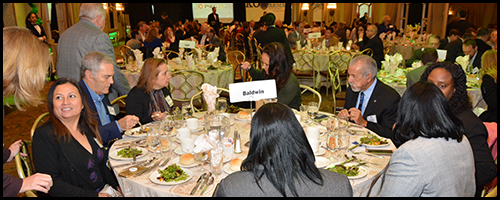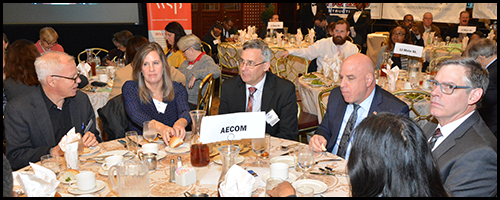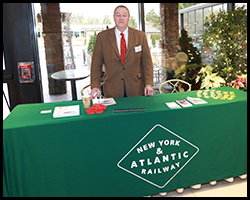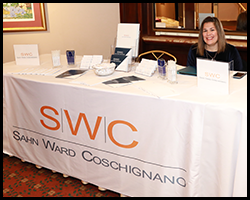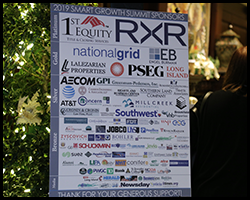 Here is select press coverage
for the 18th Annual Summit!

Read pre-coverage for the event at
Long Island Business News here.
Read coverage of Major Projects discussed
at the Smart Growth Summut here.

Read the an op-ed from the Long Island Herald on
Rebecca D'Eloia's Lunch presentation here.

Read the Island Now's
coverage of the event here.
Read coverage of the top ten business stories of the past decade,
including downtown development, here.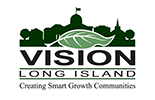 Read Vision Director's op-ed here.
We are now accepting nominations for
the 2020 Long Island Smart Growth Awards!

You can view a printable version of the flyer here.
Save the Date for the
2020 Long Island Smart Growth Summit!

December 4th, 2020
Please join us for our first event of the new year!

You can download a PDF version of this flyer here.
Special thanks to our Board members!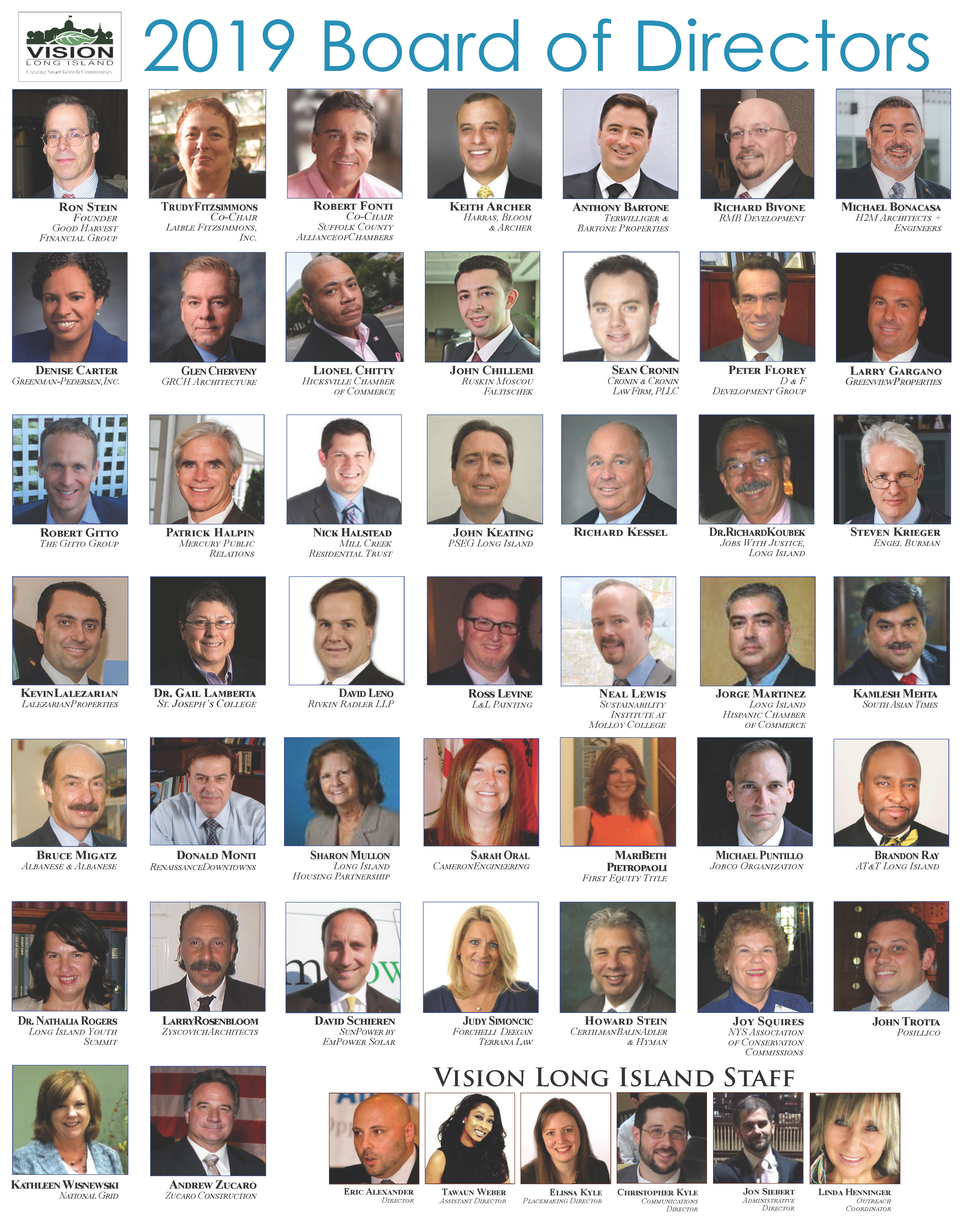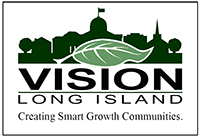 Vision Long Island
24 Woodbine Ave., Suite Two
Northport, NY 11768
Phone: 631-261-0242. Fax: 631-754-4452.
Email: info@visionlongisland.org
Website: www.visionlongisland.org
Home | Contact Us | Newsletter Archive | Donate | About Us