Complete Streets Coalition
2020 Complete Streets Virtual Summit Hosts Two Days of Speakers on "Healthy Citizens, Healthy Main Streets"
Day One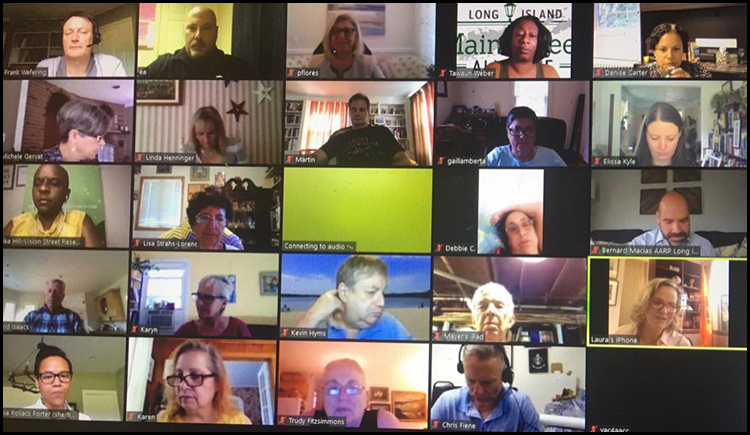 Vision Long Island, the Long Island Complete Streets Coalition and Long Island Main Street Alliance came together virtually to hold part one of its 8th Annual Complete Streets Summit earlier today. Despite the inability to meet in person, close to 100 participants joined to discuss this years' topic, "Healthy Citizens, Healthy Main Streets."

"People are walking and biking. This is the best of times for people we care about," said Vision Long Island Executive Director Eric Alexander, who greeted the group before quickly zeroing in on the state of Long Island during this remarkable time. Mr. Alexander also outlined as the theme for the day, with credit to Dennis Carter from GPI, "Keep It Going."
Mr. Alexander identified 3 Calls to Action: Everybody individually getting out there and continuing to walk and bike; Make towns, villages, county and state roadways as pedestrian/bicycle safe as possible; Make sure federal, state, county and local funds continue to stream to pedestrian and bike amenities.
"We need to continue to be a public voice for walking and biking as a coalition," Alexander stated.
Starting off the conference, Vision's Sustainability Director Elissa Kyle explained that several community members expressed their experiences of walking and biking on Long Island. These were shared with the attendees and dubbed Silver Linings.
Sara Hill of Baldwin provided the following account: "A young white man pushing his baby in a stroller. Two middle aged South Asian women in saris walking around the school field. An elderly white woman in scrubs talking on the phone. A black man riding his bike with his son. Some type of multicultural suburban utopia? Hardly. It's North Baldwin on a weekday between 4-5 pm during the pandemic. It's not that I didn't know my neighborhood was diverse. In fact, that's why we moved here, and have been residents for over twenty years. What's remarkable is that the pandemic has made it much more visible. It's a silver lining, and a reminder of what we have to offer. For all the current racial tension, Baldwin provides a glimmer of hope as the spotlight glares on the lack of diversity and inequity in other towns, villages, and hamlets on Long Island. This lack of diversity has been structurally created because of years of systemic racism — where zip codes determine the quality of your school system – for example."
Opening remarks were made by Nassau County Executive Laura Curran, who discussed some recent changes in downtowns as a result of the pandemic. With these changes, such as al fresco dining, community members are beginning to appreciate what downtowns have to offer – a sense of community and coming together. County Executive Curran stated that she hopes some of these changes can be permanent.
She also briefly discussed some helpful initiatives the County has been involved with when it comes to helping local businesses during these unusual times. The County, partnering with the IDA and Town of Hempstead Supervisor Don Clavin, are providing free PPE packages to downtown businesses to help them reopen. A recent study revealed that the biggest concern businesses have during this reopening stage is the lack of consumer confidence. The County is also partnering with the IDA to help businesses who were passed over for PPP from the federal government and are offering loans to small businesses that need it. (www.boostnassau.net)
County Executive Curran stated, "It is our mission to bring communities together, to the benefit of the entire community. This crisis has given all of us an opportunity to commit to that mission."
While discussing keeping walking and biking habits flourishing, she expressed the need to move away from Long Island's car culture. The more residents do it, the more elected officials will begin to take it seriously. On top of that, Ms. Curran acknowledged the need for funding to achieve these goals, especially infrastructure money. Advocacy work needs to continue to help with this local recovery.

Bernard Macias from AARP discussed the organization's present efforts, which includes working with Congress to get more COVID 19 testing and PPE to staff and residents in nursing homes and advocating for virtual visits between families and residents. AARP is also working to keep SNAP assistance flowing to the people who desperately need it, and is looking to address the racial disparity that has become even more apparent in the past months.
Jonathan Keyes, Executive Director/CEO of the Suffolk County Economic Development Corporation, discussed the tremendous progress in moving the Suffolk County Hike and Bike Trail from a dream to reality. This past March saw the completion of the Hike and Bike Master Plan, a comprehensive plan created with tremendous public participation. The goal of the plan is to create 1,200 miles of walk, hike and bike facilities, with 84% of residents within ½ mile of these facilities.
Denise Carter of Greenman-Pedersen, Inc. then piloted the presentations by Dr. Keshia Pollack Porter, Associate Dean for Faculty at Johns Hopkins University and Paula Flores, Transportation Planning Practice Leader at GPI.
Dr. Pollack Porter emphasized the idea that streets can promote public health, noting the benefits of being outdoors, physical activity, immunological health, social cohesion, mental health and access to goods & services. Complete Streets enable safe access for all users of all ages, abilities and modes by improving equity, safety, and public health. Incomplete streets are dangerous and can harm health, which disproportionately impacts low-income people, people of color, and people with disabilities.
Health equity means that everyone has a fair and just opportunity to be as healthy as possible. This requires removing obstacles to health such as poverty, racism, discrimination, and their consequences, including powerlessness and lack of access to good jobs with fair pay, quality education and housing, safe environments, and health care. Moreover, transportation systems & streets can help advance health equity.
Some approaches regarding complete streets Dr. Pollack Porter discussed was the need to put people first, before vehicles, engage in policy advocacy, center equity, help achieve health equity, embrace Safe Systems Approach (closing or limiting traffic on streets, change speed limits), and partner with communities.
Dr. Pollack Porter emphasized, "It is critical to have partnership with communities. The process needs to be a community involved street design." She explained, "We should embrace safe streets and we now have an opportunity to sustain changes. Keep it going."
Michele Gervat of the American Heart Association noted that it's the Association's mission to improve American's cardio-vascular health by 20%. To do so, AHA is committed to safe parks, safe streets, safe schools and safe walkways. Health of all our communities cannot be addressed until social detriments of health are addressed.
"We are only as strong as our weakest link." Ms. Gervat stated.
Paula Flores of GPI discussed the importance of Complete Streets and community health. Noting that residents in walkable communities are 2X more likely to achieve CDC endorsed daily exercise recommendations and that inactivity contributes to 1 in 10 premature deaths. Ms. Flores stressed "It is time to stop thinking, it is time to act."
Discussing the lack of safe streets, Ms. Flores stated, "We have a crisis. The number of lives we are losing is unacceptable." She also noted that we are not talking about statistics, but people.
In discussing the need for change, Ms. Flores talked about the changes needed to reflect context sensitivity and how there must be citizen engagement. There must be democratic design and citizens must be listened to in order to achieve the right outcome.
Areas of attendee concerns included the need to connect public health dollars with transportation dollars; safety education; street traffic safety; and the need to keep communities and elected officials engaged and supportive.
Day 2

Vision Long Island, Long Island Complete Streets Coalition and Long Island Main Street Alliance came together virtually on June 25th and June 26th to hold the 8th Annual Complete Streets Summit. Despite the inability to meet in person, close to 200 participants connected to discuss this years' topic, "Healthy Citizens, Healthy Main Streets."
Day 1 brought together industry notables, including Denise Carter of Greenman-Pedersen, Inc., Dr. Keshia Pollack Porter, Associate Dean for Faculty at Johns Hopkins University, Paula Flores, Transportation Planning Practice Leader at GPI, Jonathan Keyes, Executive Director/CEO of the Suffolk County Economic Development Corporation, Bernard Macias, AARP, and Michele Gervat of the American Heart Association. Click HERE for Day 1 recap.
Day 2 focused on how Long Island's downtowns are transforming main streets to support businesses and facilitate outdoor dining while maintaining social distancing. Moderated by Vision Long Island's Sustainability Director Elissa Kyle, the panel included Mayor Ralph Ekstrand of Farmingdale, Mayor Margot Garant of Port Jefferson, Rich Vanderburgh of the Greenport BID, Clariona Griffith of the Hempstead Chamber of Commerce, and Jacob Dixon of Choice for All. Discussions centered around advancing Day 1's principles and theories throughout local communities.
Vision Long Island Executive Director Eric Alexander opened Day 2 outlining the important work of the Complete Streets Coalition, from working on Complete Streets policy and advocacy, to obtaining necessary funding. The Coalition is a public voice for pedestrians, bicyclists and bus transit passengers. Despite the present health crisis, the good news is people are out walking and biking. The theme this year is Keep It Going.
Mr. Alexander thanked Vision Long Island's Board of Directors and the sponsors of the Summit – AARP, GPI, Tri-State Transportation Campaign, VHB, Lift Tango and Nice Bus, for their tireless commitment to communities.
Just as on Day 1, Ms. Kyle again shared community member observations about experiences walking and biking on Long Island these last several months. These narratives were dubbed Silver Linings. Ray Thomas, of 1st Equity Title, provided the following account, "So when the Coronavirus hit I was stuck at home so I dusted off the old bike that I had. Now I get to explore the neighborhood I live in. It started out small, but riding around you get to know how beautiful your neighborhood is. When you are driving in the car you are whizzing by – you don't know what's in the stores. When you are on a bike you stop and look – I stopped several times to check out the local business. Some of these businesses I had no idea were in my neighborhood. So, biking for me has been a great experience: Learning about the community, learning about the businesses in my community and getting exercise. After being stuck at home, being outside now biking is a win-win situation."
Opening remarks were made by Sean Sallie, AICP Deputy Commissioner. Mr. Sallie started off his comments by thanking local elected officials, community leaders, engineering and planning firms and the non-for-profit sector for working together to make good projects happen. "Public works cannot do anything alone, it takes a team to bring about Complete Streets changes and public place improvements," Mr. Sallie stated.
Mr. Sallie then updated Summit attendees on several Nassau County initiatives designed to help local businesses, including the County's Open Streets Program. This pilot program serves to streamline road closure permits so municipalities can take advantage of public spaces to help businesses offset the loss of indoor seating during this difficult time. "Our county roads in some cases have an identity crisis," Mr. Sallie explained. "They also serve as local main streets to some communities."
Mr. Sallie also gave a brief rundown on the Complete Streets projects that are in the works, including Grand Avenue, Baldwin; Park Beach Street in the Village of Atlantic Beach, a GOSR funded project; Village of Island Park one block demonstration project; Middle Neck Road, traffic calming study; downtown Hicksville traffic study; Motor Parkway Trails; and the Lido Beach shared use biking and walking study. "The COVID pandemic has certainly thrown some challenges at us," Mr. Sallie noted, "but we have great leadership and great partners in both the community and government so we are looking at moving these projects forward."
In response to a question regarding social justice and roadways, Mr. Sallie explained, "Suburbs were developed in an auto-centric manner. What can be done better to connect suburban communities with non-motorized transportation, such as biking, walking, and scooters, is part of the bigger picture of better integrating Long Island communities. Planners have a role to play in this challenge."
Mayor Ralph Ekstrand of Farmingdale kicked off the five-person panel by discussing the challenges of outdoor dining. He identified the greatest challenge in his community has been maintaining walkability in downtown. Restaurants tend to place tables onto sidewalks. To handle this issue, the Village created a plan for each restaurant, identifying the number of tables allowed and the location. The Village created two plans for each business, one for when Main Street is open, and one for when it is closed. Restaurants are allowed to use loading zones and are encouraged to work with their neighbors to utilize additional space. Mayor Ekstrand stated, "Safety is number one."
Rich Vanderburgh, co-founder of the Greenport Harbor Brewery and president of the Greenport Business Improvement District, discussed Greenport's innovative sidewalk expansion plans the Village is undertaking during this time. The goal was to create greater outdoor opportunities. A group of engaged citizens and leaders, along with award winning architects, worked on the issue of outdoor space. According to Mr. Vanderburgh, "That conversation immediately moved to the parklet design." A concept map was created. The plan to eliminate downtown parking was at first a heavy lift. The group went on to drill down on what they had to work with, and then they drew up several different concept plans, finally landing on having businesses set up in the parklet areas and keeping pedestrians on the street. The plan was accepted by the community. Thereafter, materials were solicited, local contractors offered time, and safe and attractive parklets were created. The Village was on board, test demonstrations were successful, and the parklets are now allowed to remain until October. Several on-street parking spaces remain, set up in a way that is safe. "By next week, we will have approximately 1,500 linear feet of parklets installed," Mr. Vanderburgh stated. "All the businesses and residents are happy with it." He mentioned that, "In Greenport Village the BID has worked hard to advocate on behalf of our merchants and district residents to provide the best possible opportunity to endure this challenge. With increased spatial distancing for pedestrians and expanded outdoor dining and retail space with the installation of over 1000 feet or parklet spaces this recovery effort has brought renewed optimism and vibrancy to the village. This initiative would not have been possible without the dedicated efforts of our BID Board, along with the strong commitment from our volunteer labor force, and the direct support of Dave Kapell, Paul Palowski, Riverhead Building Supply and the Mayor and Trustee of the Village of Greenport. So come to Greenport as it's open for business and there is still a reason for every season to be out East!"
Discussing Complete Streets in Roosevelt, founder and CEO of Choice for All, Jacob Dixon stated, "All children and families deserve and expect safe streets and open spaces, regardless of zip code." Choice for All is a non profit that focuses on community leadership, education, nutrition and wellness. The group's work in Roosevelt began with a research partnership with Hofstra University titled LICARP (Long Island Community Academic Research Partnership). The partnership also includes stakeholders such as Roosevelt School District and a qualified health center in order to determine how health outcomes can be improved.
Another identifiable barrier for residents in Roosevelt is Complete Streets. Mr. Dixon reported current conditions in Roosevelt have created less than ideal circumstances for residents to become fully engaged in the community. "Incomplete Streets" greatly diminish opportunities for community members, including children traveling to school. A team was put together to identify problems that need to be addressed, from repainting lines in the road, to the need for traffic calming devices. Focus groups were set up, surveys conducted, and as a result, the group was able to pinpoint at least 18 locations that have issues that need attention. The group created a healthy resource map as an aid to the community. The year one task the partnership is working on, along with Vision LI, is to create a Roosevelt Complete Streets Task Force to move health and safety goals forward.
Clariona Griffith, president of the Hempstead Chamber of Commerce, is a hands-on leader in the Hempstead business community, visiting 300 businesses since March 18th to learn what they need and how the Chamber can assist them throughout the pandemic. Although a few businesses have closed due to financial burdens, many businesses are beginning to open back up. One important task the Chamber is engaged in is helping businesses learn to utilize the internet. "Hempstead is moving along nicely, slow but sure," Ms. Griffith stated. She pointed out that there are areas in Hempstead where they need to change the structure. This includes dealing with speeding cars to protect pedestrians, including children traversing to school. Ms. Griffith also stressed that Hempstead has absolutely no bicycle lanes. "There is definitely a need for them," she stated.
Ms. Griffith summed it up in this manner, "Hempstead is definitely moving along nicely, it is getting back to normal, but there are some things that can be done to make it even better."
The last panelist to speak was Mayor Margot Garant of Port Jefferson. Mayor Garant explained the Village has been working within the State and County mandates, but also has been seeing if there are ways to help provide the merchants and restaurant owners with what they need to survive. Some challenges have included keeping downtown sidewalks walkable, which is one reason why outdoor dining is not permitted on Main Street. Port Jefferson is unique in that the ferry welcomes many commuters to the downtown area. "We are however, using sidewalks, parking lots, public space and private space where we can," Mayor Garant explained. "This pandemic has challenged us, but there are things that COVID has helped us uncover, which we have become more tolerant of, including outdoor dining. The general public is really loving outdoor dining and I think it is something we are going to look at for seasons to come."
Vision's Executive Director, Eric Alexander identified the Coalition's Three Calls to Action: Individuals can make the decision to keep walking and biking; incorporation of the discussed design solutions; and lobbying for federal and state funds for pedestrian and bike improvements. "We need to continue to be a public voice for walking and biking as a coalition," Mr. Alexander stated.
In closing, Mr. Alexander concluded, "These two days have been inspiring. We all need to lend our voices and talents to address inequities in our communities. We recognize this is an exciting and worthy challenge to take on."
We would also like to thank our sponsors AARP, GPI, Tri-State Transportation Campaign, VHB, Lift Tango and NICE Bus.
You can view the Complete Street Summit here: Day 1 and Day 2